Daily Creativity #1 Beautiful Typography

Daily Creativity by Layerform
Welcome to a new feature we are doing here over at Layerform.com! On a daily basis we will be posting Creative & Inspirational articles displaying some of the best artistic talent from across the world in a multitude of different design areas, including Graphic Design, Photography, Traditional Art and much more!
The purpose of these articles are to inspire other artists and ofcourse the Layerform subscribers. Often during creative work artists & designers can hit plateaus or obstacles that prevent them from fulfilling their creative potential. Sometimes all you need is a fresh outlook on a project or some innovative inspiration to propel you and be the catalyst you need to creative amazing work once again. So please sit back and enjoy our first daily creativity article on Beautiful Typography from across the web.
+

Plenty Design Studio

Plenty Design Studio based in Buenos Aires in Argentina had a complete rehaul of their design studio interior and part of this was a feature typography wall with this amazing wall of type.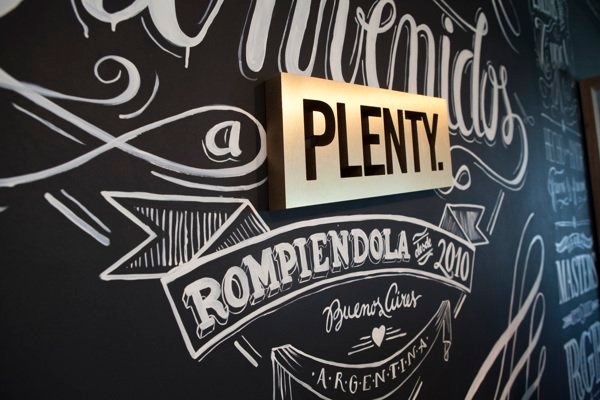 +

Chris Labrooy

Chris Labrooy, British artist specializes in 3D Typography and this piece is exceptional, based on a quote that reads "The Harder I work, the Luckier I get" by Sam Goldwyn
+

Thomas Burden

Thomas Burden is another artist that has utilised 3D methods to create a fantastic type piece in the form of this particular work entitled "Neon Type"
+

Metin Akcakoca

Metin Akcakoca is furthering the trend for 3D Typographic Treatments with his project entitled "Spline".
+

Bosco Restaurant

Completed by Zender over at Behance, this is a typographic treatment that was completed for a Bar/Restaurant in Amsterdam called Bosco. It has a clean cut feel to it and is a great focal point of the restaurant.
+

Mihai Molnar

A young artist from Romania, his work continues to impress on Behance and is worthy of highlighting here.
+

Ben Didier

Work by Ben Didier, his various typographic pieces are striking and very detailed pieces of typography.