View cart
"22 Wood Vector Textures" has been added to your cart.
The Mahoosive Vector Bundle
£20.00
Categories: Bundles, 3D, Actions, Brushes, Fonts, Freebies, HTML Templates, Logos, Mockups, Presets, Print & Flyers, Stock Photos, Text Effects, Textures, Vectors & Objects
Tags: design bundle, designer bundle, designer bundles, massive bundle, vector bundle
Description
The Mahoosive Vector Bundle! – Create Stunning Designs with 15 Vector Design Packs
Layerform.com is proud to present our Vector Bundle of Graphics, a comprehensive collection of 15 vector design packs that will empower you to create an array of stunning and professional designs. Whether you are a graphic designer, illustrator, or simply someone with a creative side, this bundle is a versatile tool that will enhance your creative projects.
Unleash Your Creativity with our Vector Design Packs
The Vector Bundle includes a wide range of design packs, each containing unique vector graphics that can be scaled and customised to fit any project. From detailed illustrations to modern and abstract shapes, this bundle caters to a variety of design styles.
Each design pack within the Vector Bundle was meticulously crafted by our talented team of designers, ensuring high-quality and visually appealing assets. With the ability to mix and match graphics from different packs, the possibilities for creating distinct and eye-catching designs are virtually limitless.
Features of the Mahoosive Vector Bundle:
15 vector design packs with a variety of styles and themes
High-resolution vector files that can be scaled without loss of quality
Compatible with popular design software such as Adobe Illustrator and CorelDRAW
Easy to use and customize
Instant download upon purchase
So what do I get in the download?
Frequently Asked Questions (FAQ) about Vector Graphics:
1. What is a vector graphic?
A vector graphic is an image composed of mathematical equations and geometric shapes. Unlike raster images, which are made up of pixels, vectors can be scaled infinitely without losing quality. This makes them ideal for designing logos, illustrations, and other visuals that may need to be resized.
2. How can vector graphics benefit my designs?
Vector graphics offer various benefits, including:
Scalability: Vector graphics can be resized to any extent without losing quality, ensuring your designs look sharp on any device.
Flexibility: With vector graphics, you can easily customize colors, shapes, and sizes to match your specific design needs.
Print-Ready: Vector graphics maintain their quality when printed, making them perfect for items such as business cards, posters, and billboards.
3. Can I edit the vector graphics purchased from Layerform.com?
Yes, absolutely! Once you purchase the Vector Bundle, you will receive high-resolution vector files that are compatible with popular design software such as Adobe Illustrator and CorelDRAW. This allows you to easily customize the vectors to suit your unique requirements.
4. Are the vector graphics royalty-free?
Yes, all vector graphics included in our bundle are royalty-free, meaning you can use them for personal and commercial purposes without any additional fees. You have the freedom to create and sell your designs without worrying about copyright restrictions.
5. Do you offer support for using the Vector Bundle of Graphics?
Absolutely! At Layerform.com, we pride ourselves on providing excellent customer support. If you have any questions, issues, or need assistance with using the Vector Bundle, please contact us.
In conclusion, the Vector Bundle of Graphics from Layerform.com is a valuable resource for designers and creative individuals alike. With its collection of 15 vector design packs, you will have the tools to create visually stunning and professional designs. So why wait? Unlock your creativity today and elevate your design projects with our Vector Bundle of Graphics!
Additional information
| | |
| --- | --- |
| File Size | 500mb |
| File Formats | .AI, .EPS, .ZIP |
| Minimum Version | Illustrator 10 |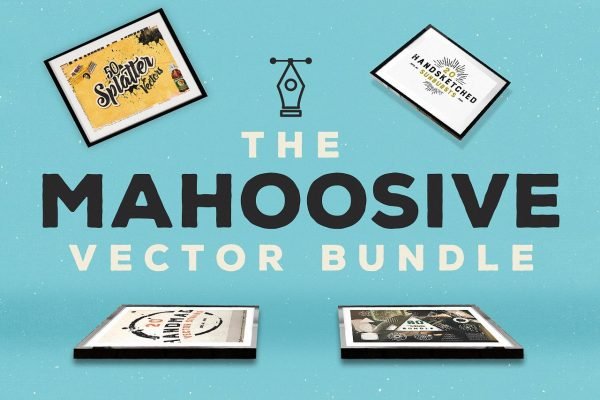 The Mahoosive Vector Bundle
£

20.00