Its interview time baby!
Layerform.com recently had chance to catch up with Welsh Illustrator Jonathan Ball about his style of work and motivation for what he does on a daily basis, aswell as any advice he can give to aspiring artists out there in the industry!
1

How did you get started with illustration?
I was a bit of a late starter and didn't get going till I was in my late 20's. I dabbled a bit in painting and experimented for a while, it was the early 00's and the internet was growing rapidly, as was computers and software. This allowed me to experiment with digital art and promote myself more easily. After a slow start for the first few years things gradually took off and i became a full-time illustrator.
2

What is your inspiration?
I think a lot of artistic people take inspiration from everything around them. My main environment is the city. Always lots of stuff to look at, smell taste and hear.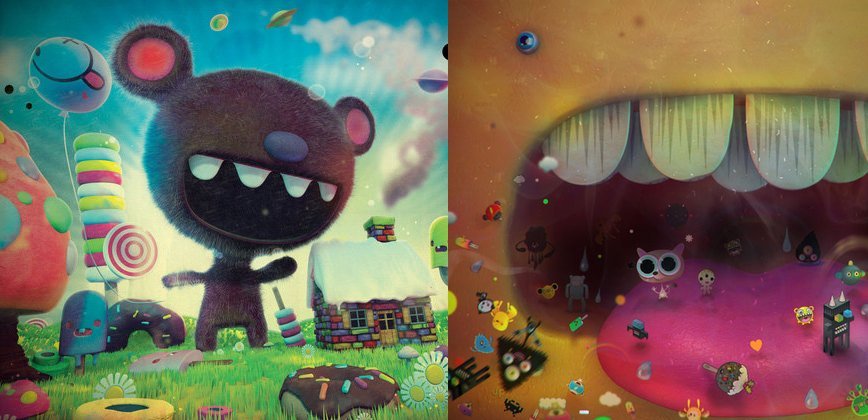 3

What is an average day like for you?
I'm up around 7am checking emails in my home studio, then take my daughter to school for 9. Then back to work until around 6 pm. I like to switch off then, I don't usually work in the evenings , your brain needs time to shut down and sleep.
I usually doing a few different jobs throughout the day, spending a few hours at a time on each, so it doesn't become monotonous.
4

Apart from illustration, what are your other hobbies?
Music is probably my biggest interest outside of art. Also love long walks and and drink in a country pub. Need to take up mountain biking again, used to go a lot when i was younger. It can be hard to keep fit if your job requires you to sit down most of the day.
5

What is your favourite piece of work and why?
I would say a piece called war v's peace, its a forest scene, with some crazy mushrooms. From another artist difficult to say,so much to like. I do like large scale oil paintings and was recently blown away by an exhibition of Rubens.
.
6

Who is your favourite artist?
A lot to list, was inspired greatly by Phil Hale, i saw one of his 7 foot oil paintings in the National Portrait Gallery and was blown away.
7

What is the best place you have visited?
Loved Iceland, when there a few years ago, its like a different world.
The barren wilderness is intoxicating. I'm happy though just sitting in the sun in the country side on when of the few days Wales is sunny!
8

What advice can you give to other aspiring designers?
You really have to want to do this, if you are not drawing opt designing everyday just for fun, then its probably not for you. It can take a lot of work to promote yourself and get good clients.
Thats a wrap folks!
You can check our more of Jonathan's work at the links below, so please make sure to show him some love yo! (yeah we said yo, this is a gangsta interview homie):