Best Creativemarket Downloads
Since it was launched all those years ago, Creativemarket.com has provided the design community with thousands of detailed & handcrafted design resources. At the time of writing this post they currently have over 4 Million Products in their Marketplace and over 30,000 Shops.
The rise of Creativemarket and their new take on the Creative Marketplace, ie: 60% Commission and Non Exclusivity Restrictions for designers means that designers can diversify their income on multiple Marketplaces and essentially make more money.
Creativemarket prides itself on the quality of its items, this is why there is a screening process to even apply, and even then the community has such high standards that it forces the Shop Owners to create products that are even more beautifully handcrafted than their previous item.
This promotes creativity and encourages shop owners to produce work that is on another level compared to any other marketplace. It is for this reason I have compiled a list of the best resources on Creativemarket, or rather a succinct top 10 list, because we're all used to those by now right? Ok lets get started, the top 10 best items on Creativemarket! Boom!
The Personalised Portrait Creator
This is a fantastic product, and one of the most consistent products on Page 1 of "Popular Graphics" on Creativemarket.
The Personalised Portrait Creator is a BEAST of a product, and contains so many individual styles and types of clothing for really, truely customised portraits for your next design project.
I honestly can't believe that such a product exists, it's gigantic, Lisa has put a ton of work into this and its pretty much our number 1, even thought we were tempted to start with Fonts, but this product is so unique it simply has to be here to start the article.
Check it out on Creativemarket
Silver South Font
Ok so it's not exactly a list of the best items on Creativemarket if you don't include a Font by Sam Parrett. We did an interview with Sam not too long back to please check it out here: Layerform Design Co Interviews Sam Parrett
Anyway back to the Font. This Font has been around for a little while now, but the class, clean lines, ligatures & glyphs that Sam has created just ooze substance, class, style and sophistication.
Infact, I cant imagine a project where this font is used and it looks bad. It's definitely one of the best products on creativemarket in my opinion. Check it out below:
Check it out on Creativemarket
The Logo Designer Bundle
The Logo Designer Bundle by Amber & Ink is a super popular Logo Bundle which includes 6 Big Logo Design Packs.
Ok, so is it the biggest logo design generator/bundle that we've ever seen on Creativemarket? Well no. But it's certainly of high quality and this is the main thing we're looking for in this list of best items on creativemarket.
There are plenty of items bundled together these days, some good, some bad, and the quality ones really shine through, such as this one. It comes in a .ZIP File in PNG, EPS & AI formats, perfect for your next logo designing creations!
Check it out on Creativemarket
Glamour Absolute Font – Nicky Laatz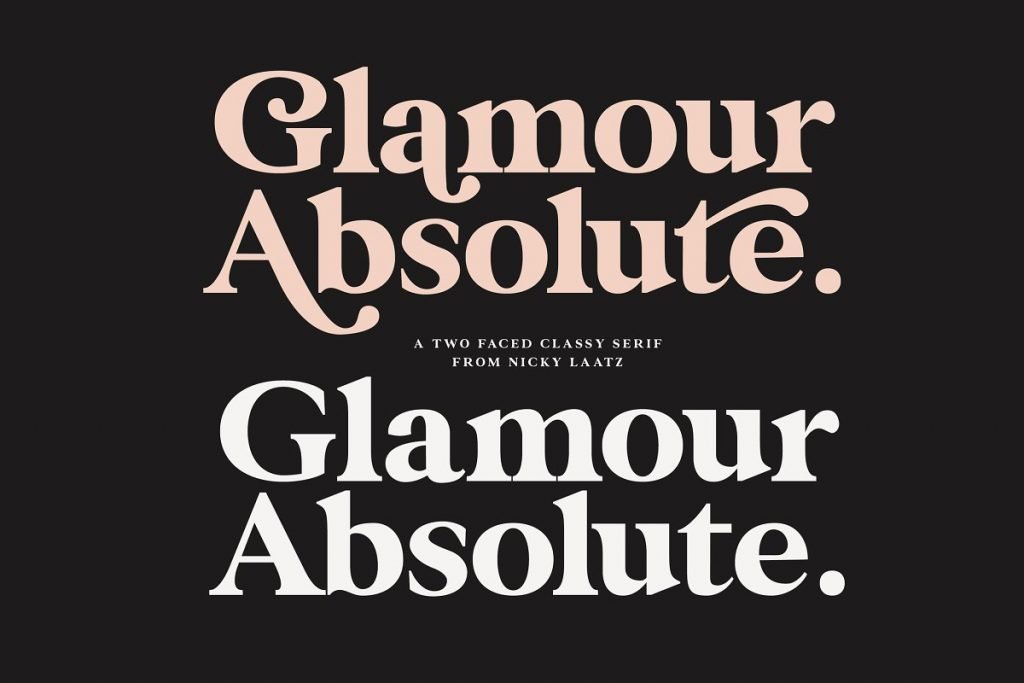 It will come as no surprise that a Font by Nicky Laatz is coming up top on our list of Best Products on Creativemarket
Her products really do speak for themselves, with crisp lines, character and just fantastic overall quality, her items are known across all of the major marketplaces, and by Type Designers globally. She really is what we call a "Typographic Superstar"
This font is one of her most recent, and really shows off her skillset, moving away from brush script fonts and more handmade styles, it shows her finesse with true Typeface creation, and really it belongs in our Top 5 here, for definite.
Check it out on Creativemarket
Procreate Megabundle
It isn't exactly a list of best products on Creativemarket if you dont have a product pertaining to the particularly popular piece of software called Procreate.
This amazing piece of software has allowed thousands of designers to go viral, to make typography their main source of income and gain incredible amounts of exposure.
As such, Studio Denmark has provided a fantastic bundle for the customers of Creativemarket, with 1144 items in total in this absolute monster of a creative bundle. Go check it out below!
Check it out on Creativemarket
Futuro Line Icons
It's not a list of best products on Creativemarket if you don't have a pixel perfect set of Icons….
This offering by Bloomicon is the perfect example of such a product and includes 1200 Icons, in SVG, AI, EPS and PNG formats, all you need to create that next UX/UI project for that client!
Bloomicon have proved themselves as creators of finely tuned icon designers over the last few years, and this pack really shines on Creativemarket. Check it out below:
Check it out on Creativemarket
9 Photorealistic Logo Mockups
Logo Mockups are skyrocketing at the moment, with new items being added almost daily on Creativemarket. Some of them are copies of others but there are some of the trendsetters out there who have some quality products that stand out from the crowd. An example of this is 9 Photorealistic Logo Mockups by Cruzine. These mockups are impossibly detailed! Very crisp and sharp and really make your logo come to life.

Huge 100+ Pack of Images
Good stock photography can be hard to come by, and with the rise of paid stock photography (a good thing of course), alot of the better images are going to the big stock sites such as iStock, Shutterstock etc, however this pack of 100+ Stock Images is a great purchase, you get a lot of images for your money and is well worth the investment. Created b "Around Seven Productions", it can be bought here
Vintage Effects Volume 4
Continuing the vintage theme here, Creativemarket shop owner Cruzine makes another entry into our top 10 list. Their pack of Vintage Folded Paper effects are well worth buying as they add a distinct sense of vintage/oldschool feel to your designs. This set comes packaged with over 30 color and 30 black and white textures. Purchase them here
10 Photorealistic Business Card Mockups
Possibly the best item on this entire list! (kidding), this is our very own product in Creativemarket's Product Mock up and Stationary section. Created in Cinema 4D, these Photorealistic Mockups allow you to simply copy in your logo onto the smart objects and watch the magic happen as they are applied to the scene with perfect perspective control. We are very proud of this product and put a lot of work into it, so thought we would do a shameless plug and promote it in this list. It can of course be purchased at our Creativemarket Shop
Thats a wrap folks!
We hope you enjoyed this list and please go and support the designers featured in this article by buying their products and creating some amazing work with them 🙂