Drawing Tablets for Android – Which is Best?
In a sea of graphics tablets, it's hard to know which one is best. But when it comes to Android it gets even tougher as many top graphic designers often opt for the combination of Apple Ipad + Procreate for their illustration work.
That being said, there are some good options out there for those who refuse to be pulled into the apple ecosystem or just simply don't want to get a Wacom Drawing Tablet.
This article will be our very own review on what is the best android tablet for drawing & digital art, so sit back, grab a coffee and take a look at what we think are the best tablets to choose if you're a fan of the little green robot! (aka: Senör Android).
Best Android Tablet for Drawing – Reviews
Samsung Galaxy Tab S7+ – Best Android drawing tablet with Pen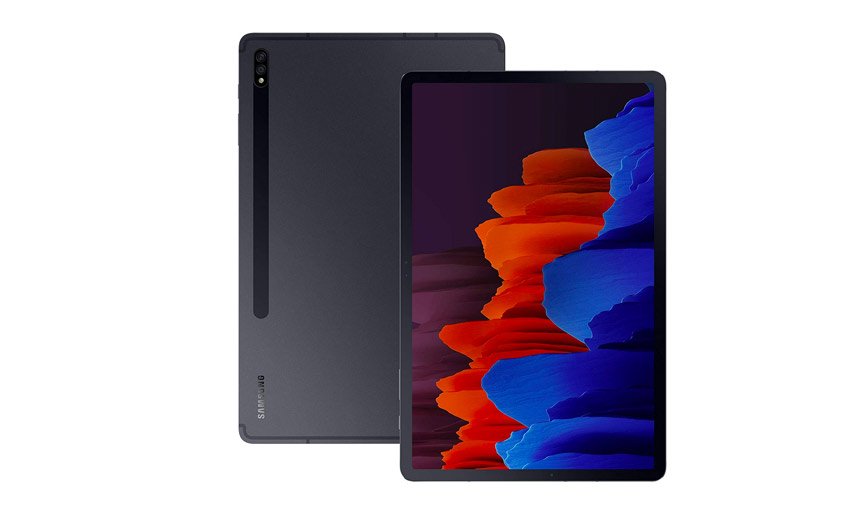 The Samsung Galaxy Tab S7+ is an absolute beast of a tablet, let alone drawing tablet.
It boasts and impressive Super AMOLED screen and has a 2800 x 1752 resolution, alongside a super snappy 9ms pen latency, which beats a lot of the competition hands down.
The total weight of the Samsung Tab S7+ is 575g, and the tablet itself is actually thinner than the stylus, making it an incredibly portable and lightweight drawing tablet, which a lot of the more mainstream drawing tablets just cannot compete with.
The good thing about the Samsung Galaxy Tab S7+ is that is also has a refresh rate of 120hz, which means when using Graphic Design Apps you won't suffer from Stylus Lag when applying pen pressure or when you're doing some speed sketching.
At an average price of $850 it's not the cheapest drawing tablet on this list, but it performs like it should, like a high end tablet; and has all the features you could possibly need for digital drawing.
This tablet works well with apps such as Infinite Painter, and we can only assume that if and when Procreate decide to create an Android version that it will work amazingly with that app also.
Samsung Galaxy Tab S6 Lite – Best Value for Money Android Tablet
Yet another fantastic drawing tablet from Samsung, this time in the form of their Galaxy Tab S6 Lite Tab.
The S6 Lite comes with a 2000 x 1200 (WUXGA+) TFT display resolution and weighs a mere 1.02lbs, which is the lightest of the galaxy tab range, making it an incredibly portable and lightweight graphics tablet that you can take with you absolutely anywhere.
The Galaxy Tab S6 Lite comes with a Exynos 9611, Octa Core (4×2.3GHz + 4×1.7GHz) Graphics Coprocessor which should be more than enough to use various graphic design apps in the play store for things like Typographic Artwork and Digital Painting.
Fortunately this Tab still comes with their S Pen like the S7+ above, which is a fantastic stylus with high pressure sensitivity levels.
Overall, if you're looking for a super lightweight Android Tablet that performs strongly across multiple levels, then the S6 Lite is the one for you.
Lenovo Tab M10 Plus – Cheapest Pen Enabled Tablet
Ranging from $112 – $193, the Lenovo Tab M10 Plus is one of the cheapest pen enabled tablets on this list of best android tablets.
But what makes it worthy of being on this list you ask?
Well let's take a look at some of the specs. It weighs 1.6lbs and has a screen resolution of pure 1920×1080 HD as well as sporting a 2.3 GHz octa-core processor; which is more than enough for the majority of your design related tasks & other tablet-related tasks.
The product dimensions come in at 9.6 x 6.04 x 0.33 inches which makes it one of the smallest and most portable drawing tablets around at the moment. Fantastic if you want to sketch out some quick ideas before meeting an important client or just in your spare time.
Samsung Galaxy tab S6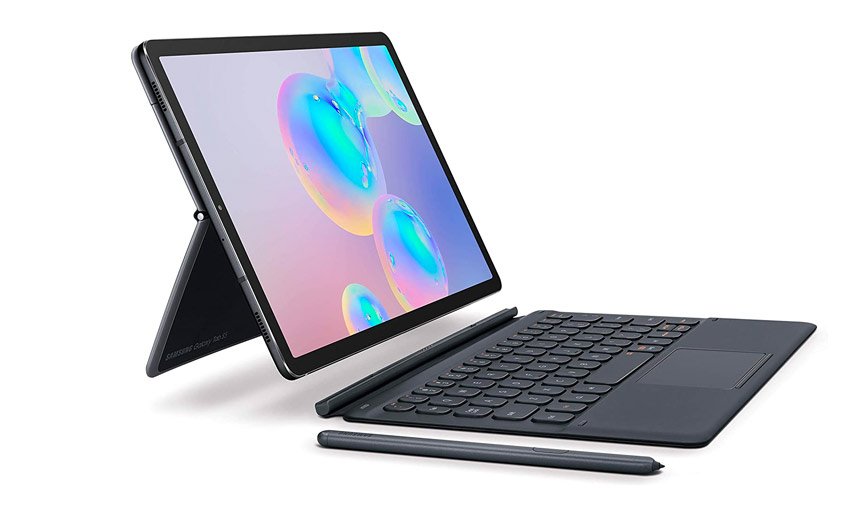 For those without the budget to purchase something like the S7 Tab +, then the Samsung Galaxy Tab 6 is a good alternative.
It comes with a 2560 x 1600 Display Resolution and weighs only .92lbs, making it yet another super portable choice if you want a more "run and gun" type of tablet.
It comes with the infamous Galaxy S Pen, which ensures you'll have enough pen pressure & sensitivity to draw everything you'd want to.
Huawei Mediapad M5 Lite – Best Samsung Tablet Alternative
The Huawei MediaPad M5 Lite is a fantastic budget friendly samsung alternative, featuring a Curved-edge 2.5D 10.1-inch 1080p (1920 x 1200) display and lasting up to 12 hours in total (a very good battery life!)
This model also comes with Huawei's infamous M-Pen lite, and similar to the S Pen from Samsung, it's a fantastic stylus that offers high sensitivity levels and is sure to serve you well in your digital painting work.
Vankyo MatrixPad P31 – Cheapest Android Graphics Tablet
The Vankyo MatrixPad P31 is from our research, one of the cheapest android graphics tablets on the market today, coming with a 1920×1200 screen resolution, it's a true powerhouse for the size of it.
This 10 Inch Tablet is powered by a 1.6 GHz AMD processor and is capable of lasting up to 15 hours, as specified by the manufacturer
So what drawing apps can it utilise? Everything in the play store (duhh). It works very well with infinite painter and a lot of the android adobe apps meant for digital painting and illustration.
Conclusion
There we have it, some of the best android drawing tablets to get your creative juices flowing!
At the end of the day, it comes down to personal preference when choosing an android tablet, and you need to do your due diligence when researching each one. However that being said, the Samsung Tab S7+ is probably the one we would recommend based on specification & reputation for quality.
FAQ
What is the best drawing app for Android?
There are many different choices, but the drawing apps we would generally recommend for Android would be Infinite Painter, Illustrator Draw & Autodesk Sketchbook, amongst many other choices on the play store.
Whats the best android tablet for artists?
Among all of the tablets we have featured, we would be confident recommending the Samsung Tab S7+ as it features a ton of high quality features that are conducive to high end graphic design work.
For example, if you're working in a design studio / games design studio and need to provide high quality matte paintings or mockups, you want the best features possible for the price, and the samsung galaxy tab S7+ offers the best bang for your buck.
Whats the best android drawing tablet under $1000?
For this price we would advise going for an android or a lenovo tablet. Why? If you're going to be spending this amount of money on an android tablet, you may as well go for a brand that has had much previous success with developing tablets, brands that have good support and typically offer longer warranties.
If you go for a cheaper brand then often it is the case that you won't be getting the best bang for you buck, and you'll only be shooting yourself in the foot later on when you have issues.