The Best Wacom Cintiq Alternatives (2021)
The Wacom Cintiq range of drawing tablets is among the most sought-after devices for digital creatives you can find on the market. It is popular because of the range of excellent features it offers.
From unrivalled sensitivity to a high-quality stylus, it is everything that a digital artist needs to create a masterpiece.
Whether you are an illustrator, an animator, or a sketch artist, you can never go wrong with a Wacom Cintiq drawing tablet.
The only problem is that they don't come cheap, and not every aspiring digital artist may be in a position to afford one. Luckily, the market offers alternative drawing tablets with a performance that comes close to the Wacom Cintiq.
So, whether you can't afford the Wacom Cintiq or you're not ready to join its bandwagon just yet, here are the best alternatives to the wacom cintiq available to you!
What Does the Wacom Cintiq Drawing Tablet Offer?

With all the attention it's getting in the market, you might be wondering what makes the Wacom Cintiq tablet so special.
Well, various features help to enhance the performance of the Cintiq, making it the perfect option for graphic designers. For instance, the tablet boasts a superb 8192 levels of pressure. It is extremely sensitive and comes with tilt recognition for a satisfying drawing experience.
This combination of features allows you to come up with intricate details on your drawings, as well as better control the contrast of the shading. The Cintiq also comes with an optimally sized screen, which gives you a comfortable space to work with. Meanwhile, the display is crystal clear to help you see all the simple details in your artwork and allow the final thing to look nothing short of fantastic.
With almost 16.7 million colors on offer, your sketches appear vivid and true-to-life. The digital pen paired with the Wacom Cintiq is also smooth to hold, easy to control, and well-balanced.
Furthermore, the pen is battery-free, you don't need to worry about charging it. This means all your focus remains on the work you're doing.
What to look for in a Drawing Tablet
There is no doubt about the quality you get from the Wacom Cintiq drawing tablet. However, its hefty price can be a deal-breaker for many, hence the need to look for an appropriate alternative.
But before deciding on what to buy, various factors should be considered to get a worthwhile alternative. So, the following should guide you in selecting the best Wacom Cintiq alternatives:
What is the Best Screen Quality?
If you're searching and wondering what are the best drawing tablets, then the screen is arguably the most crucial feature, considering that this is where you create your digital art. As such, you want to look for something that maximises your potential as a creative. For the screen, you want to consider the size (drawing area), as well as the resolution. The ideal Wacom Cintiq alternative should ideally come with an HD display with 1920 x 1080 pixels or more.
This should ensure that your sketches and illustrations come out incredibly. Additionally, the colour quality is something you can't overlook. If the Cintiq offers 16.7 million colours, then its alternative should try to come close to this figure. The same is true for the 97% sRGB coverage.
Is Tilt Sensitivity Important?
Tilt sensitivity is a critical feature when drawing on a tablet. It gives the device the ability to make out the angle of the digital pen as you draw. This is taken into account to create either a broader or thinner line.
It also means that you can shade more effectively to bring out the effect you intended. In short, it makes the image appear realistic; just like drawing with a pencil and paper.
What are My Connectivity Options?
Generally, most tablets connect either via USB or HDMI cable. However, the best drawing tablets support wireless connectivity through WiFi or Bluetooth as an extra. This will help to minimise the clutter of wires on your desk for a comfortable working space. A wireless connection further allows you to move around during work if you derive your inspiration from being in different settings.
The best option, if you don't want to be restricted, is a standalone graphic design tablet. These do not need to be connected to a PC or laptop; they have everything you need to complete your project built-into the tablet.
Alternatives to Wacom Cintiq – Reviews
Huion Kamvas Pro 24

The Huion Kamvas Pro 24 is among the latest offerings from Huion. It will make a great alternative to the Wacom Cintiq and offers a worthwhile performance.
Among its most notable features is the 2K screen it comes with. This is not something you find on most affordable drawing tablets on the market; usually, the best you can get is 1080p full HD screens.
This means you enjoy impressive clarity when reviewing the work you've created. Aside from the 2K resolution, the Pro 24 offers excellent color accuracy. At 120% sRGB, this is more than the 97% you get on the Wacom Cintiq, not to mention that you get 16.7 million colors.
The display is laminated to ensure there is no parallax when using the tablet. Also, etched glass on the top severs to offer superior surface texture, allowing for hassle-free drawing.
Another amazing feature you'll appreciate is the 20 programmable shortcut buttons, which simplifies and expedites access to various tools while working.
This is paired with a 2-touch bar to make your experience even more seamless. The digital pen included works impressively to let you create amazing artwork. It comes with 8192 levels of pressure sensitivity and supports a 60-degree tilt function to deliver a lifelike drawing experience.
Even though the Kamvas 24 Pro is made of plastic, the build quality is pretty decent and you can feel the sturdiness when you handle it.
This helps to keep the price down while ensuring that you get a great bang for the buck! Overall, it is an appropriate option if you can't afford the cost of the Wacom Cintiq. Other than the 4K resolution, the Huion Kamvas 24 Pro holds its own against the Cintiq as far as other features are concerned.
Artisul D13 – 13.3″

The Artisul D13 will be a nice option if you've been eyeing the Wacom Cintiq Pro 13 but your budget just falls short. This drawing tablet features a 1920 x 1080 screen resolution, and just like the Cintiq Pro 13, it offers 2048 levels of pressure sensitivity. This is pretty decent for a product in its price range; add to the fact that it is compatible with Mac OS and Windows devices.
A matte screen protector is integrated into the tablet monitor, helping to offer a natural and paper-like texture when you draw.
It also serves to reduce the glare for a more comfortable experience. This will particularly be an added benefit to creatives who prefer to work under different light settings. The included battery-free pen saves you the trouble of always charging the pen after use, which will come in handy on those busy long-term projects.
It is also pretty light, comfortable to hold, and comes with user-friendly buttons. The tablet is delivered with a thin but sturdy stand that you can mount it on and adjust to customize your drawing angle. Overall, the installation process is simple and straight-forward. The Artisul's hotkeys are easily programmable, even for those who are still getting acquainted with drawing tablets.
There is a customisable quick dial on offer, as well as six quick access for a seamless drawing experience. On the downside, the D13 only features an HDMI port, which can be limiting to you. Also, the tablet may not work well with some open-source software. Just like in the Cintiq, you get 7 hardware buttons on the left side of the D13, which you can configure for applications, Photoshop, and Clip Studio Paint.
Huion Kamvas 22 Plus

When Wacom released the Cintiq 22, they were trying to offer a more affordable alternative to the Cintiq Pro 24. However, the reality remains that the Cintiq 22 is still pretty costly, and it doesn't help that its features have been limited.
Luckily, you can find a worthy alternative in the Huion Kamvas 22 Plus. You get the same 22" screen, as well as a set of other useful features at a much more reasonable price.
The Kamvas 22+ features a 1080p display, which offers incredible color accuracy thanks to the 140% sRGB. This is way more than the 97% on the Cintiq and makes the 22+ the most color-accurate tablet on the market.
The high level of color accuracy is made possible with the help of the IPS panel with Quantum Dot technology. Considering the price of the tablet, you won't find a better bargain on offer.
The tablet's screen is laminated to improve the accuracy when drawing with a stylus. It also uses scratch-resistant etched glass on top to provide you with a more practical drawing surface. Thanks to its symmetrical design, the Huion Kamvas Pro 22 is great for both right and left-handed artists. Meanwhile, its digital pen boasts 8192 levels of pressure sensitivity, as well as supports 60 degrees of tilt.
Overall, you'll enjoy the smooth and consistent strokes of the stylus for a pleasant drawing experience. The main grievance on the Kamvas Pro 22 is that it doesn't offer any shortcut buttons. Other than that, this is a budget-friendly yet high-performance tablet that can take your digital drawing techniques to the next level. It is one of the best Wacom Cintiq Alternatives as far as value for money is concerned.
XP-PEN Artist 22 Pro

XP-pen is a well-reputed brand in the market of graphic design drawing tablets. While it has a large product portfolio under its belt, the XP-Pen Artist Pro is one of its finest offerings.
This graphics tablet comes with a set of useful features to offer digital artists a powerful performance, making it the ideal Wacom Cintiq alternative. It is a great tool for illustrators, sketchers, animators, and all other types of creatives.
The first feature to note is the 8192 pressure levels offered by the tablet, to go with a 1080-pixel HD screen. This ensures you enjoy clear and colour-accurate reproduction of the images you draw. The tablet also supports a range of digital art apps such as Photoshop, allowing you to use it with relative ease. You also get express keys, which come in handy for a busy artist who is working against time.
Elsewhere, the screen offers precision and clarity for a comfortable time when working with the XP-pen Artist 22 Pro. You can see all the intricate details, which makes it easy for you to review and edit any errors and include any oversights. Furthermore, a wide viewing angle allows you to exhibit your designs in the best way possible.
An adjustable stand is included in the Artist Pro package, which allows you to find the most optimal angle to produce your artwork. It also ensures that you find a comfortable position that will stave off premature fatigue. The only negative on this tablet is that it doesn't support Bluetooth or WiFi connectivity. Instead, you can only connect to your PC via a USB or HDMI cable. Ultimately, it is a practical choice for a beginner, as well as advanced digital creators.
Huion KAMVAS Pro 16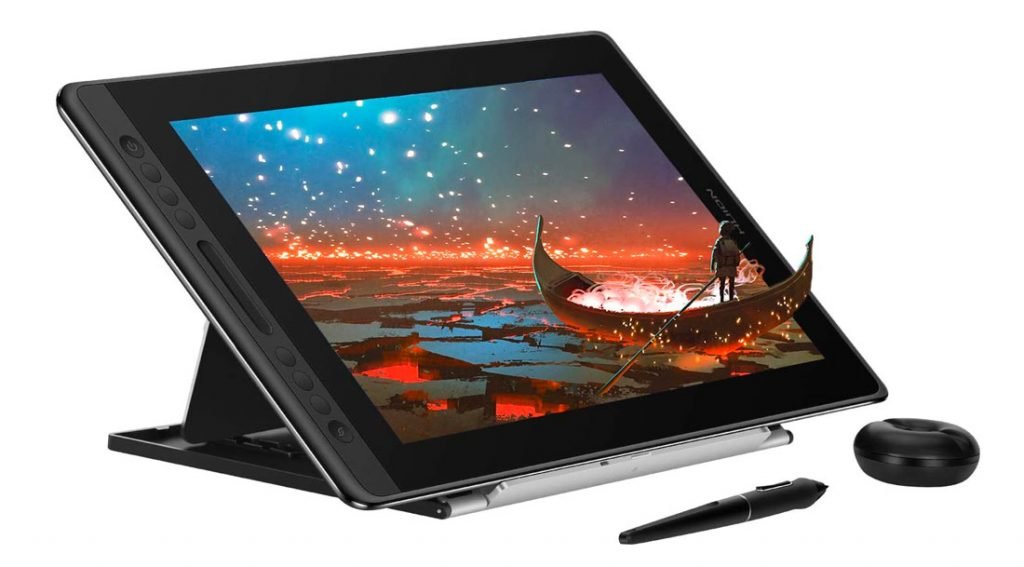 If you're looking for a nice alternative to the 16" Cintiq tablet, the Kamvas Pro 16 from Huinon comes with a fitting profile. The drawing tablet features a 15.6" anti-glare screen to make your work more comfortable.
It also offers a 1920 x 1080 screen resolution to deliver clear images even in underwhelming light conditions. The tablet uses a lightweight and easy to handle stylus that offers 60 degrees of tilt support.
With 8192 levels of sensitivity, the performance is just as impressive as what the Cintiq offers. It is smooth and the feedback is more than satisfying. The tablet can be used comfortably by both right and left-handed creatives without posing any sort of a challenge. You can move the display connectors either to the right or left side of the table, depending on what fits you better.
A micro-SD card slot is built into the tablet, providing you with the storage capacity to carry projects on your tablet, irrespective of the PC you're using. This will come in handy for artists who keep on alternating between their desktop and laptop whenever they want to work on a project. What you may not like about the Pro 16 is that its stylus needs to be charged every time you complete your task for the day.
This ensures that it doesn't run out of power the next time you embark on your project. Furthermore, there are no touch controls, so it can feel a little bit strange using the Kamvas Pro if you're used to gesture controls to scale, zoom, or rotate. However, it won't be too long before you get used to it. As a consolation, you get a customisable touch bar to go with express keys for enhanced functionality during your artistic process.
Conclusion
There is no denying that the Wacom Cintiq is one of the best drawing tablets a digital artist can buy! Despite the excellent performance it offers, it may not be the right fit for all creatives looking for a tablet, especially when you consider just how costly the Cintiq is. This calls for an alternative that will be just as functional but at a more budget-friendly cost.
The best Wacom Cintiq alternatives reviewed above will make a nice option for both beginner and intermediate artists. They are not only affordable but also offer a range of practical features that may be just as impressive as the ones on the Wacom Cintiq. So, take your pick and look forward to an exciting digital art journey ahead!
FAQ
How Does the Wacom Cintiq Compare to its Alternatives?
When you compare the Wacom Cintiq to its cheaper alternatives, it is clear that some features are almost at par but the Cintiq is still significantly more expensive.
However, Wacom boats a loyal customer base, with some artists happy and willing to spend more just to get their hands on the tablet. Ultimately, both the Cintiq and its alternatives deliver a great performance that will suit any serious digital artist.
The choice between the two options might just come down to the budget you've set aside for a new tablet. If you have a flexible enough budget to pursue the renowned brand that is Wacom, then you shouldn't think twice about getting the Cintiq.
However, if you're looking for a better deal with better value for money, any of the Cintiq alternatives discussed above will get the job done for you!
Is the Wacom Cintiq Worth the Money?
All things considered the Wacom Cintiq is an expensive drawing tablet. It costs twice as much as some of its counterparts in the market. However, the brand is renowned for its high quality.
The tablet offers an accurate and pleasant performance, thanks to excellent screen resolution, nice color fidelity, functional features, as well as many other features to provide you with great value for your money!
On the other hand, Wacom's competition in the market offers cheap products that you won't hesitate to pay for. But at the end of the day, Wacom still proves to be the superior brand with more reliable performance.
How Good is the Wacom Cintiq Pro Drawing Tablet?
The Wacom Cintiq is a well-thought-out and practically designed drawing tablet that offers a remarkable drawing performance. Its highly sensitive stylus is excellent for digital art while its anti-glare etched glass screen gives you a comfortable during sketching.
The pen feels natural between the fingers while the screen is intuitive and highly responsive. You will also appreciate the crystal-clear display and superb color resolution.
In short, the Wacom Cintiq was designed with professional digital creatives in mind. From expert animators and illustrators to experienced photographers, this tablet comes with what it takes to take your work to the next level. On paper, the Cintiq is among the best drawing tablets you can get in the market.
It is precise, with superior screen resolution, and a stylus that is not only super-sensitive but also fun to work with.
Is Wacom the Best Brand of Drawing Tablets on the Market?
Many digital creatives will argue that this is the case! After all, Wacom tablets remain the most preferred brand among professionals and other serious artists.
They are the most accurate and most precise drawing tablets while their design is meant to bring out the best in an artist. However, there are a couple of new tablet brands in the market that are giving Wacom a run for their money.
When you consider that they are being made available at a much cheaper price yet come with features that can rival Wacom's, then the issue of "best" becomes relative to the needs of the buyer.
References