Best Standalone Drawing Tablet for Digital Artists?
| Standalone Graphics Tablet | Price | Rating | View |
| --- | --- | --- | --- |
| Wacom Mobile Studio Pro Drawing Tablet | $449.00 | 4.5 / 5 | View |
| Huion Kamvas 22" Plus Graphics Drawing Tablet | $1,249.99 | 4.5 / 5 | View |
| Microsoft Surface Pro 7 Standalone Tablet | $798.64 | 4.5 / 5 | View |
| Microsoft Surface Book 2 | $1,299.98 | 5 / 5 | View |
| Apple iPad 10.2-inch | $299.00 | 4.5 / 5 | View |
| Microsoft Surface Pro X | $1,779.00 | 4.6 / 5 | View |
| Samsung Galaxy Tab S6 10.5″ | $510.00 | 4.6 / 5 | View |
| Veikk A30 V2 10x6 inch Graphic Drawing Tablet | $58.99 | 4 / 5 | View |
Nowadays the pencil and paper have been substituted with a tablet and smart-pen. But if you want to make your work even easier, standalone drawing tablets are the way to go!
Unlike conventional drawing tablets, these devices can work without being connected to a computer. The implication is that you can take your tools of the trade on the train, bus, flight, and any other place while on the move and still get to work on your projects without hassle.
Also, a standalone tablet comes with built-in computer functions that you'll need to get your work done comprehensively. So, if you're tired of being limited by your ordinary drawing tablet, here is our guide to the best standalone drawing tablets for graphic designers:
What Should I Look for in a Standalone Graphics Tablet?

Finding the ideal drawing tablet for your art project can easily turn into a wild goose chase! There are numerous models and brands in the market for you to choose from but not all of them offer the same attributes.
To find the best, you need to watch out for a couple of features that improve the quality of the tablet. Be sure to consider the following questions before you select a standalone drawing tablet:
How Long Should My Tablet Last?
As much you are buying a tablet that you can work with anywhere you go, you still want enough time to comfortably work on your drawing project. This is only possible when you have a device that offers long battery life, especially if you won't be close to a power source.
Ideally, look for a tablet that provides you with at least 10 hours of battery life when on a full charge. This is ample time to carefully draw and bring to life your artistic ideas without needing a power boost.
Do I need a Very Sensitive Screen for My Tablet?
Screen sensitivity is among the most critical factors on a drawing tablet.
Overall, high sensitivity allows you to draw, shade, and sketch more accurate designs.
It ensures that all the little details are captured and conveniently brought to life in your drawing.
Some tablet models even come with advanced features such as multi-touch capability and tilt recognition to enhance the sensitivity of the screen.
Should the Tablet Be Lightweight?
If you're buying a standalone tablet, chances are one of the reasons is that you wanted something that enables you to move around without feeling fatigued. As such, it would be self-defeating to choose a heavy unit that would limit the tablet's portability.
The ideal choice of tablet should be slim and lightweight so that you can keep it in your hands for a long time without feeling weighed down.
How Much Storage Space Should My Tablet Have?
Battery life and screen sensitivity aren't the only things that should concern you on a standalone drawing table. The best device should come with ample space to store as many projects as you can complete.
Look for a tablet with at least 8GB of RAM if you want something that can cope with intensive graphics programs. This is something you'll be able to determine when going through the specifications while shopping.
How Much Should I Spend on a Drawing Tablet?
Your budget is something that should always come to play when buying a product. You don't want to spend on something you can't comfortably afford. Luckily, there is always something for everyone, even when investing in a standalone drawing tablet. Therefore, choose a device that is within your budget range but also ensure that it doesn't compromise the top features you want in a drawing tablet!
So, if you're out there scratching your head wondering what's the best drawing tablet with standalone functionality? We have you covered. Grab a coffee and enjoy the list!
Best Standalone Drawing Tablets – Reviews
| Standalone Graphics Tablet | Price | Rating | View |
| --- | --- | --- | --- |
| Wacom Mobile Studio Pro Drawing Tablet | $449.00 | 4.5 / 5 | View |
| Huion Kamvas 22" Plus Graphics Drawing Tablet | $1,249.99 | 4.5 / 5 | View |
| Microsoft Surface Pro 7 Standalone Tablet | $798.64 | 4.5 / 5 | View |
| Microsoft Surface Book 2 | $1,299.98 | 5 / 5 | View |
| Apple iPad 10.2-inch | $299.00 | 4.5 / 5 | View |
| Microsoft Surface Pro X | $1,779.00 | 4.6 / 5 | View |
| Samsung Galaxy Tab S6 10.5″ | $510.00 | 4.6 / 5 | View |
| Veikk A30 V2 10x6 inch Graphic Drawing Tablet | $58.99 | 4 / 5 | View |
Wacom MobileStudioPro 13" Drawing Tablet
If you are a professional graphic designer looking for a serious tablet to work with, the Wacom Mobile Studio Pro is arguably the best standalone drawing tablet you can get from the market.
This remarkable device boasts a full Windows 10 computer, a highly sensitive screen with precise display, an accurate smart-pen, as well as a host of other features that professional artists, animators, and animators look for in their tabs.
One of the standout features that makes a huge difference on the Mobile Studio Pro is the way the glass is designed to be so close to the surface that there is only a little gap between where you draw and where the image appears.
The fast and ultra-high-resolution 13" screen is not only uniform but also consistent in colour depth, illumination, as well as geometry from edge to edge.
The 3840 x 2160 HD display offers clear and detailed images. This makes the work much easier for you while drawing. You get to see the results immediately and perfectly while also making clear to you things such as colour balance, flow, and feeling, composition and detail, etc. that you had not considered.
The smart-pen is another impressive feature! There is no lag between drawing the image and it appearing on the screen. Also, the screen sensitivity, tilt, and 8192 pen pressure degree take things to a whole new level on this tablet. Not to mention that the Wacom comes with an ergonomic feel that is a joy to have in your hands.
With its 85% color gamut coverage, the Mobile Studio Pro offers vibrant colours that breathe life into your creative art.
Meanwhile, the express keys and controls work seamlessly to save you time and enhance your productivity every time you start to draw, making this a great choice for beginner artists too.
The device is powered by Intel's Core i7 processor, which is paired with Intel Iris Plus Graphics 655 to deliver fast and unrivalled performance.
You'll also appreciate the plenty of storage space that is provided by the tablet. This includes a 16GB DDR RAM to go with 512 GB SSD of internal storage, ensuring that you can safely store multiple files of your work for future reference without coming close to running out of space.
The tablet can also work with both Mac and Windows platforms and deliver to you the same great performance.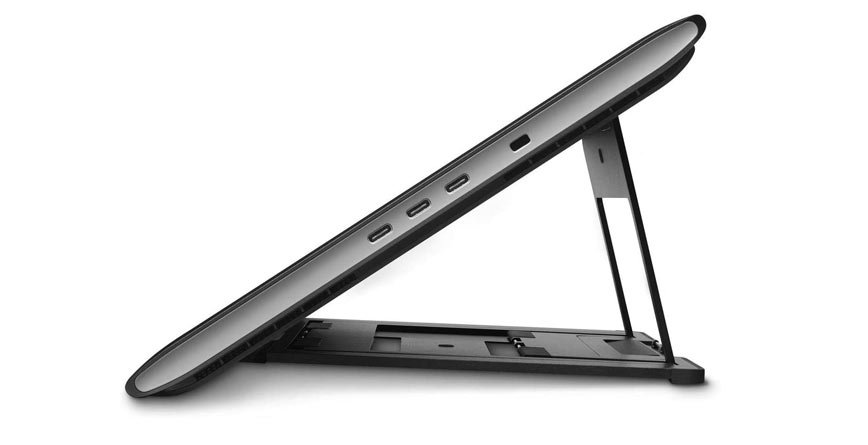 Overall, the Wacom MobileStudio Pro comes with the best build quality, offers the finest display, features an incredible drawing pen, boasts incredible fidelity, just to name a few. In short, it has an intuitive and artist-centered look and feel that brings out the best in professional graphic designers. It is no surprise that man expert artists are hell-bent on getting their hands on this amazing product!
Huion Kamvas Studio 22

The Huion Kamvas Studio 22 is another contemporary standalone drawing tablet that brings exceptional productivity with an optimal blend of efficiency and creativity. It is a nice choice for those looking for something that isn't overly expensive.
This tablet features a 21.5" IPS display, which delivers clear and crisp visuals even when you tilt it to an angle of 178 degrees.
It's 1920 x 1080 pixel screen resolution helps to display your work accurately and making every tiny detail accurate. This ensures that you get to see anything that you might have overlooked in your work and make the necessary adjustments.
Full lamination technology is integrated into the screen to help reduce the parallax effect while delivering an exceptional screen experience.
Additionally, the anti-glare glass serves to limit the harmful glare produced by ambient lights and at the same time improves the screen's viewing angles and brightness. The colour gamut of the tablet is upgraded to 120% RGB, which greatly enhances colour reproduction to provide richer colours, as well as a smoother colour transition.
A lot of attention has been paid by the manufacturer to enhance the ease of use when working with this tablet.
For instance, the device is delivered with an adjustable stand, the ST100, which allows you to conveniently reposition the angle of viewing when inspecting the art you're creating and reposition the tab to make for a much more comfortable experience for artists.
The angles can be set between 20 and 80 degrees. With the addition of the touch bar and press keys, more focus is given to boost user comfort.
These are not only responsive but also work seamlessly with the faintest touch to ensure that you don't struggle when using the Huion Kamvas Studio 22.
The tablet is also powered by an Intel Core i5-8400 processor that delivers fast and reliable processing speed. The availability of double drives further ensures that you get incredible efficiency.
Finally, the Kamvas is compatible with most major drawing software, including SAI, Photoshop, Illustrator, etc. and can be used with both Windows and Mac. The PW500 pen with 8192 pen pressure is not only highly sensitive but also comes free of a battery, allowing you to come up with creative designs comfortably.
Not to mention that you get a 1-year warranty when you purchase the tablet.
Surface Pro 7 Tablet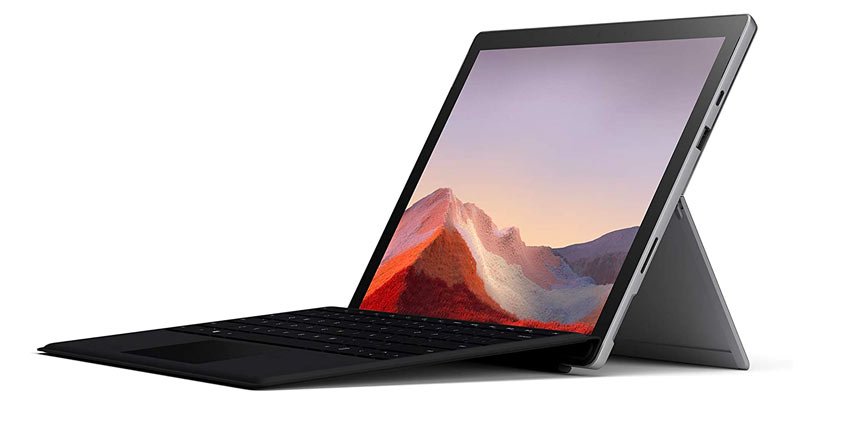 Fuelled by a 10th generation Intel Processor, the Surface Pro 7 is super-fast and comes with brilliant network connectivity. The battery life is long enough for you to sink into the creative process without worrying that you are running out of time.
The screen is big enough to be stay creative at 12.3 inches and features a sleek and slender design to enhance both the style of the tablet and its portability.
The tablet weighs a paltry 1.7 pounds to ensure that it doesn't weigh you down. The ultra-slim design also feels natural to hold, ensuring that you can a whole day working on your table without getting uncomfortable.
The tablet's high-resolution PixelSense display incorporates light-sensing technology that automatically adapts to the environment you're using the tablet in.
This helps to save power while ensuring that you have the optimal amount of brightness to continue working comfortably.
Two upgraded Studio Mics are included in the Surface Pro 7 to make sure you can speak from it both when you are making a phone call or sending a message. Furthermore, there is a built-in kickstand with a detachable Type Cover that enables you to work with extreme flexibility and comfort.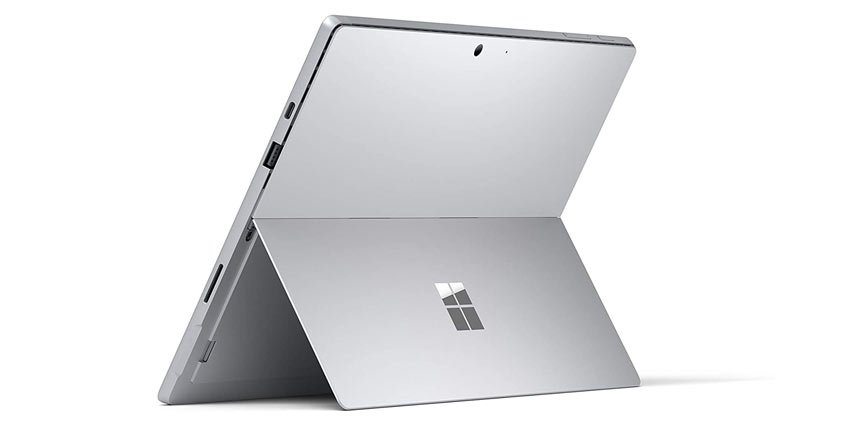 The standby option also does a great job of conserving the battery when the tablet is left idle. This is what allows the tablet to deliver up to 10.5 hours on a single charge cycle.
You don't have to wait too long when you run out of power; the tablet will get to 80% in just over an hour of charging.
With the Surface Pro 7, you'll have plenty of ways to connect thanks to both USB-A and USB-C ports that you can connect to docking stations, displays, as well as for accessory charging. The 16GB RAM option is also a great feature that helps to offer you a powerful device with the potential to perform multiple tasks at a time.
Microsoft Surface Book 2

For those looking for a drawing device that will help them work on their illustrations effectively, the Surface Book 2 will be an ideal choice. This impressive gadget can act as a tablet, PC, or a convenient studio for your work. It features a 15-inch PixelSense display for great viewing, coupled with rapid intel-backed processors.
Aside from these, the Microsoft have equipped this tablet with GeForce GTX, making it the perfect tool to make your gaming experiences vivid. It also allows you to work with graphics professionally. The battery is quite durable and gives you up to 17 hours of service with no interruptions.
The tablet is powered by an Intel Core i7 processor, which delivers fast processing speed to make for a powerful performance.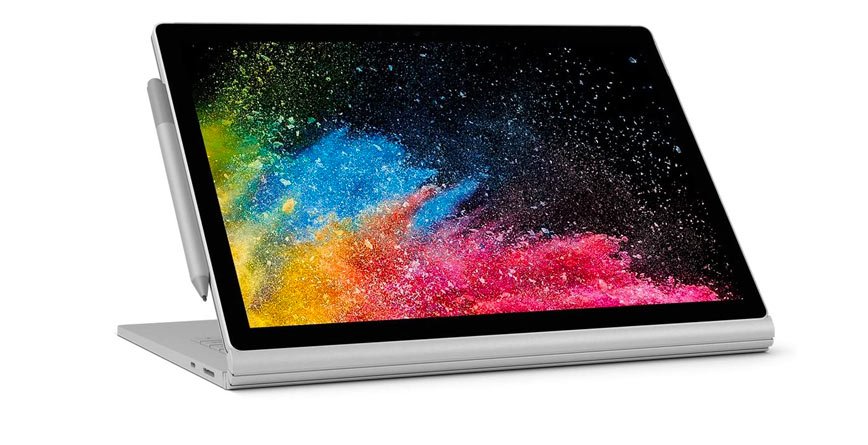 When you add this to the lightweight design of the Surface Book 2, you get a portable and high-performance tool that you can use as an all-purpose laptop thanks to its remarkable specifications.
If you feel like using the device as a tablet, simply remove the screen and you're left with a slender and nice-to-hold tablet.
Similarly, you can choose to use it as a pocket studio when you fold the screen, enabling you to enter Studio Mode and conveniently work on all your illustration projects.
When it comes to storage, you get 256GB of internal storage capacity to go with 16GB RAM, meaning you have more than enough space for all your files. A new USB-C port is also included to make for more versatile use.
Apple iPad 10.2-inch

This incredible offering from Microsoft comes with a wide 10.2" screen, coupled with a retina display for crystal-clear viewing. It is versatile enough to provide you with all the features typical in a computer but also offers you the flexibility of a tablet. Similarly, it incorporates a full-size Smart Keyboard featuring all the functions you find in the iPadOS.
This device allows you to perform multiple tasks, as well as make use of various applications simultaneously.
As such, you get to save a lot of time and become more efficient as you enhance your creativity. You also get an Apple pencil that comes in handy when you want to highlighting text, illustrate, markup significant files, and more.
Furthermore, you get an A10 Fusion chip that helps to improve the quality of the visuals and a better drawing experience. The touch screen offers an ID fingerprint sensor that customises your user-experience.
You get two cameras on the iPad 10.2"; an 8MP back camera and a 1.2MP FaceTime front camera.
The stereo speakers included by the manufacturer also make for a nice listening experience when you want to play some music while working on a project or connect to another smart device via the 11ac WiFi.
Lastly, the tablet offers long battery life with up to 10 hours of uninterrupted service when you start working.
Microsoft Surface Pro X
The Surface Pro X was designed for web-first encounters. It is a flexible gadget with an ultra-slim profile and a lightweight design that feels so comfortable to hold.
The tablet features a 13-inch touchscreen that is wide enough to offer comfortable viewing with narrow bezels, as well as rapid LTE connection capability.
The keyword and stylus are battery-powered, but you'll have to buy them separately. The Surface Pro X is powered by Windows 10, which allows you to utilise the Office 365 Suite.
In addition to other built-in Microsoft programs such as Chrome and Edge. All this helps to make your work easier and makes it possible to continue working while on the road.
The keyboard comes with a backlight and has a big glass track-pad with multitouch functionality. It can recharge the Slim Pen so that you don't worry about the dwindling power.
Furthermore, the tablet is effectively secured with a Hello facial recognition software, which also means that you don't have to struggle remembering your password every time you want to use the device.
For enhanced connectivity, the Pro X features 2 USB-C ports and the tablet will naturally associate with the levels of brightness around you to help deliver dazzling portraits.
Its cutting-edge design integrates a large 16GB RAM to provide you with sufficient memory for all your storage needs.
Samsung Galaxy Tab S6 10.5″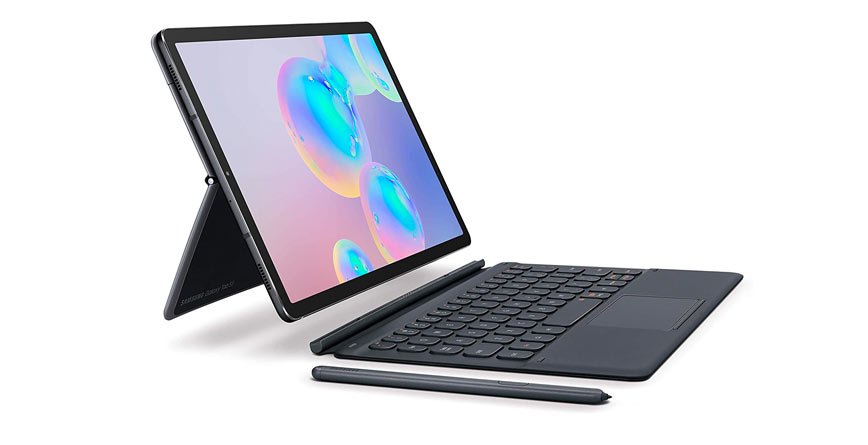 When looking for a tablet for artists, most people typically dismiss Android tablets and other devices that utilise the Android operating system. Unfortunately, the Android environment doesn't offer useful programs like Adobe Illustrator Draw.
Another reason could be their affordable price tag and the fact that there are already so many smartphones that use the Android operating system.
However, the Samsung Galaxy Tab 6 has proven to be a go-to standalone drawing tablet for artists looking for a budget option.
It supports and improves the creative process, which is what many graphic designers look for in a drawing tool. The tablet comes with a lightweight yet solid feel that you'll be glad to have in your hands. The beautiful AMOLED screen also makes drawing with this device a joyous experience.
The Tab 6 is also easy to use and features a very simple interface. The smart-pen feels ergonomic and interacts with the screen sensitively to make for quick and seamless performance.
You'll be able to comfortably run advanced and powerful video, graphic, and animation programs on the tablet with no hassle. The powerful machine is reinforced by the optional Book cover Keyboard for a great all-around tool.
Ultimately you shouldn't overlook the Android devices when it comes to your graphic design work. Windows might offer you more powerful software and iPads prove to be more intuitive and artist-centered, but Android also comes with a unique charm that you should try out. The devices are generally affordable and user-friendly with a range of free software to use.
If you already have an Android phone and are looking for an art tablet for both casual and serious work, the Samsung Galaxy Tab 6 is a great standalone drawing Tablet that you can add to your Android camp!
Viekk Graphic Drawing Tablet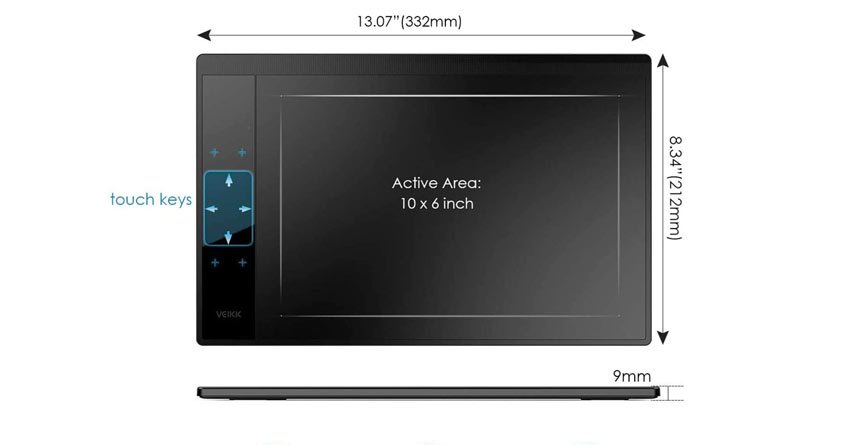 If you're looking to squeeze your budget when shopping for a practical standalone drawing tablet, the VIEKK will make a nice choice. Despite its affordable price, it offers a fair share of impressive features that any digital artist will appreciate.
For example, you get a wide 10.5" retina display with 1920 x 1080 resolution that delivers vivid images with dazzling details in your art.
This is coupled with True Tone innovation, which helps to bring your art to life. The VK 1560 pen that comes in the package responds quickly and efficiently, resulting in accurate, precise, and smoother lines flow.
Meanwhile, the anti-reflective coating reduces the glare in bright conditions to ensure that you get a remarkable visual experience.
The battery-free stylus offers 8192 pressure sensitivity and supports one-click Toggle pen shortcut keys, which allows you to switch from pen to eraser in an instance. The pen doesn't require charging, meaning you get hours of seamless use. Not to mention that a pen tray is conveniently included to make for safe pen placement.
Additionally, all the keys available in the graphic table can be customised to your preference.
The scroll wheel can be used as a brush or canvas and mouse wheel for up and down scrolling.
The tablet further supports windows 7-10, as well as Mac OS 10 and later. It can work with most of the major drawing software like Illustrator, Photoshop, SAI, Clip Studio, Painter, Sketchbook Pro, just to name a few!
Lastly, the lightweight and slim profile of the device makes for a portable construction that is generally easy to carry around. You also get an adjustable stand to position the tablet at the perfect drawing angle for a comfortable experience. Not to mention the 10 straight hours of service you get on a single charge cycle.
Conclusion
Whether you are a digital artist, illustrator, sketcher, or simply an art enthusiast looking to explore the digital art world, a standalone drawing tablet offers you a great way to enhance your creative skills while offering a satisfying experience. This is because all the features, tools, and designs of the devices are tailored for your art.
Thankfully, there are numerous options in the market available at different prices. The models reviewed above provide you with practical options that let you get the most out of your creative process.
FAQ
Should I Spend So Much Money on a Standalone Drawing Tablet?
There are various premium brands of standalone tablets that will cost you an arm and a leg! For some people, this may seem like unnecessary spending. However, this is not always the case. If you are an accomplished digital artist looking for a serious device to bring the best out of your art, then you have every right to spend more on a standalone drawing tablet.
Furthermore, these devices are generally high-quality tablets that will serve you diligently down the line.
Ideally, these premium brands are designed for professionals who make money from their craft.
You can consider it a worthy investment with an impressive return on investment. So, if you are just starting, you might want to look further down the shelf!
What are the Best Brands for Standalone Drawing Tablets?
Apple is definitely one of the prioritised brands for graphic designers looking for a high-performance standalone drawing tablet. However, you can still find a serious device from reliable and trusted manufacturers such as Samsung, Microsoft, Wacom, etc. All these companies design their products from scratch and put all the tiny details into consideration for tailored functionality.
Apple particularly do an awesome job, and their iPad line of tablets make excellent options for digital drawing. They also provide graphic designers with the perfect combination of iPad and Apple Pencil compared to other models.
Can I use a Drawing Tablet without Syncing to a Computer?
Yes! Technological advancements have made it easier for you to get into the creative process of digital art. You no longer need the bulky equipment and computer clutter for this. All it takes is a pen, a screen, and a self-powered device; and you'll be good to go. These types of devices are generally referred to as "Standalone Drawing Tablets" and have become the go-to gadgets for contemporary digital artists.
What is the Difference Between a Drawing Tablet and a Graphics Tablet?
When using a drawing tablet, the images you draw appear directly on the screen to keep your attention on the work. This proves to be a great option for designers. On the other hand, graphic tablets force your eyes to be fixed on the monitor even as you draw with your hands. This means you have to keep shifting your attention between the monitor and where you are drawing.
What is the Difference Between a Traditional and a Standalone Tablet?
The significant difference when comparing the two designs of tablets is that when you consider traditional tablets, you will realise that they need a computer to function and don't feature any built-in display features. This means they are only suitable for drawing since not all units come with a screen.
On the other hand, standalone drawing tablets can operate independently without needing a computer or any other additional equipment. This is because they have an integrated screen that enables you to not only draw comfortably but also perform other functions. Overall, these are more suitable for pro digital artists and tend to be more expensive than their traditional counterparts.
References