Making Money as a Graphic Designer..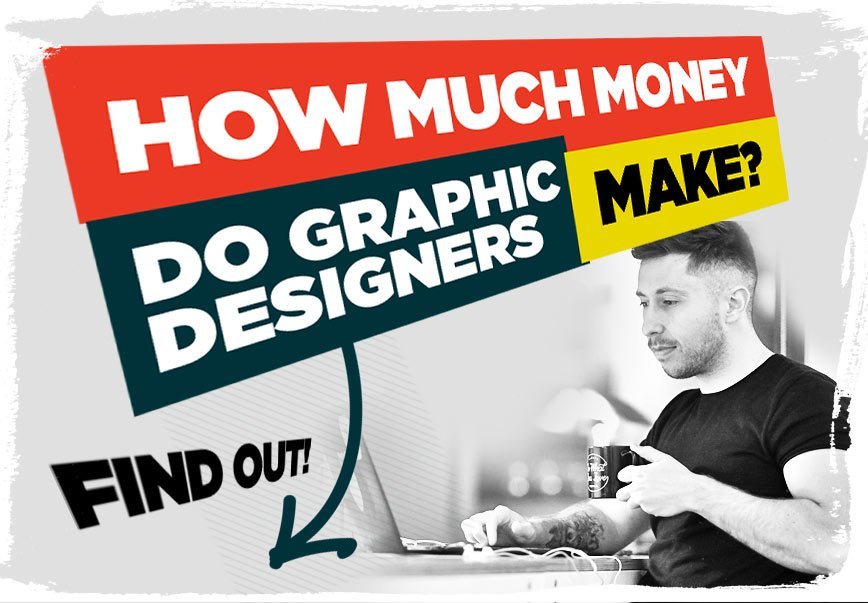 So…the burning question on people's tongues: How much money do graphic designers make? Well, that's pretty interesting as it can vary massively from one designer to another.
However, being the helpful chap that I am, i'll try to answer this as best I can based on my own experience working as a Designer for some of the best Design Agencies in the UK, as well as my own Freelance Experiences.
So whether you're a student, or someone looking to change their career and follow your passion, this is the article for you. Sit back, grab a coffee, and lets get started.
How Much Money do Graphic Designers Make?
We'll split this into two sections, but in either case, there is serious potential to make money with graphic design. You could turn this into a full time career and become a design manager at a studio working with huge brands, OR you could go solo and set up your own agency, the sky is your limit with graphic design.
Below are the two main "ways" shall we say to earn from Graphic Design in a traditional sense. In this article i'll go through all the ways that Graphic Designers make money through these separate avenues.
Employed Graphic Designers

Freelance / Self Employed Graphic Design
Employed Designer UK ?? – Average Yearly Income
According to Payscale.com the average Salary of a Graphic Designer in the UK is roughly £23,000. The average bonus is also £989 (apparently).
This was based on a recent anonymous survey of exactly 3,838 Graphic Designers, with a range from anywhere between £17 and £31k depending on experience levels.
The below graphic also shows a representation of average wage compared to average experience level as a Graphic Designer. This data is gathered from Payscale.com, based on almost 10,000 salaries reported online.
As you can see, with an average of 1-4 years of experience, you can expect an average salary of £21,000, with this figure varying depending on what type of Graphic Design Job, and of course the budget the company has to be paying the emplopyee.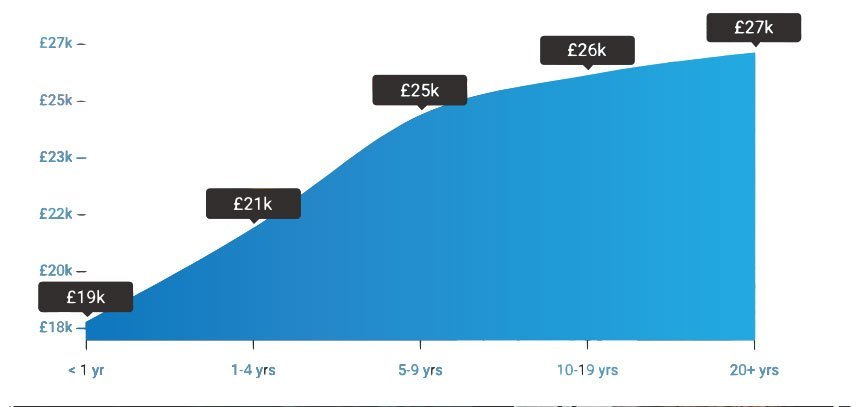 Employed Designer USA ?? – Average Yearly Income
For the purposes of this article, we're going to cover both the UK and USA, with a general overview of other countries provided at the end.
Now let's move on to America, how much do graphic designers make in America, compared to the UK?
The data below is based on information from 28,107 salaries across all states in the USA, provided by Glassdoor and shows an average salary of $45,677.
Other data from Indeed shows that the average monthly income is $3,413 with a yearly income of $41,000.
As you can see from the data shown above, the average salary for a Graphic Designer is significantly more in the USA than the UK, with ??$45,677 in America, and ??$30,000 (£23,000 UK Pounds) respectively in the UK
Entry Level Graphic Design Jobs
Ok so far in the article we've learnt that being a Graphic Designer in the USA is somewhat more profitable than the UK. HOWEVER that's not exactly true as of course here in the UK we have free health care and other benefits, and in the USA perhaps the living costs offset the increased income compared to the UK.
What are the Best Entry Level Graphic Design Jobs
We're only half way through this article, but its worth noting that there's no point in knowing the salary of a graphic design job unless you can actually get the job. So what are the best entry level graphic design jobs?
With most entry level graphic design jobs you'll learn a significant amount of the skills you'll carry on using in your design career. But what are the best ways to get your foot in the door, or are there any entry level graphic design jobs that are less intense?
Well, there are a few ways to get your first graphic design job. A few of these are listed below:
Internship – A great idea is to get a graphic design internship as an "entry level" graphic design job. An internship will give you the perfect opportunity to expand your skillset, learn and not feel too pressured to create amazing, pixel perfect designs.

Part Time Graphic Designer – This is quite a rare thing, but they do exist. Some companies just look for temporary artworkers or people that they want to teach (but dont want to do an internship), so this is another way.

Social Media Designer – Personally i feel like this is one of the best entry level graphic design jobs, because there is (depending on brand/size of company) less of a requirement to provide commercial level graphics. As long as you produce content the company is proud of, you can learn on the job if you just have limited experience.
How much do Freelance Designers make?

Ok so this is the second half of the article, and its important to mention when thinking about how much do graphic designers make. Why? Because there are a TON of Freelance Graphic Designers now.
With Freelance Design comes the option to charge alot more for your services, depending on the task and of course your level of experience. But you do have more flexibility when it comes down it, so it may come as no surprise that Freelance Designers do actually earn more money than regular, contracted Graphic Designers with your typical "9-5" Job.
Thinking WTF??? Well here's some stats…
Statistics from Glassdoor show that the average Salary for a Freelance Graphic Designer is around $56,000, or £42,000. Key to note is that this data could be affected by designers who have been successfully freelancing for a number of years, so the "entry level freelance design salary" is most likely a lot lower, especially if you are just starting out.
The reason there is so much variation is because Graphic Design, like with everything else suffers from a lot of variation. There are some areas of Graphic Design where you can technically charge 10x as much as another area.
For example, with UX/UI now being extremely popular and sought after by large companies for their Websites & Apps, positions are opening up in some big cities, with some equally BIG salaries. Just take a look at your average UX/UI position in London, New york, and other major capitals across the world, the jobs have huge salaries attached!
Below is a graphic that shows the average salary in the USA for a UX/UI Designer, a WHOPPING $97,000, just absolute madness! It's well worth looking into training yourself on UX/UI design if you're looking to start your freelance career on a high! 😀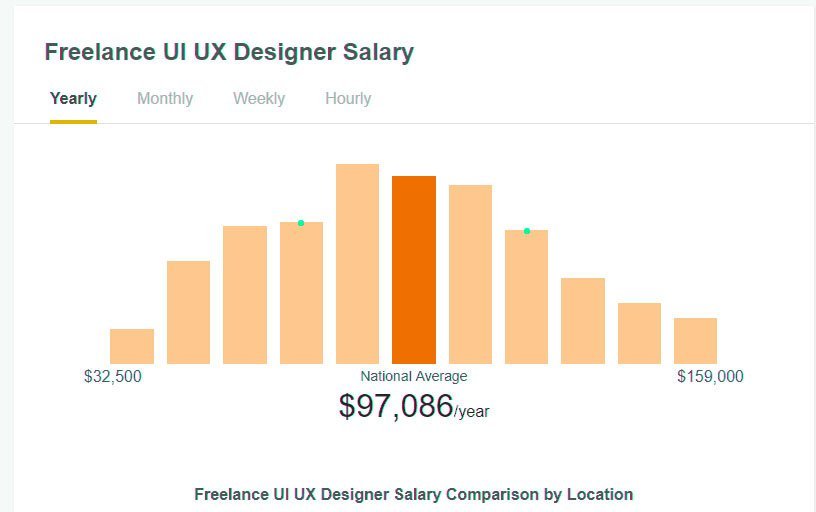 How to Make Money as a Graphic Designer
Ok so if you're reading this, you may well want to become a Graphic Designer, especially after seeing the potential to make some serious cash!
So what if you're getting started as a freelance designer, or even wanting to make some extra money from graphic design in your spare time?
There are plenty of ways to support your current income as a designer, or even turn these things into full time income
Below are a few useful ways on how to make money as a graphic designer. Everything from selling digital creative assets to selling digital courses.
Questions & Answers
How Do I get my First Graphic Design Job?
Ok so this is definitely a question for another article entirely. However, there are a few ways to get your first graphic design job.
First, focus on building a solid portfolio, whether this is full of personal design projects, or projects you've done for smaller clients or family, or even on Fiverr/ PeoplePerHour.
From here you'll want to build a simple online portfolio, you could even just sign up on Behance and upload your work there. Also create a mini CV on LinkedIn, in preparation for any interviews.
Finally, you'll want to look on Linkedin/Reed/Indeed and other job searching websites for beginner Graphic Design positions and/or internships. This will be your foot in the door into Graphic Design.
How to find freelance graphic design work?
This is alot tougher than finding a regular job, as in most capital cities Graphic Design Jobs at all levels are a dime a dozen.
However, fortunately there are a few ways to do this. One of the main ways is to head over to Fiverr and post out some of your services. From here you may be able to eventually land yourself a permanent client. Just make sure not to price yourself too cheaply, please never do that.
Should I leave my job to Freelance?
Basically….No
The problem with this is that you're putting all your eggs in one basket, and the simple fact remains: It's going to take time to get quality clients, as well as build up a quality website / portfolio.
The best way to start is to take on a small freelance project while working your regular job, then once you build up a relationship with this client, you can ask for more work, or just start to build up a clientbase. Then eventually once you're making roughly the same income with some consistent work coming in, you can make that giant leap! 😀
How to charge for Freelance Graphic Design
This is an interesting question, as depending on the niche, you will charge more, as I illustrated in this article.
However, as a rough guideline, always charge a flat rate, as opposed to an hourly rate, this is what Chris Do advocates also
Just because you've seen someone charging $50 for a logo on Fiverr, it doesn't mean this should be what you charge. You NEED to charge the client. What do i mean by that? Well..
If the client is a huge multi-national company with a gigantic budget, you're hardly going to charge $1000 for a logo are you? You need to base the price based on your own work, not just the hours you put in, but the thought, the creativity, the planning, the commitment to producing a solid mark.
Always charge more than you think the client will accept, because usually, this is the case. Designers have a habit of being scared of what the client is going to say…..
"$5000 for a logo! We cant afford that! But we can afford to waste $8000 on that new air conditioning system we just installed on the ground floor"
Be confident, now you know how much do graphic designers make, you can price your work accordingly….but please, always charge more!
What are the best Graphic Design Courses?
We have an article on this which you can see here: What are the best graphic design courses. With Udemy you can learn everything you need to learn regarding graphic design, from Illustration, Web Design, Icon Design, Watercolour Painting, Vector Design and so much more.
How to start a Freelance Graphic Design Business
Once again, this is another article entirely, but here are the main things to consider:
When starting out, you'll want to think about a few things, is it just you? Then of course you'll be a Sole/Individual Trader, so there's perhaps no need to set up the business bank account/limited company until you're making enough money to do so.
If you're an established designer and want to go into business starting your own studio with your designer buddy, then you'll want to register your company officially, and of course if you have employees you'll need to manage the payroll, holidays and all that jazz respectively.
However, for the majority of you, you'll be going solo, so dont worry at first about everything official, just try to get your first few clients and then pay your tax every year. In the UK you can register for Self Assesment Taxes, and just pay your tax once per year.
Another good way to make a bit of extra money is to sell your fonts online.
How to make a graphic design resume
This is a very interesting topic, and as a Graphic Designer, you should make your resume (CV in the United Kingdom) as creative as you can. Drop Microsoft Word, pick up Illustrator/Indesign/Photoshop, and get creative. A good graphic designer resume should at least showcase some of your skills as a designer.
It's not unheard of for designers to create 3D Creations of their resume, or hand made resumes for large design studios. It's your chance to show off your creative skills to the max, so think of this as very different to a normal job, your work should be full of flair, and of course make sure you have all the basics on there too. (too much flair but a lack of information may not look good!)
Conclusion
I hope this article has answered the question of how much do graphic designers make. It's an extremely profitable industry to be in, especially as everything, for many years now, has become digital.
The data isn't perfect, but its a step in the right direction. Generally its tougher to start out with freelance design, and in the beginning your salary/wage will be alot lower than that of a employed designer.
However, with enough effort, you can well exceed your co-working graphic designers in 9-5 jobs, as you begin to set your own rates for work. Simply put, you have more flexibility as a freelance designer which you just don't get in a 9-5 job.
Now you've read this, you should read our previous article, 10 Ways How to Make Money as a Graphic Designer