A Roundup of Top Udemy Courses for Designers
What are the best Udemy Graphic Design Courses? Digital trends have proven to be an extremely integral part of both the social and corporate world today. Expertise in the digital arena has become a highly sought-after quality in the society and you don't want to be left behind in this digital revolution.
There's always room to add a new skill to your repertoire, which may be appealing to future employers or generally just your own progression as a designer/artist.
For the curious learners seeking to upgrade their digital art knowledge, there are plenty of platforms that give you the opportunity to do just that. And the online space is a great area where you can self-learn with so much convenience.
If you are interested in improving your digital art skillsThe Best Digital Art Classes and Courses (2022 UPDATED) so you can make money from graphic design, Udemy is a reputable online classroom where you can get to learn about a wide range of topics. It is highly rated by both novice information seekers and experienced digital consumers. This is thanks to a versatile range of courses offered that allow you to gain relevant information on the field that interests you.
Let us look at some of the best Udemy graphic design courses:
1. The Ultimate Drawing Course
This course teaches you how to create advanced art to the level of a professional. It serves to enhance your skills in digital drawing, be it for your personal projects or commercial undertakings.
This course adds to your little knowledge of drawing so that you are able to come up with advanced art while having a deeper understanding of the drawing fundamentals.
In summary, the ultimate drawing course gives you the opportunity to create 50 different projects that will elevate your skill level from novice to expert.
This course is divided into 11 sections that take you through the drawing process in multiple styles, one step at a time. The goal is to equip you with skills on how to create remarkable designs and illustrations.
The course entails more than 11 hours of clear content that the instructor walks you through every step of the way as follows:
The first order of business is to learn about the fundamentals of drawing. This is the most important area when it comes to creating professional art and includes everything from line fundamentals to highlight and shadows.

This is followed by lessons on how perspective works so that you get the idea of how you can incorporate it into your art. You'll learn about the 1, 2, and 3 point perspective.

The next step is the creation of perspective and how it can be applied to your drawings.

From here it is learning how to draw from life; a very crucial skill when it comes to digital art.

After that, you'll have the capacity to start drawing human faces. You'll be equipped with the knowledge of how to sketch the human face from a variety of angles.

The next thing is drawing the human figure

Finally, you get a bonus lesson where the instructor demonstrates how to draw animation styled figures.
2. Discover How to Draw and Paint Comics
This course entails 60 hours of video lessons where you learn to paint. It allows you to convert anything in your imagination into realistic works of art. This is a vital skill that sets the foundation for your growth into a professional.
You'll get to know how to sketch the human figure, heads, muscles, emotions, cartoons, etc as you learn how to create your own style, 3D shapes, perspective, form, lighting, just to mention a few.
In Discover How to Draw and Paint Comics you get the opportunity to learn the use of Photoshop and photo editing methods. Not to mention digital painting.
This will be a great course not only for beginners, but also for advanced graphic designers who want to fine tune the art skills they already possess. The course promises to improve your drawing dramatically while showing you how to perceive and process reality from different points of view. It is an intensive course that gives you a deeper understanding of what and how you are drawing.
3. Sketch from A – Z: Become an App Designer
Sketch provides you with all the tools needed to elevate yourself into an expert app designer after just a few hours of coaching. This course demonstrates to you how to utilise the Sketch 3 program to develop dynamic, development-ready mobile application UIs that will engage users and impress clients.
The course enhances your knowledge of Sketch's powerful tools by showing you how to master the fundamental principles and discover design techniques that serve to boost your creative potential. You'll also learn how to implement best practices in UI to guarantee quality and usability.
What's so special about Sketch is its top-of-the-range vector Boolean operations that allow you to come up with complex shapes and layer designs. You'll be familiar with the basics of Boolean operations and a number of design techniques that Sketch offers by the end of the course.
This course uses step-by-step instructions with customisable exercises that are delivered through 42 lectures. It will cover everything including shapes, layers, styling, text, editing, and exporting finished projects.
You will get periodic quizzes in the course of your learning to gauge your progress in mastering the content.
4. InDesign CC 2020 MasterClass
Introducing the Indesign CC 2020 Masterclass.This is another great option among the best Udemy graphic design courses. It aims to show you how to use InDesign the way creative professionals do. You will learn the best practices in working with InDesign and get the confidence required to create new work.
Adobe InDesign forms part of the three core applications that Adobe created and has proven to be a critical tool in all kinds of design projects. This is why it is important for any aspiring graphic designer. Getting a comprehensive understanding of this software will be extremely significant when you want to develop commercial work.
In summary, you will learn the following:
You first get to know the basics of InDesign to get you comfortable with the interface, the setting preferences, as well as the creation of documents.

The three subsequent chapters are all about familiarising you with all the brilliant features and tools in InDesign such as Image and Text Frames, choosing Fonts, using Pages, and Formatting Text.

From there, you'll move to creating layouts, drawing, working with Swatches, Blend Modes, Effects, Grids, etc.

After this, you will be taught about compositional techniques, and this is an integral part of the course.

Finally, the more sophisticated features in InDesign are made clear in the closing chapters of the course. By this time, you'll be fully conversant with the tools and have the confidence to master the even more advanced techniques. The last chapters include things like Advanced Text Features, Mastering Styles, and Handling Assets, and more.
This course will be useful to anyone hoping to start a career in the creative art industry, as well as beginners who want to master the InDesign software from the very basic to the more advanced features. Existing professionals can also use this opportunity to boost the skills and refine their workflow as they learn how to do things the right way.
5. Typographic Logos: Typography and Lettering for Logo Design
Learning about and building up your existing skills in type-based logo designs is an extremely important move for your graphic design career. This course does just that by taking you through the whole process of coming up with a type-based logo, starting from the idea conception to its implementation.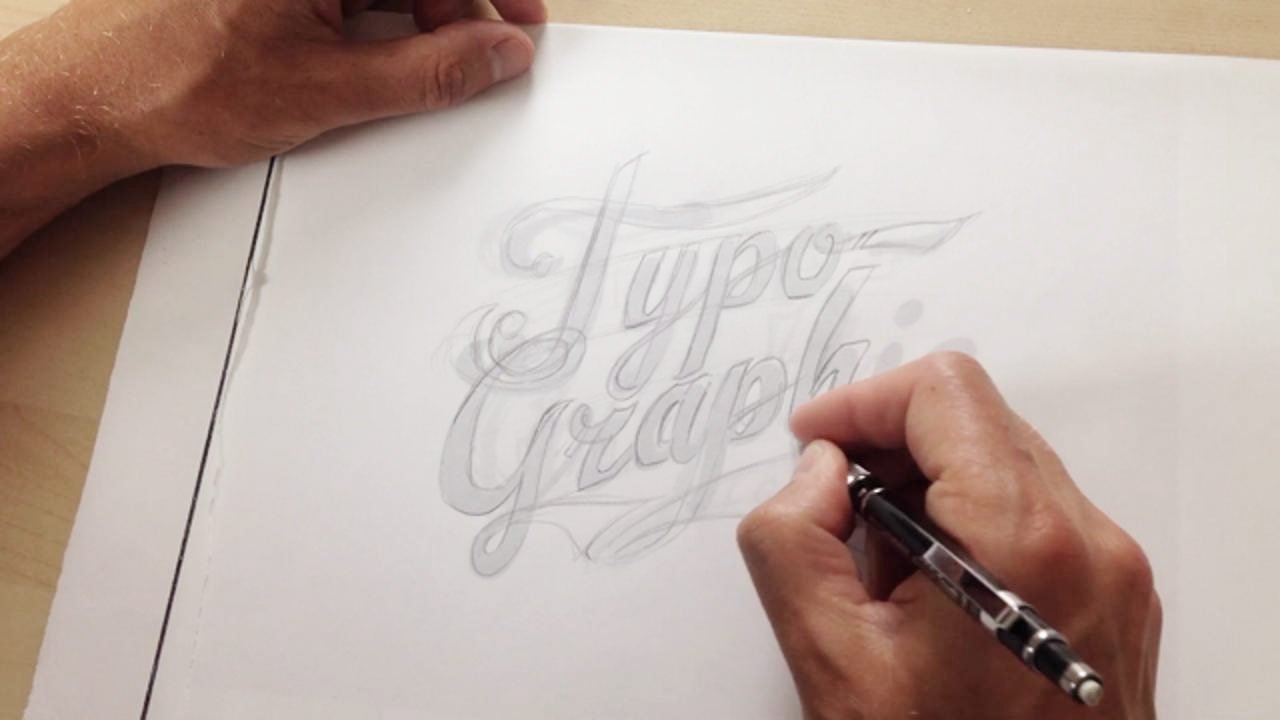 This course covers the following:
Finding and applying logo inspiration

Analog and Digital tools for the creation of logos

Use of traditional and untraditional tools for logo creation

Special techniques in refining your designs

Structuring letterforms and general composition

Creating a lean vector design

Sketch design thumbnails

Implementing color theory, shading, 3D effects

Adding texture in Illustrator and Photoshop
By the end of the day, you'll be in prime position to harness the above methods to create commercially viable logos, this is a one of the best udemy graphic design courses for those interested in logo design and typographic composition.
You also get a bonus of 26 Bitmap textures for use in Illustrator, as well as 26 Photoshop brushes for adding texture to personal designs. Furthermore, you get multiple vector halftone gradients and finished Typographic logo designs in vector format.
6. Complete Beginner's Guide to Anatomy and Figure Drawing
This course basically introduces you to anatomy and figure drawing. Anatomy drawing is a crucial technique that can be difficult to master. Reading books alone might not be the best way to learn this, given how cryptic and confusing they can be.
The skill that this course imparts on you will enhance your drawing work as well as provide you with a solid base to any other related online course you come across.
There is no shortcut to creating great art, you just have to put in the work. Here, you get the idea of how to develop your own human figures that you can use for games, comics, or client's project with little hassle.
These skills will also help you to use things like turnarounds and character design for games, as well as creating action for comics. You can translate it to digital painting and give you a head start in 3D. The possibilities are endless once you are familiar with what anatomy and figure drawing entails.
In short, you will learn to:
Draw anatomy without having to rely on reference

Think the way an artist would in solving problems

Take your digital art to the next level

How to pose a figure

Draw muscles of the figure

Work at a comfortable pace

Create variety while developing your own style

Not depend on other artists' works when creating art
7. The Complete Graphic Design Theory for Beginners
The Complete Graphic Design Theory for Beginners is a fantastic course by Lindsay Marsh and Jeremy Deighan which teaches you the basics of graphic design theory including typography, branding, logo design, photography and even design trends for 2020.
In this course you will learn:
Graphic design theory & how to apply this to your work

Color Theory and how it applies to branding, sales & ecommerce and the world around us

Photography composition theory & how to integrate it with your graphic design work

Logo Design & Branding and how you can use effective logo design to drive traffic to your business

The legal side of graphic design and how to use design theory to protect your branding

Typography design theory and how to use it for logo design, branding and more

UX/UI Design Theory & how to use it to design apps and webapps for your business

Past and current design trends and how they tend to evolve over time
8. Graphic Design Masterclass – Learn Great Design
The Graphic Design Masterclass by Lindsay Marsh takes the previous course above a step further!
This course covers many different types of design software including Adobe Photoshop, Adobe Illustrator, Adobe Indesign as well as core principles to learn such as colour theory, graphic design theory, branding & logo design.
In this course you will learn:
Design Theory & Core Fundamentals

Logo & Packaging design

You'll learn how to master that pesky pen tool in illustrator, amongst other tools like the shape-builder tool!

Non destructive editing techniques in Adobe Photoshop

How to use Affinity Designer & the differences between the two different software packages

Learn photo editing and photo-manipulation in Adobe Photoshop

How to use Adobe Indesign and create artwork within the program

Learn how to design event flyers & the history of fonts and typography.
Overall this class is one of the top sellers on Udemy and for good reason, Lindsay goes into so much detail in this course and it shows with over 16 Hours of On-Demand Video and 23 Downloadable Resources, it's a beast of a graphic design course.
9. Logo Design in Adobe Illustrator – For Beginners and Beyond
Logo Design in Adobe Illustrator – For Beginners and Beyond is one of the most in-depth udemy graphic design courses in this list, made by Daniel Evans; it has over 15.5 Hours of On-Demand Video and 41 Downloadable resources!
All you'll need to complete the course is a copy of Adobe Illustrator and a desire to learn logo design!
In this course you will learn:
How to create professional vintage & iconic logo designs

Colour psychology in regards to making your brand truly iconic and memorable

How to sketch memorable logos and then colour them professionally with regard to colour theory

How to price your logo designs for maximum profit

How to interpret client briefs and produce high end professional logo design work

Mastering the pen tool to create unique & memorable work

Learn how to design with optical illusions to produce really iconic work

Learn how to design mood boards when working on logo designs to finalise versions & optimise your time.
10. Illustrator CC 2020 Masterclass
The Illustrator CC 2020 Masterclass by Martin Perhiniak is a fantastic course to purchase if you really want to learn how to use Adobe Illustrator.
The course includes 13 hours of on-demand video and 8 downloadable resources for you to get your teeth into! The course will slowly introduce you to the main skills required to use adobe illustrator efficiently, and is also suitable for those who are beginning their illustrator journey as well as those who have been using it for a while.
In this course you will learn:
The process of creating a cute character design from scratch, and the tools you need to achieve this

How to draw cute character anatomy, from the limbs, head and eyes, you'll learn it all

How to grow a niche audience that are interested in cartoons and how to market your work

Learn how to develop your own style and why this is important
11. How to Draw Cute Cartoon Characters
How to Draw Cute Cartoon Characters by Ben Colefax is a fantastic course that takes you step by step through the process of creating a super cute cartoon character for your next client project!
Designing cute characters goes far beyond just doing them for one off commissions. Character design within the field of graphic design can span across many different disciplines, including Game Design and Web Design.
Before their rebrand, companies like Mailchimp famously had their cute characters as part of their branding, and while they've opted for a cleaner look in recent times, it's still very popular to have a vector mascot as part of a company's branding.
In this course you will learn:
How to create professional and refined logo designs

How to transform rasterized images into vector artwork in the click of a button

How to work with typography in unique ways to create advanced typographic artwork

Learn useful Adobe Illustrator shortcuts and how to use brushes and presets

How to design infographic artwork

Creating detailed and memorable illustrations and finding your style
12. Logo Design Mastery in Adobe Illustrator
Logo Design Mastery in Adobe Illustrator by Lindsay Marsh is a well crafted course on how to become the ultimate master at logo design.
It includes 5.5 hours of on-demand video and 20 downloadable resources, and covers how to work with clients and master all the tools Adobe Illustrator has to offer!
In this course you will learn:
Core Logo Design theory and how different logo types suit different niches

Key questions to ask clients before starting the design process

Typographic theory and how to work with fonts and pair them effectively

How to use the golden ratio technique in logo design

How to use photoshop psd mockups to present your work to potential clients

How to export your work in the correct file types for potential clients.
13. How to Draw From Beginner to Master
How to Draw from Beginner to Advanced is one of the top drawing courses on Udemy by Joseph Daniels.
It includes 8 hours of on-demand video and 19 downloadable resources, which will take you from the basic fundamentals of shading and composition to more advanced drawing techniques which will allow you to draw incredibly accurate & academic drawings, of a professional standard.
In this course you will learn:
The basics fundamentals of drawing and shading techniques

How to set up structures for your drawings using planes

How to draw a portrait from scratch, including essential techniques to draw anatomy.

How to use different pencil lead weights & materials to enhance your workflow

How to light a subject and make your work seem more realistic

How to draw energetically, with capturing motion & detail
Questions & Answers
What are the Best Udemy Graphic Design Courses for Digital Painting?
The beauty of Udemy is that there are plenty of graphic design courses, especially for digital painting.
It really depends what you're after, if you specifically want to learn digital painting in a particular program, or whether you want to just learn the fundamentals of digital painting or want an all-encompassing course.
Below are some of the top Graphic Design Courses for Digital Painting:
How much experience do I need to do Udemy Graphic Design Courses?
Well obviously Udemy is a teaching platform, and as such they cater for both beginners and advanced level graphic designers.
It really doesn't matter what level you are as long as you're willing to learn and put the hours in. Many of these courses have well over 15 hours of On Demand Video and this can make it a huge commitment.
That being said, if you just do a little bit every day then in a short few weeks you can do an entire course, which will not only be faster than going to your local college to learn graphic design, but also cheaper and potentially higher quality.
Genius is one percent inspiration, ninety-nine percent perspiration. ― Thomas A. Edison
Udemy v Udacity – Which is better?
Well they are both very similar indeed, but what it comes down to is a few things: Firstly, what type of course are you looking for? and secondly, your budget.
While they are extremely similar, Udemy tend to have a lot more discounted courses and also free graphic design courses which can be super useful if you're just getting started with graphic design.
We would recommend Udemy as we have used them personally over the years and they are a tried and tested online marketplace for online courses.
Are Udemy Graphic Design Courses worth the money?
Absolutely! Learning Graphic Design is more of a complicated process than people think and there's a lot of theory and principles to learn if you want to be a recognised and successful graphic designer.
Udemy works so well because it puts some of the world's best graphic designers in front of you, and all you need to do is sign up and then purchase the course, be persistent and you'll learn so much!
Sometimes it's worth spending a little bit of money to expand your skillset and range of skills. It's not always an easy process, but if you really want to learn graphic design, Udemy is a great place to start.
The more that you read, the more things you will know. The more that you learn, the more places you'll go. ― Dr. Seuss
Can I use Udemy graphic design courses to go from beginner to advanced?
The simple answer is yes. Many of the Udemy graphic design courses listed above will allow you to progress in the field of graphic design, slowly but surely.
However, the best thing to do is not only do these courses, but implement what you have learnt. Don't just copy the examples in the courses that you're given, see what you can create with the techniques and skills you've learnt.
The best thing to do is after you've completed a section in one of the Udemy courses, jump into Adobe Photoshop or Illustrator (or whatever software package you've been learning) and try to create something unique! This will then solidify the techniques into your mind, ready for when you next need to use them on a client project.
Conclusion
These are just some of the best Udemy graphic design courses you can use to improve your skills in this form of digital art. Whether you are just starting out or looking to improve your existing skills, these courses will prove to be significant going forward. It doesn't matter that you are simply a hobbyist or a commercial graphic designer; just enroll for one and see the results you get.
If you like this article, then please check out Essential Graphic Design Online Courses, one of our most popular articles here on Layerform.