Who doesnt love a handwriting Font?
If you're a blogger, influencer, Youtuber, or airbrush artist or designer you might want to consider using a handwriting font on your website or social media channel; and there's a good reason to do this!
These often hand-drawn fonts not only help to make your content more authentic but also have a cute laid-back style that helps to lighten the mood of your website/channel.
Many designers favour them because of their intricate stylistic features and beauty.
Whether it's using them on logos, posters, or social media graphics, they help to breathe life into the designs in a unique and fun way.
However, numerous fonts that look like handwriting are freely available on the internet and choosing one for your site can be overwhelming.
Luckily, we've taken the liberty to review the best handwriting fonts you can find on the web to make you work a whole lot easier.
Before we get started, check out our article on the best laptops for artists alongside our multiple new topics on AI such as best midjourney prompts for realistic photos and the best udemy midjourney ai courses
Brandon Smith Monoline Font
This cute mono-linear typeface was designed by Pen Culture. It features geometric elements to go with a retro aesthetic. There are actually two types of fonts here; the Brandon Smith Stamp and Brandon Smith Regular.
You also get stylistic and contextual alternates, multiple alternates for many letters, initial and final forms, ligatures, multilingual support, as well as standard numbers.
Overall, it is a nice-looking handwriting font that will make your design work stand out from the crowd. Many artists we know use this font in Procreate on their Drawing Tablet.
Calorie Script Font
This recently released casual signature font was created and shared by Dharmas. It provides you with a rustic, textured script that can be great for use on logos, branding, quotes, lettered wrapping paper, as well as social media posts.
The long and sleek characters are stylishly connected to produce a continuous pattern with a unique handwriting vibe.
This typeface further includes non-English characters, .otf, .ttf formats, and files to be used for both print and web.
Patrick Hand
When thinking of fonts that look like handwriting, this one really springs to mind!
Patrick Hand was designed from the actual handwriting font of the designer, and I must say that the creator surely had an impressive style of writing.
This laid-back typeface adds an authentic handwritten effect to your characters; it's hard to differentiate them from the actual thing.
It comprises all the basic characters and a good majority of the extended Latin, European and Vietnamese languages, as well as other fancy glyphs you might want to use in your text such as heavy quotation marks, floral heart, etc.
Marhaban Font
The Marhaban font looks just as unique as it sounds. It has slanting connected characters that can be read out quite vividly and these would be perfect for apparel design, logotypes, letterheads, Christmas gifts, and many other areas.
Furthermore, this handwritten font comes with a wide variety of alternate styles for discretionary ligatures, ligatures, as well as an extra swash font.
All these features put you in a great position to customise the design of your project when it comes to lettering or handmade typography almost instantly.
Balqis Font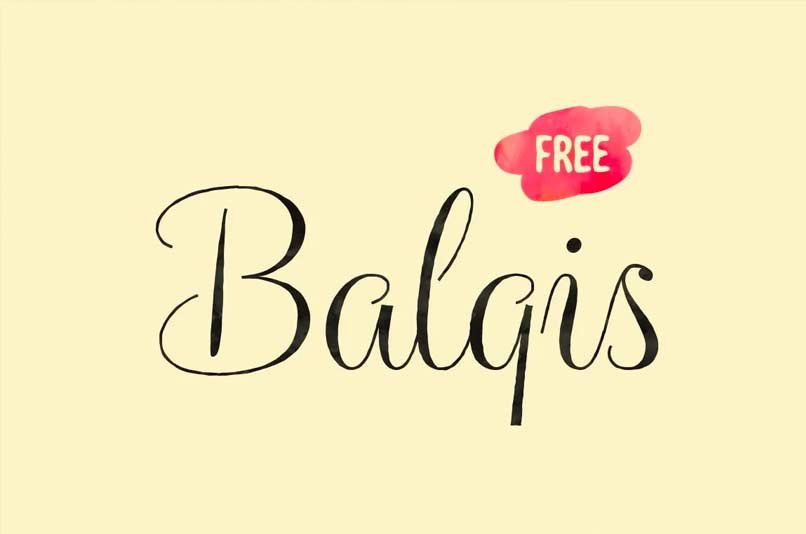 This is a feminine typeface with a unique feel and a tinge of calligraphy. The font features rough-striped characters that will have a natural and easy-going effect on your project text.
It also features high contrast, which makes it quite comfortable to read. The typeface is available in .ttf and .otf formats and would be a great choice for projects such as wedding invitations, logos, letterheads, greeting card designs, anniversary notes, etc.
Ever since its inception, the font has been downloaded at least 32,000 times, which shows you just how popular it is with internet users.
Seascape Script Font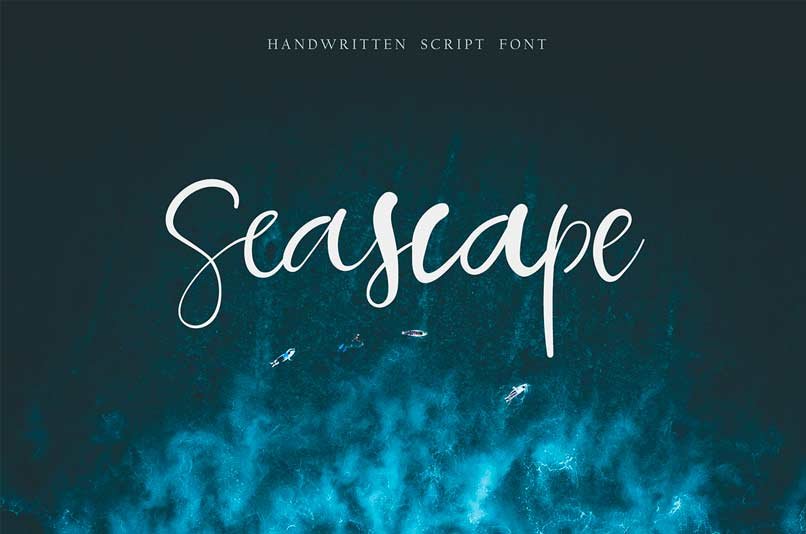 If you are looking for a handwriting font that brings out your character, this script typeface has all the features to fit the profile. It consists of powerful and bold ligatures with a full case of lowercase alternates.
The font will make your text as natural as it can be and add a sense of mystery to the person reading it.
This typeface will come in handy for use in projects like wedding invitation cards, logos, headings, quotes, greeting and anniversary cards, signatures, overlays, product packaging, and many more.
Herbarium Font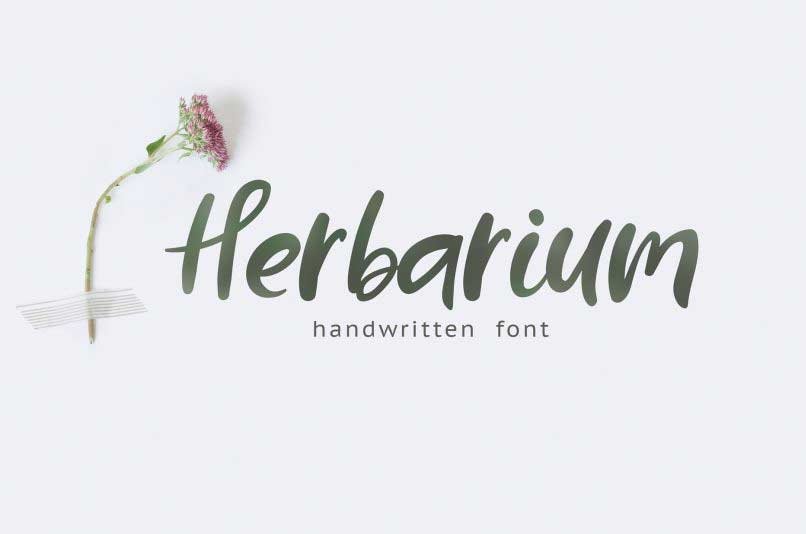 Anna Markovets, who's the brains behind this wonderful typeface, is a font designer and CG artists. The typeface comprises 30 different ligatures, as well as a full set of lowercase alternates that help to make your work more realistic.
The sleek characters are strategically connected to leave ample space between them so that the text remains clear to the reader.
This font would be perfect for design projects such as quotes, product packaging, wedding invitations, signatures, headings, logos, greeting cards, overlays, branding, and much more. Additionally, the font supports English and other commonly used European languages.
Little Days Font
This hand-drawn style font has a uniquely cool look with a playful vibe. The simple characters will stand out to your site visitors and make your design look even more authentic.
You can use this font on things like labels, logos, signatures, packaging design, and blog headlines. What's even more impressive about Little Day font is that its hand-drawn appearance can be perfect for all sorts of kids design projects, And the best part is its free, whether you are using it for personal or commercial undertakings.
You are not limited in any way form or form; you can use it anytime and anywhere.
Porcelain Sans Serif
This a hand-lettered and condensed sans serif typeface that comes with a subtle dip-pen texture. It will give your designs a personal touch and make it more exciting to your readers.
This font will come in handy during design projects such as branding, logos, wedding invitations, advertisements, social media updates, labeling and packing, watermarks, stationery, photography, and many other projects that require a handwritten feel.
Beatingvile Beautiful Script Font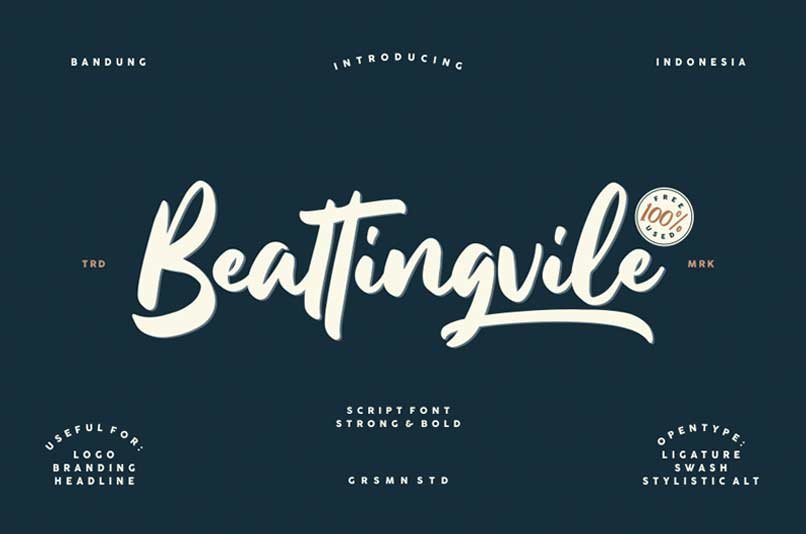 This recent script font was designed by Garisman Studio. It features a number of amazing details, including swashes, stylistic alternates, multilingual options, and ligatures.
The characters have a bold and unique feel that will easily bring out your personality. You can apply this font on personal, as well as commercial projects involving branding, logotypes, posters, quotes, label designs, etc.
Norquay Handwritten Font
A classic hand-drawn sans serif font, Norquay was developed to add a personal touch to logos and branding designs. The characters are carefully spaced and embolden to remain very clear to any person reading your text.
This free typeface also comes with a premium license that enables you to use for both personal and commercial purposes.
DK Lemon Yellow Sun

This recently released handwriting font comes with a unique and fresh style and offers multilingual characters that would be great for business cards, logos, branding, flyers, signage, brochures, websites, stationery, business cards, apps, just to mention a few. However, you want to note that it is only available for personal use.
Download Here
Simpletune Handwritten Font
As this article pertains to fonts that look like handwriting, this example here is absolute peach!
This one of the best fonts that look like handwriting you have seen! It is a delicate handcrafted script that is popular among modern buyers.
It comes with a casual, contemporary design with dry brush strokes that enhance its signature style.
This typeface will be amazing on projects such as weddings, apparel, badges, logos, stickers, element designs, signatures, headings, etc.
Selima Script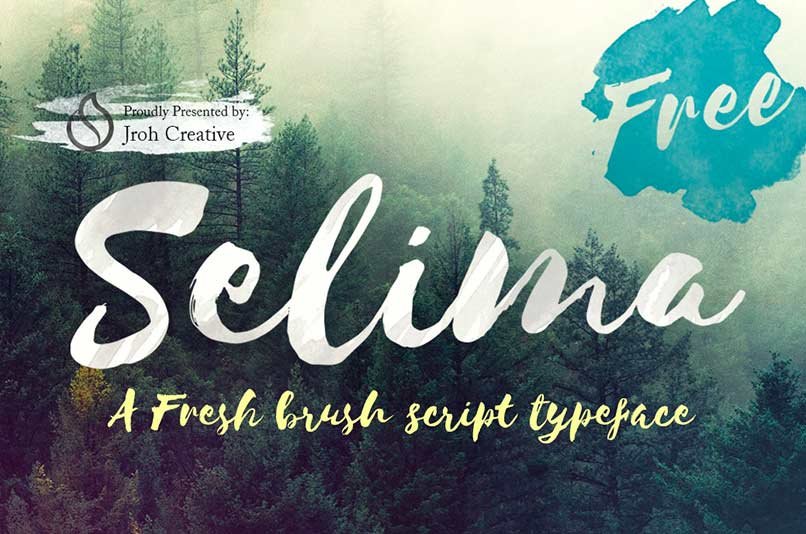 If you want to put a personal touch on your design projects, this is one font that you can rely upon to deliver just that! Selima Script is a brush-lettered font that features charming irregular shapes and baselines.
The font script was carefully designed by JROH and comes in handy when you want to create eye-catching messages.
Kristi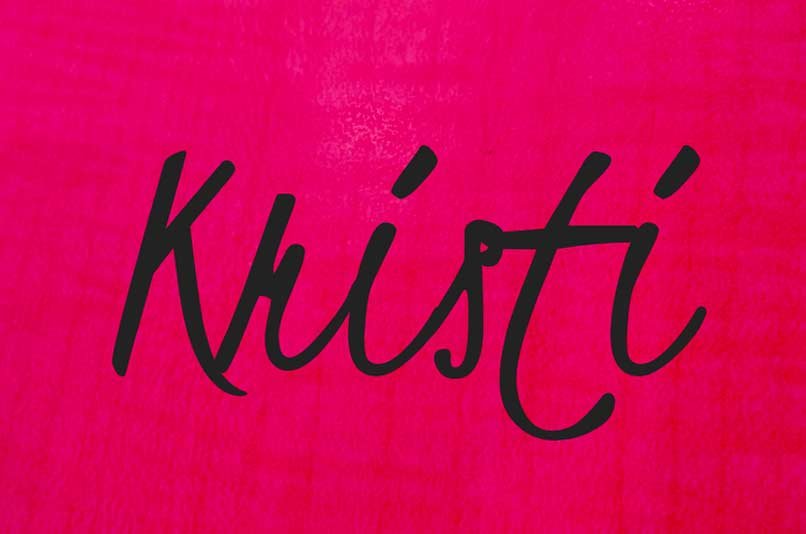 Kristi is a calligraphic style typeface that was inspired by the vintage chancery fonts. It is made with a felt-tip pen written in quick bold moves. The font features lengthy ascenders and descenders, thin vertical lines, and little twists like in the letter "g". Kristi would be perfect for large size text such as in logos, headlines, etc. It also supports the Latin language.
Download Here
Swistblnk Monthoers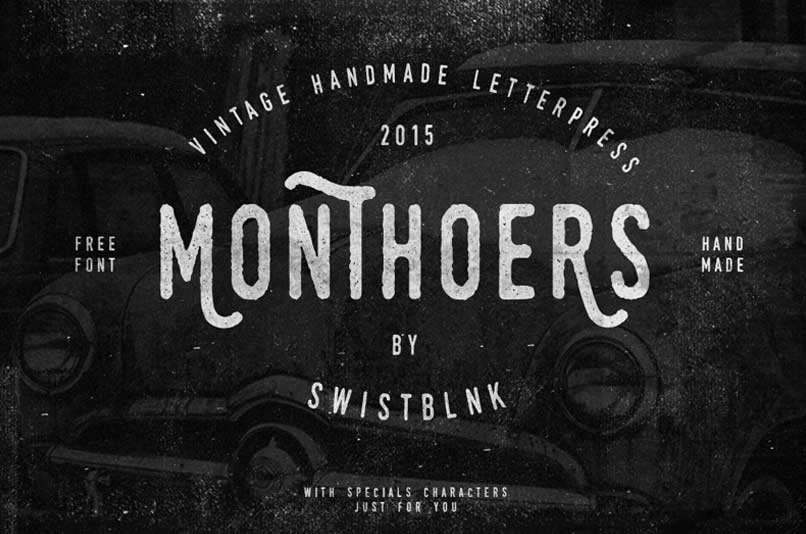 This is a classically inspired handwritten font that will take your mind back to a letterpress with its stamp-like appearance. The font boasts clean and texture versions that can be clearly read from a distance. It would be a great choice for titles, headings, and logos.
Download Here
Naira

This is a smooth and minimalist typeface with a subtle brush stroke effect. The font also comes with an additional watercolor pattern pack with 40 patterns that you can mix and match with the typeface. You can use it on invitation cards, anniversary reminders, apparel, etc.
Skinny
Download Here
This pencil-thin font displays each character very close to one another. It has irregular shapes such as the slightly crooked "o" that add a sense of authenticity to your text. This simple yet unique font can be used for social media posts, wedding cards, headings, etc.
The Woodlands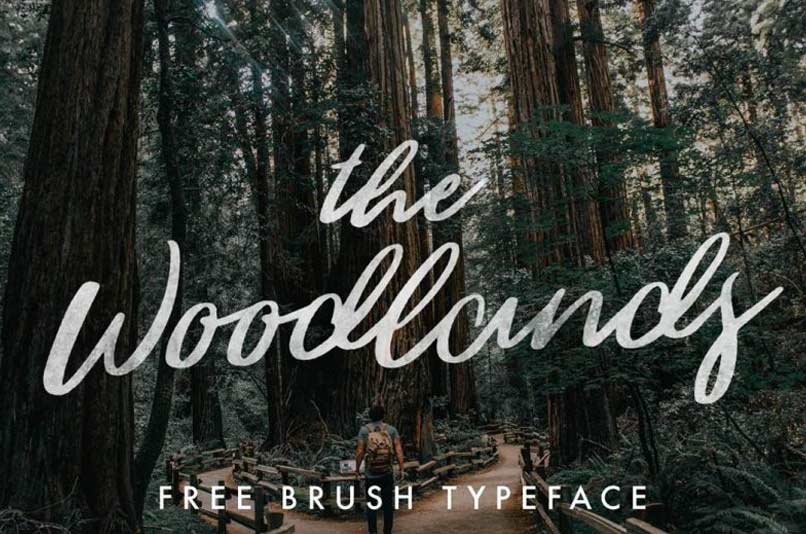 This brush script typeface was created by Jeremy Vessey. It has a modern calligraphic appeal that will best be suited for wedding invitation cards, social media posts, headings, logos, and other like projects. This beautiful font will add a touch of elegance to your designs and make them stand out from the crowd.
Download Here
Daniel
Daniel is just one among the many fonts that have been designed by Daniel Midgley, the Australian designer; and a perfect example of fonts that look like handwriting. This typeface features a full set of uppercase and lowercase characters, numbers, as well as different special characters. Daniel is available in .otf format, which implies it is compatible with Windows and Mac.
Download Here
Marck Script
This cool typeface is based on freehand writing using a felt-tip pen. It has smooth and slender characters that have been well-spaced to make it easy to read, especially on your graphic design laptop. Marck Script would be a great choice to use on headlines, logotypes, and other short pieces of text where you want to establish an informal relationship with the audience.
Download Here
Handlee
This is a loose typeface that was inspired by the creator's own handwriting. It features consistent curves that help to bring out its human-like qualities as reflected in the characters. This font will be a great choice for any website looking to add a hint of personality. It is easily readable, even at smaller sizes. As an aside, if you're looking to level up your skills, check out our resource on the best graphic design courses and classes on Udemy.
Download Here
Neo Absolute
Neo Absolute is a modern combination of script and sans fonts that was inspired by neon lights from the '80s. This blend of fonts offers a balance and harmony useful for a variety of projects, including branding, social media posts, as well as logotypes.
Download Here
Timothy
Timothy is a great demonstration that handwritten typefaces are not always swirly and delicate. This font uses block capitals with a chunky marker thickness to deliver a handwritten touch. It was designed by Ksenya Zoltsman and inspired by Timothy Goodman's style. It would be a great option for wedding invitation cards and it is free for both personal and commercial use.
Download Here
Marrisa
Marrisa is a font that reminds us of enthusiastic handcrafted notes that we used to receive from relatives. It has swooping ascenders and unusually sized ligatures, showing us that imperfections are beautiful. It has a simple and relaxed vibe, as well as carefully curated flaws. Note that you have to be an Envato member to gain access to this font.
Download Here
Delius Swash Caps
This is part of a high-quality comic book-lettering font super-family. It features special uppercase letters that can greatly be used on logos and titles. A round marker has been used to describe Delius's stroke, in which the line gets thicker at either end to mark the beginning and end of the stroke. The ductus also mimics the motion of a handwriting. Overall, it is a great handwritten font that you can use for your social media posts, websites, other design projects.
Download Here
Conclusion
There we have it! Our list of fonts that look like handwriting. Perfect to use on your next creative project!