So…What are the Best Free Fonts? [UPDATED 2021!]
Ok so as a designer there's nothing more exciting than a free font, right? Well, either that or a client not complaining for once! Now that being said, if Fonts are your thing, if you just cant get enough of them, this is the article for you.
Sit back, grab a coffee, and soak in this list of the best free to download fonts…..Enjoy!
Horizon
Horizon is a clean and futuristic font with an authentic natural stroke. It features thick and stylish science-fiction based text that works well in both large and small sizes. It is also available with full alphabet, extended punctuation, numeric, and Euro; and available in italics, as well as regular faces.
Horizon would be perfect for greeting cards, quotes, branding materials, product packaging, posters, advertisements, magazine headers, etc. It can also be a stylish text overlay in the background of an image.
---
Rose Blush
Rose Blush is an elegant hand drawn brush script font available on PixelSurplus. It comes with a full set of uppercase and lowercase characters with numbers, punctuation and even ligatures!
Rose Blush is a perfect addition to our list of Best Free Fonts 2020, because its so inherently beautiful and would most certainly be a great addition to your current list of fonts. Use it for all your personal projects and artwork.
---
The Hamburg Script
The Hamburg Script is a beautifully made Script Font by Youthlabs Studios, inspired by traditional script calligraphy, it has a modern twist. Perfect for large typographic pieces and hero images, this script typeface would be a perfect addition to your Font Toolkit.
---
Rembank Script Font
The Rembank Script Font is a fantastically made script font from Garisman STD with uppercase, lowercase, alternates, ligatures and multilingual. It's a lovely Font for headline graphic design pieces and print work. Go check it out, its a solid addition to our list.
---
Ranger Sans Grunge Typeface
Ranger Sans is a Free Sans Typeface made by the team here at Layerform Design Co. It features bold uppercase characters and is specifically made for headline pieces due to not having as many characters as some of the other free fonts on this list. It would be an absolute perfect font for large billboard graphic design pieces, as well as headlines pieces on large banners on websites. Overall it is pretty versatile, and we thought it would be a great addition to this list of best free to download fonts.
Download This Font Here
---
Briberra
Briberra is a rough and bold script that was designed by Sarid Ezra. It is a hand lettering script that features stylistic swash and alternates, making it suitable for when coming up with customized designs. You can apply this font in t-shirt designs, branding, quotes, and other projects. The font comes with multilingual language support, enables PUA and is available in TTF and OTF formats.
---
---
Bredan Script Typeface
Bredan Script Typeface is a vintage/retro script font with bundles of style. It comes with uppercase, lowercase, numerals, symbols, alternates, ligatures and is multilingual.
So where can we see this Font being used?
We could imagine this Font being used for Branding, logos and commercial projects.
---
Codec
Codec is a geometric sans serif type system with a humanistic feel designed by Cosimo Lorenzo Pancini. It's a beautifully crafted sans serif typeface that comprises of the most perfect discretionary ligatures that you've ever seen! Literally its like looking at a work of art.
We could see this Font being used on large scale commercial type projects, advertisements, billboards, print design, exhibition stands and much more! In terms of perfectionism, Cosimo has absolutely nailed this Typeface, it's aesthetic in every sense of the word.
---
Battalion Typeface
Battalion Handwritten Font by Fikryal Studio is another beautifully crafted typeface on our list of free fonts for 2020. It has some elegant, free flowing ligatures and stylistic alternates, making it a fantastic addition to your font toolkit.
Where can we see this Font being used?
To be honest this is a very versatile font, perfect for elegant, feminine type pieces. We can see this going great as a Logo for a photographer, or even an afternoon Tea store or something similar.
Download Battalion Free Font Here
---
Aliyah Script Font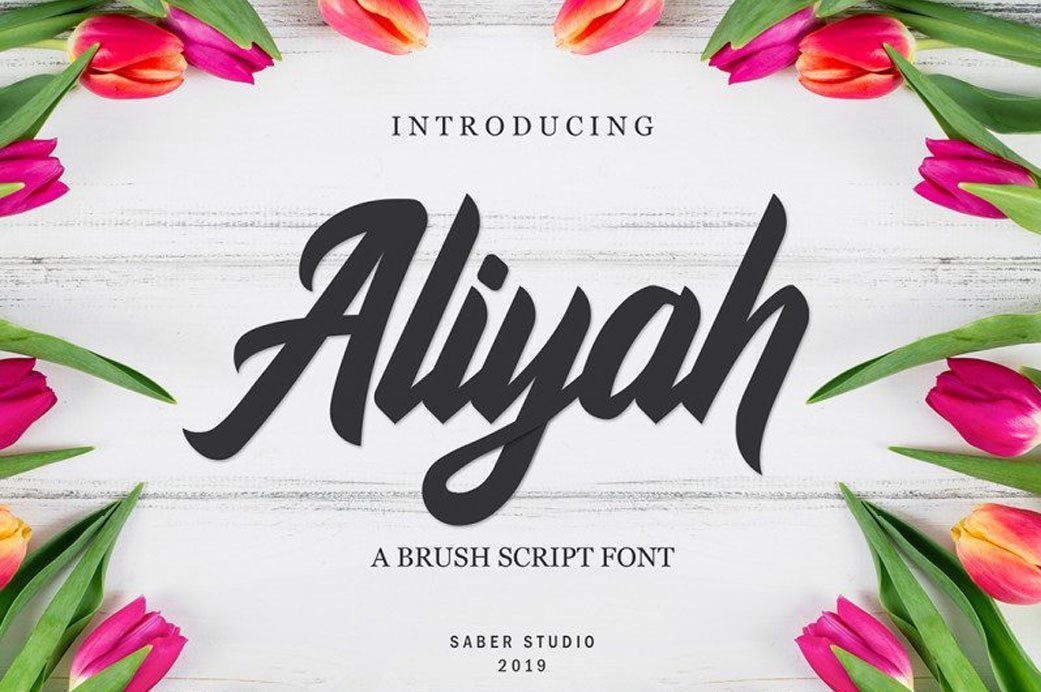 Aliyah is another brush script font with a handwritten design. The characters are precisely shaped and linked to one another. The message will not only be stylish but also professional.
It is a suitable font for designing creative writings like in greeting cards, wedding invitations, as well as poetic quotations.
Download Aliyah Best Free Font 2020 Here
---
Melgatha Monoline Script Font
This free font comprises a creative monoline design with slender and free-flowing characters. Mellgatha features lots of alternate characters, as well as multilingual support.
This typeface will naturally suit wedding invitations, stationery design, poetic headings.
Download Melgatha Free Font Here
---
Indesign Signature Monoline Script Font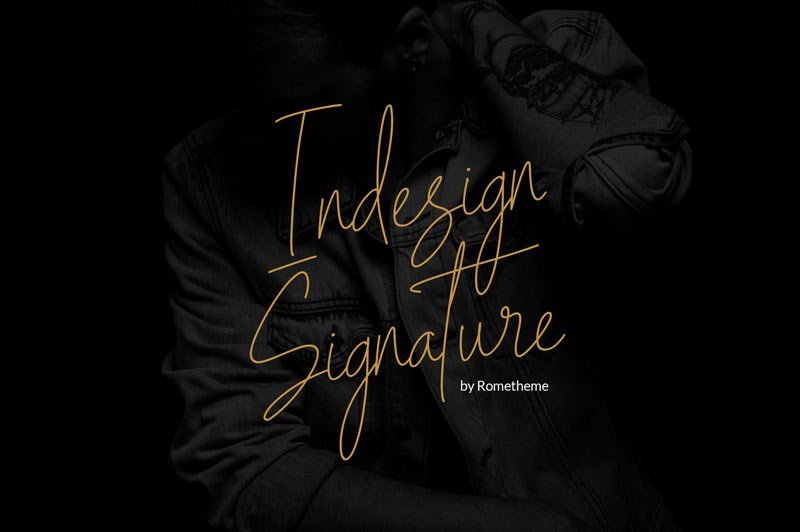 Another elegant typewrite with a handwritten font signature-style look. It offers a professional look fit for the corporate world. Use this font to design business cards, invitations, logos, greeting cards, book covers, social media posts, and more.
---
Southampton Handwritten Script Font
This handwritten signature-style font comes with an elegant design with well-scripted characters. Use it to design watermarks, logos, signatures, wedding invitations, social media posts, and such as graphics. You can use it freely for personal projects. Definitely one of the more elegant items on our list of top free fonts.
---
Hensa Brush Script Font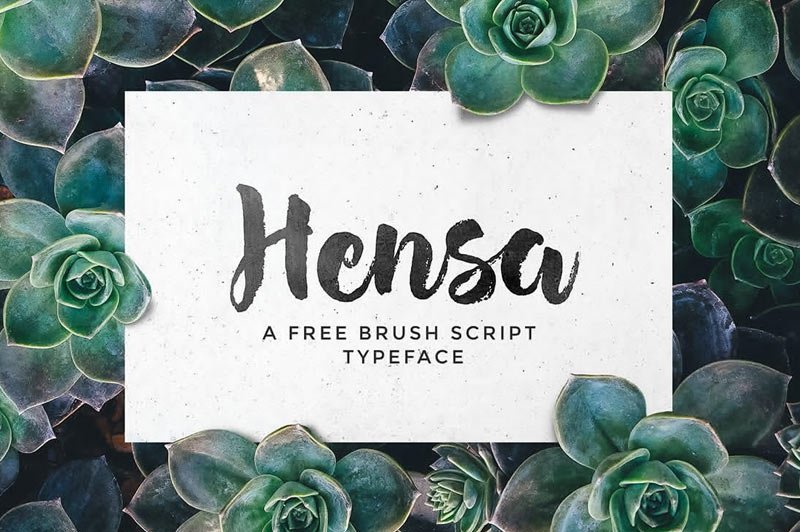 This modern brush script comes with a natural design that leaves an appealing effect. It can best be used on greeting cards, book covers, diaries, posters, and similar design projects. This typewrite includes ligatures, swashes, and glyphs. One of the more beautiful products on our list of best free download fonts.
---
The Campground Typeface
Campground is a retro-inspired free script font that gives off a unique vintage vibe. It features lanky letters that are conjoined and would be a nice choice for designing badges, social media covers, labels, product packaging, book titles, posters, website headers., etc.
---
Watch Contemporary Script Font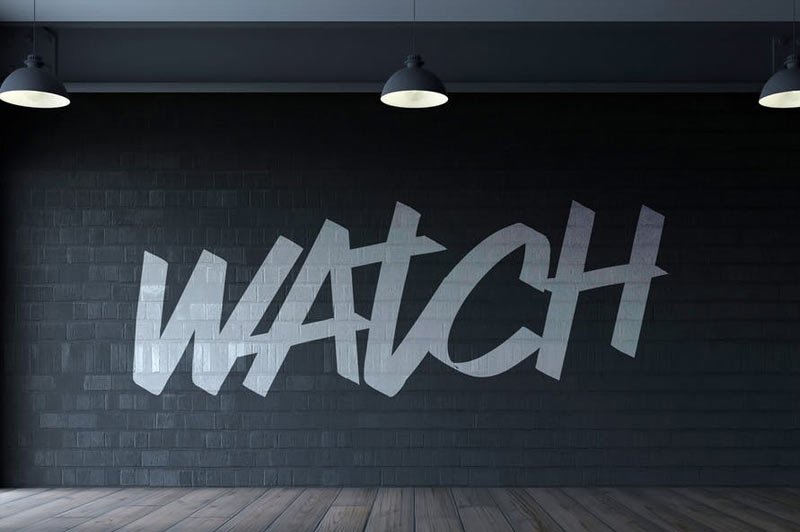 This is a contemporary script font that assumes a graffiti-like design. It really stands out with its clear-cut edges and would be perfect for designing posters, social media posts, website headers, and other writings that are meant to grab attention.
This will be a hit with any millennial fashion designers out there.
---
Stay High Script Font
This unique script font has a pop-culture design that looks almost like playful calligraphy. It is generally a fun font that can be used for designing flyers, banners, posters, and similar print or digital reasons.
Stay High typewrite involves 200 ligatures, as well as glyphs.
---
Envato Elements Fonts
Envato Elements is a Premium Design Assets Subscription service, supplying thousands of Premium Fonts from Top Designers. Go check them out here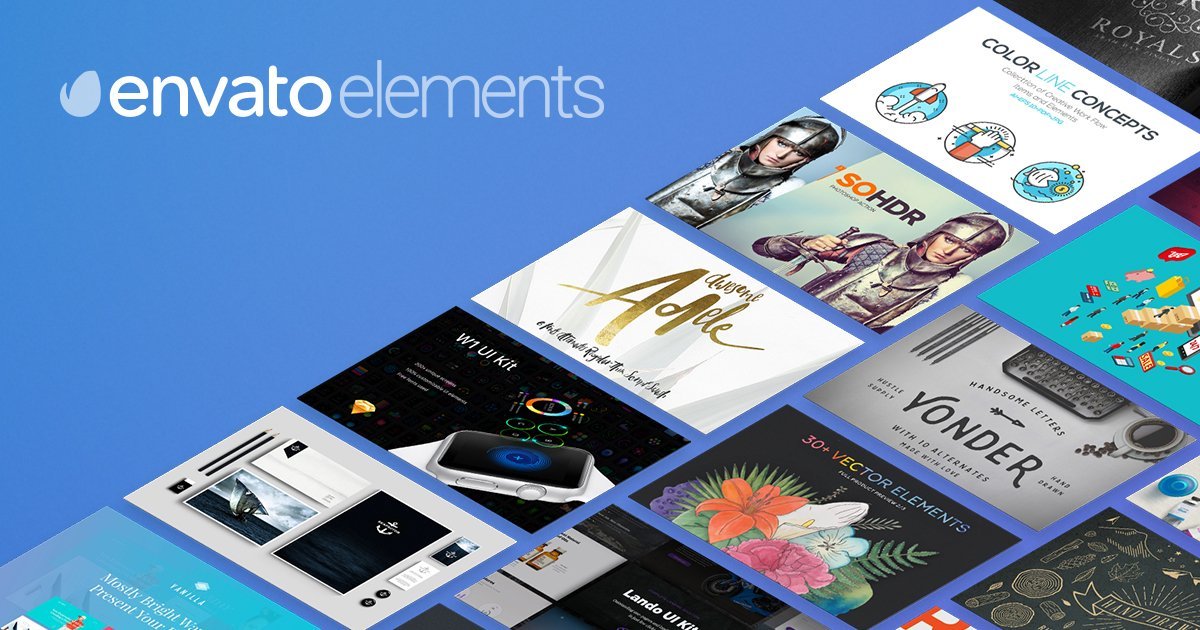 ---
Neuton
Neuton is a pretty font with clean, dark and somewhat Dutch-inspired characters that are reminiscent of the Times. The font features a large height, compact width, and short extenders for optimal screen use and to save on space. Just like any other good typeface, Neuton can be adapted to various forms of text, including marketing materials and work documents.
It especially looks good in italics.
The font family comprises italic, regular, and cursive, each in 5 weights and small caps.
It is a font you would want to consider if you are trying to find something that will look perfect on screen. Its simple, but one of our top picks for the best fonts to download for free due to its versatility.
---
Bitter
Bitter is a free contemporary font that was exclusively designed for reading text on screen. It is an open-source serif typeface created by Sol Mathas and available through Huerta Tipografica. It features highly-legible text for reading on screen, with large x-height and solid, even strokes. The font is available in italic, normal, and bold styles, all of which look great on the web.
There is a small variation in the weight of strokes and the thicker regular font is suitable for printed designs. This results in intense color paragraphs highlighted by the serifs which just as solid as strokes with squared terminals.
The typeface has a balanced and well spaced design, allowing you to use minimal kerning pairs.
This makes it an important font for use on the web, given that most browsers don't support the feature currently. Allow your web users a better site experience by using Bitter font on your website.
---
Brela
Brela is a serif font with a humanistic style, designed for editorial use. It is quite easy to read even when the characters are small, which can be credited to the generous x-height. This allows the font to achieve great legibility at these small sizes. However, the appearance is still just as stunning when larger and bolder characters are used.
The bigger sizes accentuate its rational features, making the font ideal for headlines.
Brela font was designed by Makarska Studio, a Spanish creative agency, and can be applied in either regular or bold weights. Make your web material easier to read by downloading Brela font.
---
Tradesmith
Tradesmith is a newly introduced vintage font from 1871 project. It provides the perfect balance between vintage and industrial and features squared characters with angled corners that give it a unique configuration.
The font will look great when used to create branding text, logos, and mockups.
It can also be blended with other font styles to give your text more authenticity. The font comes in four different styles that include round, rough, rectangular, and stamp. This means you are free to choose a character that perfectly suits your project. We really do consider this one of the best fonts.
---
Roboto
Roboto is, without a doubt, one of the most preferred sans serif font used in web design.
It has a dual nature, featuring mechanical skeleton and geometric forms.
The font further contains friendly and open curves that make it the ideal choice for impactful headings. Although some grotesques may distort the letterforms to cause a rigid rhythm, Roboto enables characters to settle into their normal width. This leads to a more natural rhythm when reading that is more common in humanist and serif types.
The Roboto serif font should definitely be on your list of Best free font downloads for web design fonts to use in 2020 can be Download here
---
Aloja
Aloja is a free handwriting font that was created by Leva Mezule. It features a fresh feel that makes it easy to read. Each letter is hand drawn using a thin brush on an acrylic surface, giving this typeface a unique appearance. The playful letter design also makes it quite distinctive.
Aloja would be a great font to use in large headlines, posters, events, web invitations, signage, and printed designs such as invitation cards.
It also features a web-optimized format that you can conveniently use on your site as a web font. Aloja comes strictly in capital letters, and also contains basic punctuations and numbers.
---
Coldiac
This is a luxurious serif font with a modern design that can be greatly applied anywhere from headlines and printed advertisements to other marketing materials.
What makes this font stand out is its distinctive features that include low contrast strokes, square-like shapes of round characters, as well as the business vibe you get from them.
Coldiac contains an authentic stylistic set that adds features of your typical serifs to some lowercase characters when turned on. Furthermore, Coldiac features small capitals meant for Latin and Cyrillic alphabets, in addition to several other exciting ligatures. One of our top picks for the best fonts.
---
Oswald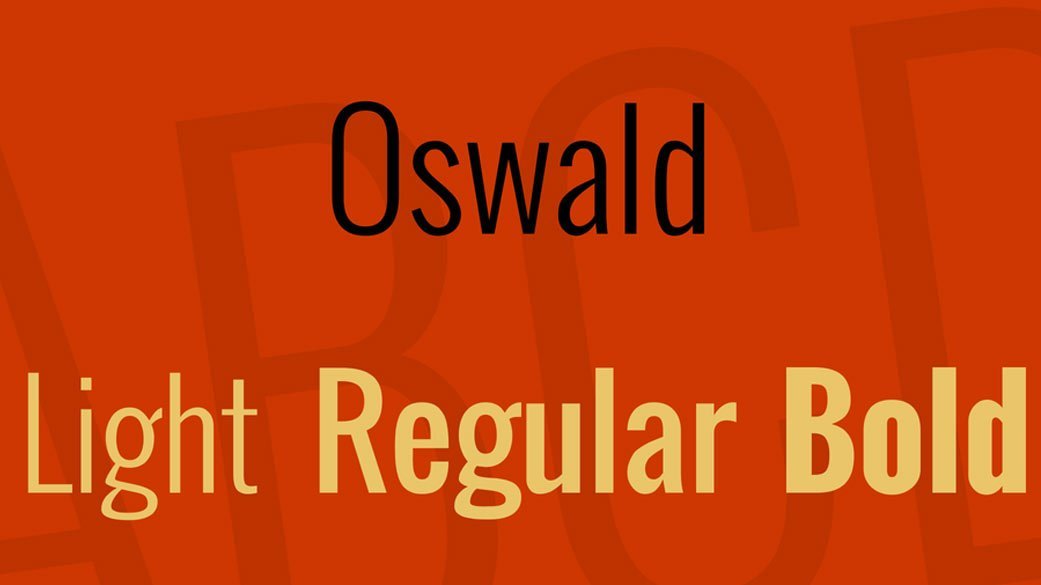 Oswald font represents a modification of the classic style that has historically been symbolized by "Alternate Gothic" sans serif font. It was designed by Vernon Adams and the whole idea behind the interface was to improve some of the old fonts and optimize them for use on screen.
This allows them to be more readable and adjusts them to fit the pixel grid better.
The characters in Oswald have been reformed to better fit digital screens and the font is designed to be used across the internet freely by web users on desktop, laptop, and mobile devices. This is thanks to Oswald's versatile design, which allows it to look great on all types of screens.
---
Finland Rounded
The Finland font family was crafted from scratch by Craft Supply Co. and features a unique structural logic.
It is a combination of pure geometry and visual balance.
Finland font is available in six different styles, which include regular, thin, italic, thin italic, bold, and bold italic.
The combination of various styles in Finland font makes it suitable for quotes, greeting cards, logos, branding, stationery, name cards, typography, design title, art quote, and many other projects.
Finland Rounded font would also be a convenient option for book designs, envelope lettering, craft design, handwriting designs, and any other DIY project.
---
Montserrat
A classic, but amazingly versatile free font
Montserrat font was designed and created by Julieta Ulanovsky, who derived inspiration from old signs and posters in the ancient Montserrat neighborhood in Buenos Aires. The font has become one of the most commercially used fonts for many agencies and proven to be popular among web designers.
This urban typeface provides you with an easy to read and versatile option. It uses a mix of modern and classic elements, which allows the font to remain trendy even as other designs come into the market. This is a font that will remain relevant for years to come. You might want to try the Montserrat font for your web design work in 2020. You can utilize it in any personal or commercial design project.
---
Conclusion
Finding the right font for your web design project is crucial, but it can be such a drag when you are scrolling through thousands of fonts that seemingly look the same. You don't have to go through this trouble or spend a single dime to get the perfect font anymore. Take advantage of the above best free to download fonts and download them to complete both your personal or commercial projects.
References