Envato Elements Script Fonts
Script fonts are a trendy style of typography that can be found almost anywhere on the web. The fonts a are typically a representation of actual handwriting or a "cursive", slanted style of type which has become ever popular within the last few years especially.
Although many people have come up with their unique designs, the sheer abundance of these fonts doesn't exactly simplify things for designers. With all these options available, finding the best fonts may feel like searching for a needle inside a haystack.
Luckily, we have compiled the best script fonts out there to assist you with your web design projects, so lets begin with our list of the best script fonts on envato elements (a great resource for Fonts overall)
---
DrusticDialy
Adam fathony is the brains behind this wonderful font. The designer created this unique script typeface with rustic appeal and remarkable detail.
The font comes in four combinations of sans, condensed, serif, and catchword; and consists of standard features like numbers, punctuation, and letters. Overall it's a very aesthetic grungy font, definitely one of the best cursive fonts on envato elements.
Download Here
Geraldyne
Geraldyne font is a combination of a number of alternatives and features fluid and curvy characters that make this typeface so unique. It can be used on anything from fashion design, signature, to wedding themes. The results you get at he end of the project will be as impressive as any other alternative.
The font also comes with multilingual support, as well as alternate glyphs to give you additional variations.
Seirra
Seirra is a script and serif font with two handcrafted features that will be enough for your minimalist needs. It packs a variety of amazing features with creative script accents.
You can either choose the original script or settle for something bolder by taking the serif version. It is a nice choice if you are working on logos, apparel, stationery, and other merchandise.
Sareeka
Sareeka is an aesthetic font with a calligraphic design. It has extra style variations and comes with a variety of features.
This font would be the perfect choice if you are working on a project to do with wedding invitations, apparel, feminine designs, decorations, and any other thing that will be relevant for the font. Sareeka is also available in uppercase and lowercase, and contains numerals, and alternatives.
Maloishe Brush
This handmade script font oozes character and is a design asset you'll surely need to add to your font toolbox. Its unique design enables it to stand out from other fonts and comes with all the basic characters you can think of, as well as extra elements to offer you more style.
This font neither needs editing nor customization; it comes ready for use!
John Davidson
John Davidson is a beautiful contemporary calligraphy typeface with sophisticated handmade flows. It offers you attractive typographical harmony featuring characters with subtle dips and wide loops that make it resemble actaual handwriting.
It can conveniently be used in the design of logos, branding, social media updates, wedding themes, and advertisements. John Davidson script font consists of a full set of fine uppercase and lowercase letters, numerals, punctuations, multilingual symbols, and ligatures.
---
Envato Elements Fonts
Envato Elements is a Premium Design Assets Subscription service, supplying thousands of Premium Fonts from Top Designers. Envato Elements provide a significant array of different Fonts including Script Fonts, Handwritten, Sans Serif and Serif Fonts, Display Fonts and even SVG and Color Fonts. For these reasons alone, go ahead and check them out!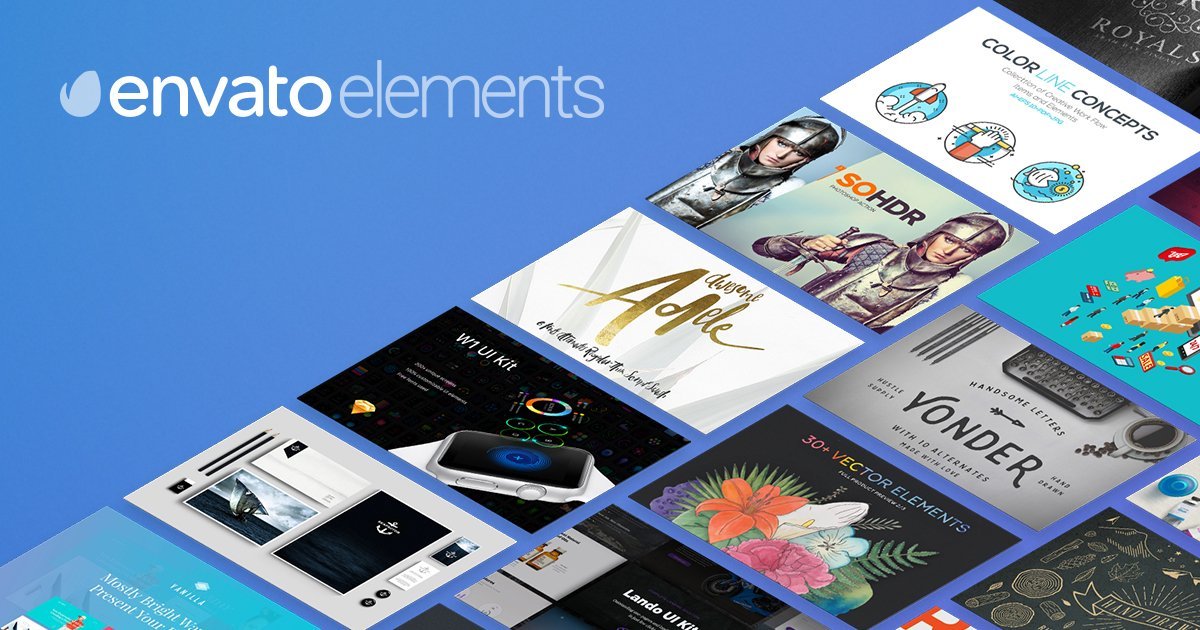 ---
Zaheera
Zaheera is a handmade typeface that was created using the Tombow Brush Pen. The script font boasts a modern, comfortable look with a feminine design and would make a cool combination for any business or product.
It can conveniently be used on wedding decorations, branding, signature, t-shirts, quotes, magazine covers, stationery, and several other projects. Zaheera supports characters in uppercase, lowercase, numeric, and other alternates.
Itaki
Itaki is a beautiful handwritten font that takes a calligraphic design. It is inspired by Chinese calligraphy which features amazing curves and would make a great option for designing brands with a deep meaning.
Itaki is full PUA encoded and you can use all the characters, even without a special design app. This font is available in OTF, TTF, and webfont formats.
Heats
Heats is a hand brushed script font with a cool set of characters. It is the perfect choice for projects like fashion campaigns, greeting cards, magazines, book covers, apparel, advertising, branding, quotes, newsletters, posters, headings, and many more.
It is available in uppercase, lowercase, and features standard characters, multilingual language support, and punctuation.
Download Here
Serendipity
Serendipity might just turn out to be a happy accident for you! If you are looking for a beautiful script typeface, you've found an ideal option in serendipity. The font was designed by The HungryJPEG and is free to use for both commercial and personal projects. It comes with more than ninety handwritten characters and is available in OTF, as well as TTF format. Serendipity allows you to add a touch of personality to your design work. It is especially suitable for projects such as logos, signatures, invitation cards, lettering, etc.
Moon and Chips
Moon and chips is a fresh handmade typeface designed for anybody with a passion for creating works of beauty. This font has a strong personality and would be the best choice you can get for projects around bakery signage, restaurant menu, and other culinary-linked commitments. Moon and Chips also features a ton of alternates that you can use for different projects with a promise that all the results will be mutually impressive. Download it for your personal use or commercial projects.
Trendy
Trendy is a font duo pack with a creative style that will greatly suit your ongoing design project. The pack consists of a thin and elegant handwritten script blended nicely with a bold display font with grunge or regular version. If you choose to apply this font, be sure to mix and match the styles for the ideal results.
Trendy also comes with multilingual support, as well as a list of extra stylistic alternates. It can be used on projects such as titles, signatures, quotes, posters, headings, etc.
Goliath
Goliath typeface is a nice choice among the best script fonts that will assist you to create confident designs to help you communicate a strong message. This handwritten font pack features two amazing styles. A regular font mixes with an alternate typeface to give you very unique characters.
This makes the font such a well designed and versatile asset to have in your toolbox. Goliath font will be great to use on logos, signatures, t-shirts, etc.
Wonder Sunshine
Wonder sunshine is a handwritten contemporary font with a feel of classic to modern.
It has an elegant baseline and can be used for a variety of projects including signatures, headings, logos, signage, posters, labels, t-shirts, wedding invitations, letterheads, badges, etc. Wonder sunshine is available in TTF and OTF formats.
Novitha
Novitha script is a newly introduced handwritten font that was developed with the aid of a brush pen. Given that Novitha font is scanned in exceptionally high resolution, the implication is that the font has a strong personality.
Anybody working on a design project in logos, t-shirts, quote designs, typography, apparels, headings, etc, will find this font to be a must-haveasset.
Magehand
If you are looking for a clean and modern script font that will impress your website visitors, Magehand would be a good bet to experiment with.
It has an attractive and professional design that features excellent curves to go with a faultless set of characters. This font would be suitable for headline designs, logos, displays, posters, quotes, custom mugs, magazines, t-shirts, advertising, letterheads, etc. It comes with multilingual characters.
Serrona
Serrona script is a stylish and authentic font that will give your web designs that hand crafted feel.
It includes three different styles and is available in regular, outlined, and sans versions to give you flexibility if you choose to use this font. Serrona will conveniently suit design projects like stationery, logos, headlines, etc.
Zenith Script
This is another handmade typeface that mixes regular characters with alternate characters to offer you unique results. Use it to design the ideal logo with bold and brush letters that will have a crisp look.
You also have access to all sets of characters including numbers, letters, and punctuations. It is also available in TTF and OTF formats.
Conclusion
Using script fonts in your web designs will help you to add a touch of personality while injecting authenticity into your work. However, you will only be able to achieve this if you use the best script fonts available out there.
This is not a simple task, especially when you consider the infinite number of script fonts that have been created, and those that are being introduced to the web every other day. Luckily the above options will make your task easier and ensure that your clients are satisfied with the work you produce.