The Best Lenses for DSLR's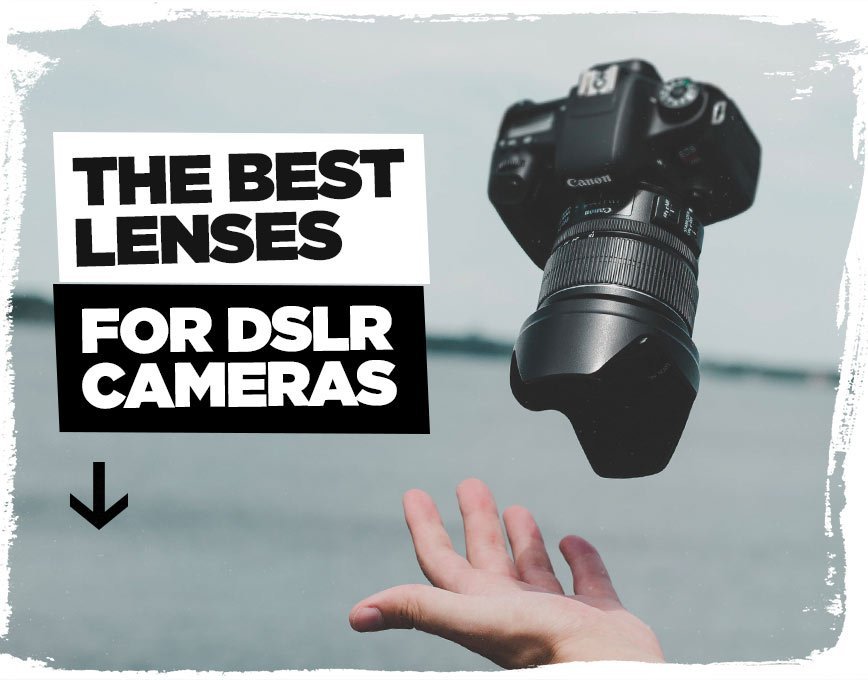 Getting your first DSLR can be an exciting time in your budding photography career. However, if you are considering taking things to the next level, you might need to think about acquiring a new DSLR lens. Although most of the cameras come with a kit lens, these are generally deemed to be beginner lenses, so they'll only offer basic features and capabilities.
That's why it is imperative that you upgrade from the kit lens to have more photo shooting capabilities. A new lens will ensure that you capture high-quality images of all kinds. You'll also be able to explore different photography techniques as you transition from an amateur to a pro.
When choosing a DSLR camera lens, it is essential to consider the kind of photos you plan to take with the camera. Different lenses will provide you with different levels of sharpness, angles, zoom distance, and other parameters that affect the final quality of your photos.
If you are having trouble deciding on the ideal lens to upgrade from your kit lens, the following are the best lenses for DSLR cameras you'll find in the market today.
Sigma 10-20mm f/3.5 DC HSM
Sigma is known for creating some of the best lenses for dslr cameras. Sigma happens to be the biggest independent producer of camera lenses in the world and they have earned the reputation for being among the best in the business. They offer strong and reliable lenses that can be used on a variety of cameras and for different purposes.
The Sigma 10-20mm is just one of the many examples. This lens has a focal range of 10-20mm which promises to deliver a huge field of view. This way, you'll be able to capture large rooms, tall building, and other oversize subjects in their entirety. This lens is best suited for shooting architecture, interiors, and subject-heavy areas.
It comes with a sturdy build and offers quick focusing, beautiful and bright color reproduction, as well as precision settings. It has versions that can conveniently be fitted on Pentax, Sony, Nikon, and Canon DSLR cameras.
Tamron AF 70-300mm f/4.0-56 lens
This lens is among the first Tamron lenses that come with Ultrasonic Silent Drive. This allows for super-fast processing, making it an ideal lens for taking action shots during events such as sports, racing, running, and other fast-moving objects. This lens further adds vibration compensation to ensure that you capture steady shots in hand-held mode irrespective of the outside conditions.
Another highlight on this lens is the integration of full-time manual focus, which enables users to make adjustments without having to use menus and switches. This manual addition on the Tamron 70-300mm facilitates highly impressive results even in situations where the photographer has a limited depth of field.
Tamron are among the industry leaders in creating some of the best lenses for dslr cameras, and this one is a prime example of the quality they produce.
This lens offers you sharper contrast than you can get from other rivals in its class. It was designed to deliver excellent performance and provide you with a calm experience while enabling you to capture quality fast-moving action shots.
Tokina 11-16mm f/2.8
This is a nice wide-angle lens that would be a great choice for shooting videos. It comes with a constant aperture which allows you to focus on a subject and zoom while maintaining stable exposure throughout the shot. Although it isn't as sharp as prime. The lens is still a suitable choice for covering events since it allows you to cover a wide field of view in confined spaces.
The Tokina 11-16mm is a popular choice for filmmakers because of its ultra wide angle and fast aperture. It has quality construction and the mount is made of metal, making it quite sturdy. The wide angle also makes it a great choice for shooting outdoor videos and capturing time-lapse shots.
Canon EF 50mm f/1.8 STM
This is a nice option for anybody looking for a versatile yet cost-friendly Canon prime lens. The lens is compatible with APS-C and full-frame DSLR cameras and comes with a 50-mm focal length, as well as a maximum aperture of 1.8. Its focal length of 80mm is effective on APS-C cameras whereas the 50mm length works well for full-frame cameras.
When it comes to capturing stills and shooting videos, the EF 50mm has a stepping motor for silent and smooth autofocus. This combination of features gives it the capabilities to be used for nighttime photography, as well as for portraits. The important thing, however, is to know the kind of photography you plan to use it for. Remember that lenses can be very style-specific and the same applies to this one.
Nikon AF-S FX NIKKOR 50mm f/1.8G Lens
If you are using Nikon for your photography endeavors and searching for an affordable lens that offers versatility, you might want to try the NIKKOR f/1.8G. The features on this lens are closely related to those on the Canon EF 50mm f/1.8 STM, although it will cost you slightly more. What makes it so convenient is that you can use it for portraits, action shots, and many other forms of photography, as long as you have a Nikon DSLR camera.
The NIKKOR f/1.8G features a compact and sturdy build which ensures that you'll use it for a while before you start noticing any signs of aging. It would be a great option for new entrants into the industry and those with mid-level photography experience. The images produced are sharp and reveal rich details even when the subject is in a lowly lit area.
However, you should know that this lens features a minimum focal length of around 1.48ft, which implies that you won't be able to get close to the objects you want to capture. Although using a macro lens will solve this problem.
Canon EF 75-300mm Telephoto Zoom Lens
If you are searching for a solid telephoto lens, then the EF75-300mm from Canon is one of the best options you can get. It packs most of the features you would normally look for in a lens. From the relatively fast aperture that peaks at f/4, 5m focus distance, and long 300m focal distance, to a solid DC autofocus, this lens was designed for this line of photography.
It comes with a telephoto focusing mechanism, and a 13-element construction built to the same standards you find on other Canon lens. This should also tell you that the EF 75-300mm will perform seamlessly with an EF mount Canon camera body.
The most impressive thing about this lens is the price. It will cost you not more than $100, which is quite affordable even for those who are on a budget. In fact, you won't come across any other brand name telephoto lens for a more competitive price. Note that this lens is refurbished and not brand new. Any entry-level photographer would be glad to get their hands on this.
Canon EF 17–40mm USM Ultra-Wide Angle Lens
There are so many reasons why many people view this lens as an extra wide-angle lens. It largest focal point is actually higher than most upper ends on the standard wide-angle lens. And in spite of its high price, the EF 17-40mm from Canon makes for an excellent choice, thanks to the sheer quality you get from it.
It features a maximum aperture of f/4, which is quite impressive at these focal lengths. Given that it is a wide-angle lens, the pleasing blur that you get with a narrow field depth (bokeh), might prove to be a slight challenge. However, this should not really be a cause for concern. Going by customer reviews, the manual focus action has been deemed to be smooth, although the Internal Ultrasonic Motor makes for smoother and faster yet silent autofocus.
The lens is built with twelve elements that include aspherical lens construction to make for a clean and rich optics. It is also a lightweight device with a weight of only 1.1pounds; this ensures that your camera won't be a burden to carry. And even though you won't get the kind of quality that the Canon f/2.8 offers, you'll spend considerably less when you purchase it.
Tamron Autofocus 70-300mm f/4-5.6 Di LD
Among the most versatile lenses you can use on your DSLR camera are macro lenses. They come in a wide variety and usually fall between 40-200m. The Tamron's 70-300mm is best suited for handheld shooting, especially when you are capturing subjects such as wildlife, portraits, sports, etc.
Just like in other macro lenses, the images produced are sharp and extremely focused. You can also use it on minute objects such as tiny insects, small plants, etc. But based on the size of the object, you may at times fail to capture the whole subject within focus. This is not the case in far-off subjects which appear highly focused on the image, thanks to the zoom range on the lens.
In the default setting, the lens' minimum focus length is 59" whereas the distance reduces to 37.4" when the macro mode is engaged. This ensures that it has the versatility to be used for a variety of purposes. There are different versions available that you can use on your Pentax, Sony, Nikon, Canon, as well as Konica Minolta DSLRs. If you are an avid enthusiast operating on a budget, this would be a wise choice for you.
The Best Lenses for DSLR Cameras Continued..
NIKON 70-200mm / 2.8 FL ED VR
The Nikon 70-200mm f/2.8 is a Professional, fast aperture, telephoto zoom lens with Vibration Reduction, and Nano Crystal coat. Rated as one of the best Nikon Lenses and overall telephoto lenses of all time, this lens is a dream lens to most Photographers, having the ability to take photos in low light at fast shutter speeds, its perfect for low light sports photography and situations that don't provide enough natural light (which would massively affect most other telephoto lenses).
The Nikon 70-200mm is a fantastic mid-long range lens, and is truly one of the best lenses for dslr cameras you can buy.
The Key Features of this lens are as follows:
70-200mm zoom range (DX equivalent: 105-300mm).
Vibration Reduction II (VR II) stabilisation system with Normal and Active modes. Lets you use shutter speeds that are up to 4 stops slower.
Nano Crystal coat reduces ghost and flare.
7 ED glass elements to minimise chromatic aberration.
SWM (Silent Wave Motor) for whisper quiet and fast autofocus
Closest focusing distance: 1.4 m.
Rubber mount seal.
Instant manual focus override (M/A).
Detachable hood and soft case included.
NIKON AF-S Nikkor 50 mm f/1.4 G Lens
The NIKON AF-S Nikkor 50 mm f/1.4 G Lens is a fantastic 50mm Prime Lens, perfect for portraiture and getting those "creamy bokeh" background highlights we all love to produce as photographers. The price range is perfect for an intermediate photographer, with the Nikon 50 mm f/1.8 Lens probably suiting amateurs and people just getting into portrait photography.
Due to being f/1.4, it means you can shoot in incredibly low light situations, so for dark photo shoots and boudoir photography, this lens would be a perfect addition to any photographers toolkit as it allows you to be more flexible with your photography without resorting to using an external flash setup which may look overexposed. This lens is a beauty in low light and well recommended as a Prime Fixed Focal Length DSLR lens.
CANON EF 50mm f/1.4 USM
The CANON EF 50mm f/1.4 USM is the slightly more expensive competitor to the NIKON AF-S Nikkor 50 mm f/1.4 G Lens. In similar fashion to the Nikon, the Canon 50mm f/1.4 USM performs amazingly, and holds up well in low light conditions. If you own a Canon Body, even on an Entry Level DSLR, then this lens would make a great addition, especially if you are into portrait photography.
CANON EF 70-200mm f/2.8 L IS II USM Lens
The CANON EF 70-200mm f/2.8 L IS II USM Lens is considered one of the most well built, best performing lenses of all time, being one of Canon's most notorious "red ring" USM lenses, the quality of this piece of glass is exceptional, with photographers all across the globe testifying to its high standards. Quoted from Pixmania:
With a dustproof and moisture-resistant construction, this EF 70-200mm f/2.8 L IS II USM lens not only boasts an f/2.8 aperture for picture-perfect results in low light conditions, it also offers a 4-step image stabiliser to put an end to blur. This IS system allows shutter speeds up to four stops slower than normal to be used without causing image blur – perfect for when using a tripod is not possible.
SIGMA 17-70 mm f/2.8-4.5 DC Macro OS HSM lens
The SIGMA 17-70 mm f/2.8-4.5 DC Macro OS HSM lens is a great zoom lens with many good reviews behind it. Sigma is a company that are making more and more high quality lenses, and the HSM range of lenses are durable and perform very well indeed. This lens is perfect for Macro Photography and Close Ups and would even make a decent Portrait lens. The f/2.8 means it can perform well in low light situations and this would make it a very good "walkaround" lens for your DSLR.
TAMRON A007 SP 24-70 mm f/2.8 Di VC USD Lens
The TAMRON A007 SP 24-70 mm f/2.8 Di VC USD Lens is a full frame standard zoom lens that has Vibration Compensation and Ultrasonic Silent Direct for fast and quiet autofocus. It won the EISA Award in 2012-2013 for Best Product, and despite being a little bit on the pricey side, it's a lens worth buying. If you're a professional photographer you could do a lot worse than to have the TAMRON A007 SP 24-70 mm f/2.8 Di VC USD Lens in your kitbag. The 24-70mm zoom range allows you to be creative in a multitude of situations, including Portrait Photography and as a general walkaround lens.
Voila!
There we have it, a collection of some of the Best Lenses for dslr cameras. If you are looking for information on what Entry Level Camera to puchase then please click the article below to visit our post on The Best DSLR's for Beginners