The Best Airbrush for Beginners
Innovation across different industries helps to make work easier; in art, it allows artists to create masterpieces. One of the most innovative tools in contemporary art is the airbrush alongside other things like display tablets. Many creatives are giving up their paintbrush for an airbrush to paint their creations.
While airbrush technology has been around since the late 1800s, it is only until recently that it's getting embraced by a diverse number of artists, for example graphic designers and makeup artists.
But airbrushes can be tricky to use, especially if you have no prior experience with them. It gets even trickier for a beginner looking to purchase their first airbrush. Keep in mind that there are various brands of airbrushes in the market, with some being more suitable for professionals than for amateurs.
So, to ensure you get a soft landing in the field of airbrushing, we have scoured the internet to bring you the best airbrushes for beginner artists.
What is an Airbrush Kit?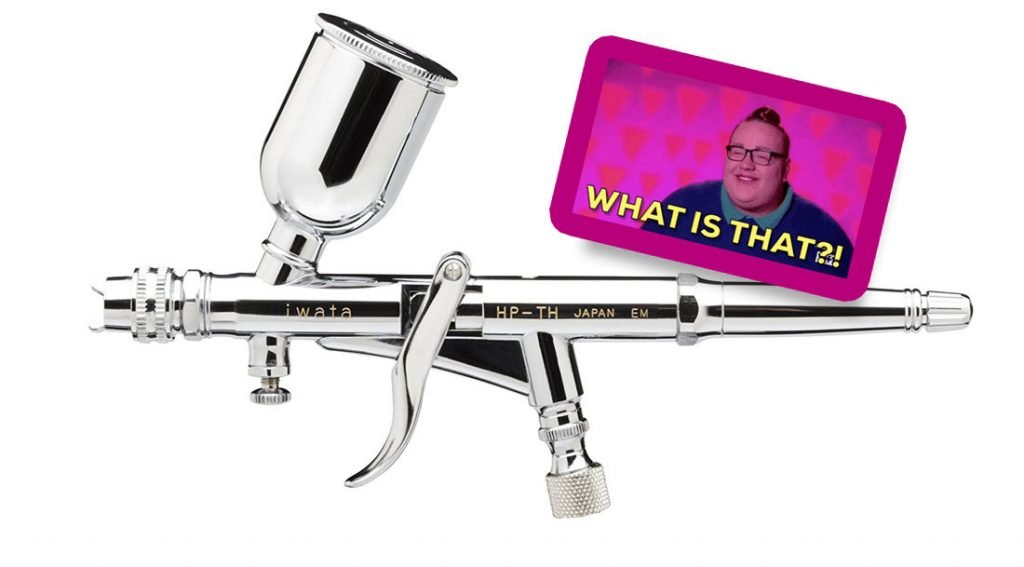 An airbrush is an innovative tool that artists use to paint. It is a small air-worked device that sprays out different media such as paint, ink, color, etc. on to a piece of art with the help of a process known as nebulization. Painting with airbrush tools usually ends up in very refined and exquisite works of art.
What can you use an Airbrush for?
An airbrush has got numerous applications. It can be used in a range of artistic processes, including arts, illustrations, mural painting, photo retouching, as well as a hobby tool. It may also be used to apply make-up, do fingernail art, paint cars and items of clothing, and to make temporary tattoos.
What are the Different Types of Airbrush Kits?
[amazon box="B001TO578Q,B07S5KZ77T,B00BF0MW9G" grid="3″]
Single-action Airbrush Kits
A single-action airbrush kit works on the principle of a spray gun. It involves a simple process where you just press a button and the spray comes out. There is a knob on the kit which you use to control the amount of paint coming out.
This type of airbrush kit is more suitable for beginners given its relatively user-friendly operation. The paint mixes with air after coming out of the needle, hence this process is known as external mixing whereas the airbrush is known as external mixing airbrush.
On the downside, single-action airbrush kits don't offer precision work and may not be the ideal option when you want extensive details in your painting. They deliver extensive coverage and tend to be difficult to draw straight lines of uniform thickness using the needle of a single-action airbrush kit.
[amazon box="B07KXFBTSM" template="horizontal"]
This is what makes it the appropriate choice for amateurs; the kit is easy to control compared to a dual-action airbrush kit. If you want a cheap airbrush kit that will get you started in this field, the right option will be to go for a single-action kit.
Dual-action Airbrush Kit
A double-action airbrush kit is a tool that gives you full control of the process. These give you the freedom to control the flow of paint, as well as the pressure of the airflow.
Pulling the trigger of a dual-action airbrush tool sprays out a large amount of paint, making it a nice option when you're after greater coverage as opposed to finer details during painting. Siphon feed and side feed airbrushes are typically used as double-action airbrushes, and allow you to change colors during the process.
Additionally, gravity feed paint cups are used in dual-action airbrush kits. The paint cup is usually located on the top side in this type of kit whereas this goes below the airbrush in the siphon-feed airbrushes.
The paint in dual-action kits mixes with the air behind the nozzle, that's why the process is referred to as internal mixing while the airbrush is called an internal mix airbrush. Overall, this type of kit offers sharpness and finesse in the work done. The final results come out with precision and accuracy, making it a great choice for professionals.
How does an Airbrush Kit Work?
If you're used to airbrushing digitally in photoshop for example with a drawing tablet, then you'll get on fine with traditional airbrushing, although there is a learning curve involved.
Typically, the airbrush draws paint from the bottom or top, depending on the location of the paint; whether under or over the product. The cup is conically shaped and holds the paint, which eventually comes out of the nozzle. The air pressure outside is usually lower than the one inside, which leads to the paint being pushed out by the air inside as it tries to escape to the outside. There is a needle passing through the tip of the nozzle, which regulates the flow of paint.
Pushing on the needle, either forward or backward, results in a smaller or bigger hole in the nozzle, helping to control the amount of paint being pushed out. In dual-action airbrush kits, the button is pushed downward to start the airflow, and pulling back opens the nozzle.
In essence, more paint flows out when you pull back the trigger. Meanwhile, on a single-action airbrush kit, the same lever releases both the air pressure and paint simultaneously.
What are the Benefits of Using an Airbrush?
There are a couple of advantages of using an airbrush, which goes a long way to influence the final quality of your work. The following are just some of the benefits you get:
Saves Time – Airbrushing offers you more control of the process compared to manual paint brushing. This allows you to move much faster and save time for other activities
Consistency – The paint is applied over a given surface smoothly and this helps to maintain consistency
Professional appeal – Using an airbrush does not leave behind the visible strokes you see when using some paintbrushes. Instead, the final job appears smoothy with a glossy finish to not only enhance the neatness of your work but also make it more professional
Perfect skin – Using an airbrush to apply makeup conceals any flaws or blemishes on the skin, allowing models to look almost perfect in front of the camera
What is the best airbrush kit for beginners?

[amazon bestseller="airbrush kit" items="5″ template="table"]
Master Airbrush System

This is probably the best airbrush kit for beginners you can find out there. It provides you with plenty of options to experiment with your paint flow size.
The Master Airbrush kit features a multipurpose design that comes with 3 user-friendly airbrushes. A manual is included in the package to allow beginner airbrushing artists to explore the maximum potential of this airbrush kit.
This versatile gravity feed airbrush ensures that you can work on any medium, from decorating a cake and spraying automobile graphics to doing nail art.
In all cases, the results are pretty impressive. The air compressor on this kit is equipped with an air filter water trap, as well as an airbrush holder. Add this to a pressure regulator that enables you to get just the right air pressure for the expected results.
Two airbrush holders are included to enhance flexibility for when you want to play around with different sizes of needles. You can begin working with a single-action before going to a dual-action airbrush with no fuss. The airbrush also features water-based acrylic paints of 6 different colors in 1oz bottles. This saves you the trouble of having to choose and buy colours separately while a reducer on the kit lets you get the perfect paint consistency.
A double-sided colour-mixing wheel makes it easy for you to get the different colour shades and gradient you're after. Cleaning the airbrush won't be a problem. The kit is delivered with a cleaning brush set that enables you to carry out the proper maintenance on your airbrush kit.
Gocheer Professional Airbrush Kit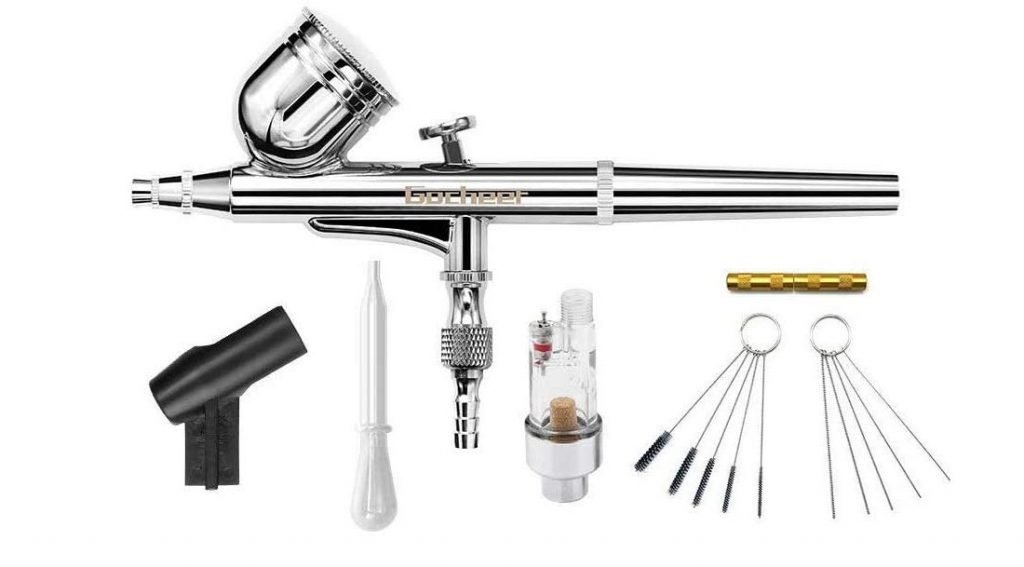 This airbrush kit promises to "cheer you" through your creative process. It comes with everything to let you deliver a masterpiece in whatever project you choose to take up. You can use it for art painting, nail art, cake decoration, handicrafts, and any other thing that comes to mind. The Gocheer is a multifunctional and portable airbrush kit that you can easily throw inside your backpack.
It offers the freedom to move around, making it the perfect choice for models on an outdoor photo shoot. A USB port is integrated into the airbrush kit, allowing you to recharge it with a USB cable so that it doesn't run out of battery.
It can last for between 30 and 50 minutes on a full charge cycle. The Gocheer is a single-action kit that features a mini air compressor, as well as a mini-screwdriver.
You also get a protective pump that allows you to start using the kit without needing an air hose. Another thing you'll like about this kit is that produces very little noise, giving you peace of mind so that all the focus is on your work.
Thanks to a rigorous process of prototype creation, this kit offers an upgraded air pump, which optimizes the line while also extending its operating time.
The kit is also ergonomically designed to offer the user maximum comfort, which allows beginners to be at ease while working with it. The manufacturer had amateurs in mind when designing airbrush, and this is what makes it one of the best airbrush kits for beginners. Using it simply involves preparing the paint, switching the button, and you'll be good to go.
Hubest Airbrush Kit

The Hubest is a double-action airbrush kit with three different sizes of spray guns to come in handy during your various arts and crafts projects. It is a nice choice for base coating and tasks that require wide coverage. It can also be used by both beginners and experienced airbrush painters. The multipurpose design of the kit enables you to use it on jobs like photo retouching. Motorcycle graphics, cake decorations, tattoos, signs, and backgrounds, etc.
The kit is conveniently lightweight to give you an easy time whenever you want to move around with it.
Depending on how you use the trigger controls, you can achieve different line widths, opacity of the paint, as well as the range of value without stopping. This allows you the freedom to come up with whatever you have in mind without stopping the process.
You also get a micro air control valve on the airbrush that serves to let you regulate the airflow at the tip of the airbrush. This ensures you make the most of the paint output control to get the best possible outcome. Remember to polish the needle prior to using the airbrush if you want a nice spray. Overall, Hubest is a great choice for artists looking for finesse in their work.
[amazon bestseller="hubest airbrush kit" items="3″ template="table"]
The gravity color cup mounted at the top requires less air pressure to draw the paint, meaning you can use slow hand movements to come up with fine spray details. This is also easy to take apart, which comes in handy when you want to replace the color cup or clean it for maintenance. It is recommended that you clean it after use to enjoy prolonged usage from it.
Paasche H-Set Airbrush Kit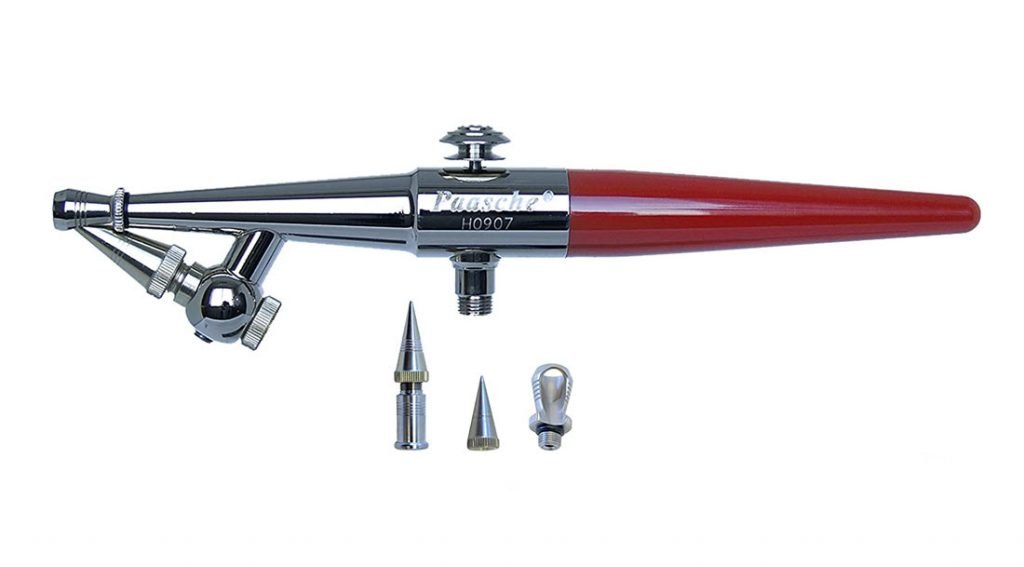 If you are searching for an airbrush that will let you paint over a wide area, the Paasche H-set may just be what you need to achieve the best results. This single-action siphoned feed kit makes quick painting easy, even for amateurs.
It comes with three head sizes to enable you to draw different pattern sizes. This means you can paint both thin and thick lines with relative ease.
The three spray heads mean that you can use the kit for different kinds of projects, including solid coatings, stencil work, and even lines. Some users even claim that you can use it for woodwork projects and painting over aluminium. Alternatively, the H-set will offer great service when it comes to tattooing, cake decorations, tanning, chip repairing, crafts, and general hobbyist use.
Overall, it is a user-friendly device that doesn't involve a learning curve for rookie painters. The single-action mechanism is just perfect for the inexperienced. It is also durably designed, allowing you to use it regularly and rigorously without compromising its longevity.
This is a credit to the chrome-plated body, which holds up well over time.
Cleaning the airbrush is a straightforward process just shouldn't take much of your time. You only need to spray the paint cleaner on the airbrush and it will be good as new. The package comes with two differently sized spray heads, a metal cup, storage bottle, braided hose, hanger, wrench, as well as a bottle assembly. Furthermore, you get a manual to guide you through your maiden airbrush painting project!
Conclusion
If you're looking to make the switch from a paintbrush to an airbrush, you must get the appropriate kit for a start. This will help you to handle the transition more seamlessly and shake off those beginner blunders faster.
The above models are some of the best airbrush kits for beginners you can find on the market. They will be a great starting when you decide to go shopping!
FAQ
Which is the Right Airbrush for me?
If you have no experience with airbrush kits, then the single-action airbrush design will be a more suitable choice for you. It releases both the paint and air when you engage the trigger.
But if you're looking for more control in your work and finer details in your projects, then you should go for a double-action airbrush. This type of kit releases air when you push the trigger but comes with a separate knob that allows you to control the release of paint.
Best beginner airbrush kit for miniatures?
Most Airbrush Kits that we listed above should be good for painting miniatures. However, do check with the manufacturer if the airbrush is specifically for a certain task.
How Important is Trigger Control?
Trigger control is a crucial feature of any airbrush kit, especially for a beginner. This is because it regulates how far the nozzle will go once you pull the trigger. The purpose here is to restrict the amount of paint that's getting atomised.
What Type of Paint Can I Use?
You can use any liquid in your airbrush so long as it's been thinned to maintain the required consistency. This is because the right consistency allows the paint to flow through the kit without interruption.
Overall, you can select from paints such as acrylics, water-based colors, oils, enamels, automotive finishes, food colors, etc.
How Should I Clean My Airbrush?
In most cases, airbrush kits are packaged with a cleaning kit while the user guide provides you with details on the appropriate way to clean it. In case there is no manual to explain this, you can use a relevant solvent to clean the wetted parts of the airbrush. Also, the cups and bottles have to be rinsed during cleaning. Spray the solvent on the airbrush a couple of times so that it is thoroughly cleaned.
When you finish cleaning the airbrush, be sure to lubricate the nozzle and the air valve with the appropriate lubricant. This should prevent them from getting stuck during operation and be careful when working the needle so that it doesn't bend easily.
What is the Right Price for an Airbrush Kit?
For beginners, buying the first airbrush kit can be a tricky affair because you are never sure whether the product will be worth the money. Furthermore, it is confusing since you are yet to establish a style or develop preferences for your type of painting.
So, if you're buying your first airbrush, it is okay to go for the budget-friendly models on the market to get a feel of the art but make sure that they don't completely compromise on quality.
References