Opus Clip Review: Key Features for TikTok & Youtube
Opus Clip is a game-changing video tool that has caught the attention of content creators and marketers alike. This powerful software allows users to repurpose their long videos into short, engaging clips perfect for sharing on popular social media platforms like TikTok, Instagram Reels, and YouTube Shorts.
The rise of short-form videos has made creating attention-grabbing content a priority for those seeking visibility and audience engagement online.
The AI-powered technology behind Opus Clip promises to save users time and effort, making the process of video editing much more efficient. However, despite its user-friendly interface and numerous benefits, there are some points of concern as well. In this opus clip review, we will be exploring the key features of the software, discussing its performance evaluation and ease of use, and providing a rounded analysis based on user experiences.
Key Features of Opus Clip
Versatility
Opus Clip is designed to cater to a wide range of creators, from novices to experienced designers. The software's intuitive interface allows users to easily transform their long videos into captivating short-form content. Opus Clip is also optimised for various social media platforms, making it an ideal tool for creators looking to engage audiences across multiple channels.
Functionality
The platform boasts a wide array of features that streamline the creation process. Its user-friendly interface ensures that even those with minimal technical skills can effortlessly navigate and operate the software. Additionally, Opus Clip's artificial intelligence technology enhances the quality of the output, ensuring that users can produce high-quality short clips without investing excessive time and effort.
Customisation Options
Although Opus Clip's customisation options may be limited, users can still make adjustments to enhance their final product. The software provides basic editing tools that enable creators to tailor their video content to suit their audience and platform preferences. This allows users to maintain their unique style and branding while benefiting from the time-saving elements of using Opus Clip.
Performance Evaluation
Speed and Responsiveness
Opus Clip has been designed to provide users with a fast and efficient experience when generating short videos from longer content. With a user-friendly interface, it enables users to input their longer video and have the AI generate shorter, more engaging clips quickly.
The processing times are relatively minimal, which is a crucial aspect for content creators who need to produce large volumes of content at a rapid pace.
However, it is essential to take into account the complexity and file size of the original video, as these factors can impact the speed and responsiveness. Opus Clip handles straightforward videos with ease, but more complex content may take longer to process. Overall, the tool demonstrates exceptional speed and responsiveness in comparison to manual video editing.
Stability and Reliability
When it comes to stability, Opus Clip has shown consistent performance in generating short videos from longer content. Users have not reported significant issues with crashes or frozen screens, which indicates the robustness of the AI technology incorporated into the tool.
As observed in user reviews, the tool has maintained a satisfactory 98% user satisfaction rating. This high satisfaction rate among users demonstrates the reliability of Opus Clip when it comes to video editing and content generation.
It's important to note, however, that no AI-powered tool is flawless. Some clips generated by Opus Clip might not meet users' expectations or may not accurately represent the most engaging parts of the source video. Therefore, it is advised to review the generated clips and make necessary edits as required.
In summary, the performance evaluation of Opus Clip reveals a tool that boasts speed, responsiveness, stability, and reliability. It serves as a valuable resource for content creators, marketers, and video editors who seek to streamline their video creation process.
Ease of Use
User Interface
Opus Clip features a user-friendly interface that streamlines the process of creating and editing short videos for various social media platforms. With an intuitive layout and seamless navigation, the design of Opus Clip allows users to focus on crafting engaging content. The clean and organised workspace reduces the learning curve, enabling both novices and seasoned video editors to quickly grasp the functionality of the tool.
Accessibility
Opus Clip offers optimisation for various social media platforms, including TikTok, YouTube Shorts, Instagram Reels, and Facebook Rails. By automatically adjusting the video format and dimensions according to the target platform, Opus Clip ensures that the user can create and share their content without hassle. This multi-platform support adds an element of convenience to the video editing experience, making Opus Clip an efficient tool for diverse content creators.
How much does it cost to use Opus Clip?
| Plan | Price Per Month | Price Per Year | Storage | Users | Projects | Integrations | Other Features |
| --- | --- | --- | --- | --- | --- | --- | --- |
| Free | $0 | $0 | 50MB | 1 | 2 | 0 | Basic functionality |
| Solo | $19 | $228 | 1GB | 1 | Unlimited | 2 | Analytics, reports, privacy |
| Team | $49 | $588 | 5GB | 3 | Unlimited | 5 | Team management, SSO |
| Business | $99 | $1,188 | 10GB | 10 | Unlimited | 15 | Priority support, audit log |
| Enterprise | Custom | Custom | Custom | Unlimited | Unlimited | Unlimited | Dedicated account manager, custom SLA |
Check Out Opus Clip for Free
This screenshot below currently goes over the current Opus pricing, and as you can see its really not too bad, considering the inflated cost of some AI Tools on the market.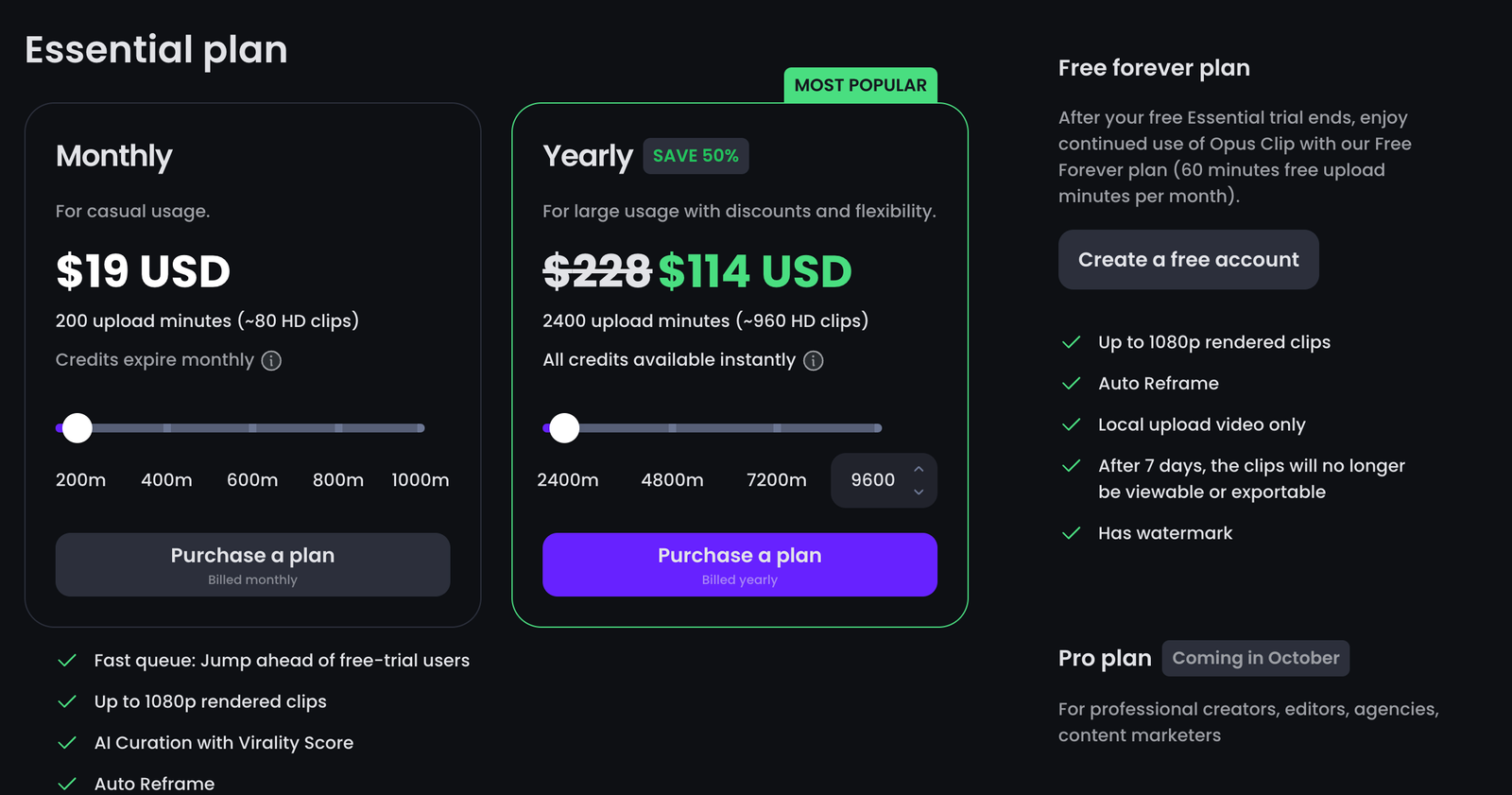 Concluding Thoughts
Opus Clip has been praised for its time-saving and user-friendly interface, as well as its AI technology that creates high-quality short clips optimised for various social media platforms. However, it also has its drawbacks, such as limited customisation options and being potentially expensive for some users.
The software has received a high rating of 4.9/5 based on 123 user reviews, indicating a generally positive experience from those who have tried it. Its ability to repurpose long videos into viral shorts is a game-changer for content creators, making it easier to engage with audiences on platforms like TikTok, YouTube Shorts, Instagram Reels etc.
However, it is essential to consider whether the application's limitations will be an issue for individual users, as highlighted in this Honest Opus Clip Review on YouTube. Some users might require more customisation features, while others may find the pricing prohibitive:
Despite its shortcomings, Opus Clip has made a significant impact on the content creation process for many creators. The tool offers an efficient way to simplify tasks that usually require extensive manual effort, and its positive customer feedback cements its place as a valuable addition to the ever-growing suite of digital media tools available today.
Frequently Asked Questions
What are the main features of Opus Clip?
Opus Clip is an AI-powered video tool that streamlines the process of transforming long videos into engaging short ones, optimized for various social media platforms. The main features include a user-friendly interface, AI technology that creates high-quality short clips, and optimization for platforms like TikTok, YouTube Shorts, Instagram Reels, and Facebook Rails. However, some users may find the customisation options limited source.
Is there a free version of Opus Clip available?
You can use Opus Clip for free up to a certain degree, however, to truely generate a ton of shorts, its worth paying to upgrade.
How can I cancel an Opus Clip subscription?
Users can cancel a subscription by accessing their account settings on the service provider's website. For accurate details on the Opus Clip subscription cancellation process, users should contact customer support for assistance.
In which countries is Opus Clip available?
The search results do not provide specific information on the geographical availability of Opus Clip. However, since it is an online tool, it is likely accessible in most countries with internet access. It is recommended to visit the official website or contact the Opus Clip team for information about its availability in your country.
What is the pricing structure for Opus Clip?
The provided search results do not reveal the exact pricing structure of Opus Clip. Users interested in the tool should visit the official website or contact the Opus Clip team to obtain the latest information about pricing and available plans.