Gift Ideas for Graphic Designers
Designers can be a tricky bunch to get a present for, especially when a special occasion comes around and you feel that they might be expecting something from you. Photo frames, books, and chocolates are all obvious gifts that have become outdated.
So how can you find a present that will bring a smile to your designer pal?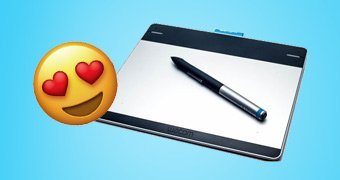 The best thing you can do is to get them something that stimulates their creative juices. This is a nice gesture that shows your appreciation for the craft they are in and a way to express your support.
So the next time you want to surprise your graphic designer friend with a gift, don't let it be too hard for you! Keep it simple….Designers love Typography, Patterns, Textures, Digital Software, Tablets, Colour Palettes, Vintage Calligraphy and much more obviously, but hopefully this article will be some good inspiration for you!
Whether it is an anniversary, the holiday season, or you simply want to appreciate them for being true friends, the following are the best gifts for graphic designers you simply can't go wrong with.
Multitouch Drawing Tablet

This might seem like an obvious gift for many people, but it is still a great idea that will definitely cheer him up. With technology advancing every day that passes, even in the arts, this will be a nice way to help your friend make a needed shift from pencil and paper to digital drawing.
A multitouch drawing tablet is a crucial device in modern day art, that will allow your designer friend to draw directly on the screen while eliminating the outdated drawing techniques. It comes with exciting features that help to produce quality works of art with the option to make changes both electronically and manually.
It is compact, lightweight and highly portable so that you can conveniently carry it in your backpack wherever you go. It is possible to get it out in an instant whenever inspiration strikes and get working without wasting any valuable ideas. A Graphics tablet is one of the obvious best gifts for graphic designers.
An Urban Jungle

It can also be referred to as a desk plant but I think "urban jungle" has a better ring to it.
This exquisite gift is a nice way of boosting people's moods by instilling a cool vibe in the workspace or home office.
The urban jungle is an amazing touch of nature that you can help your designer buddy to personalise his space without necessarily cluttering it up. The subtle green color also adds to the décor of the space and makes it more appealing.
This is a thoughtful present you can cheaply acquire to surprise your friend without putting in too much effort, but still, expect him to be blown away by it! Considering that it's artificial, he won't have to worry about watering it every day; just a little dusting every once in a while. It's a very attractive item and surely one of the best gifts for designers we have on our list, its cheap and cheerful!
DJI Osmo Smartphone Gimbal
This lightweight and portable device from DJI will prove to be a convenient addition to your creative pal's list of accessories. It allows him to attach his smartphone and shoot stunning footage while on the move.
This will come in handy for any creative with a passion for exploring the outdoors as they look for inspiration for their next masterpiece. The Osmo Pocket's 3-axis gimbal results in stable and accurate photos and videos; it will turn any moment into a cinematic adventure in a snap.
The device is accompanied by the DJI Mimo, a dedicated app that offers various editing tools to enable your friend to expand his imagination and grow the possibilities of visual storytelling. Its compact and lightweight design ensures that it can be conveniently carried to any outdoor expedition. The DJI Osmo is surely one of the best gifts for designers that have money.
100 Movies Scratch Off Bucket List Poster

Designers tend to get consumed into their work and spend a great amount of time trying to wrap up a personal or client project. This movie scratch off poster is an interesting gift that you can use to tempt him away from his work and give him a deserved break.
It is filled with fan-favourite films, from the vintage blockbusters to the latest award-winning releases.
The idea is to disclose one movie at a time by scratching off the icons and watching it before moving to the next film. This makes for a very fulfilling pasttime.
The poster features a timeless design with colourful icons that your pal will have enjoy scratching off to reveal the movie surprise underneath. It also comes hand-wrapped in a premium quality box, ready to be presented as a gift to the recipient.
This simple yet interesting gift promises to be a hit with your creative buddy, especially if he's a passive movie-lover.
Tablet Stand
This is another accessory that is becoming very popular with designers who spend a lot of time on their iPad, and is definitely one of the best gifts for designers that we have on our list. Save your creative friend the trouble of holding his iPad and bending his neck for hours; an unhealthy habit can result in sore elbow muscles and a stiff neck.
This handy tool allows your friend to edit videos and work on digital art projects with relative ease. It is made of durable and lightweight material, ensuring that it is comfortable to carry from the home to the office and vice versa.
It is easily adjustable and can support both horizontal and vertical viewing, allowing your designer friend to switch between positions whenever fatigue sets in. The tablet is also firmly held by the stand's extended hooks to prevent it from slipping off whereas rubber cushions safeguard the fragile iPad from scratching and sliding.
The stand is compatible with iPads between 5-13 inches, which includes everything from iPad Air, iPad 2018 Pro, iPhone 8 Plus, to Samsung tablets. This handy present will go a long way to make the experience of working from an iPad more fun and comfortable for your creative pal.
Creative Area Rugs

This area rug is a great addition that will help to boost the décor in your friend's home workspace. It has an aesthetic feel and has a calming effect with its subtle design and warm colors.
The rug features high-quality polyester with high-density memory foam and silky-smooth fabric that is soothing to the soles of the feet.
It is non-slip, water-resistant, and will be a great addition to the home office floor.
This useful accessory not only helps to decorate the home but can also be used to send messages of inspiration to your designer friend. You can get a personalised area rug with specific images and writings that summarise the "go-getter" character of your friend.
It is an effortless gift that your creative pal will appreciate having in his workspace and remind him of the thoughtful friend he has.
Hegarty on Creativity: There Are No Rules

If you're stuck on the right gift to get your designer friend, you can never go wrong with a book that details everything an ambitious designer would like to get acquainted with, as far as the creative process is concerned. Hegarty on Creativity is written by a world-leading advertising creative and will serve as the perfect inspiration to your designer pal.
In its 128 pages, your pal will get the opportunity to explore the mind of a successful creative designer and learn the various tricks of the trade. These ideas promise to spark his creativity and provide him with the sparkle to continue producing works of art when his passion for design seems to be dwindling.
This book is a useful tool that every designer will benefit from, especially if they need a pep talk for those uninspiring days when they are not in the mood to start working. Its thought-provoking nature will not only apply to your friend's design work but also his life as a whole. This is definitely one of our top picks in this list of best gifts for designers as it covers design theory and logic.
Rhodia Webnotebook Webbies
This is another valuable gift you can get for your graphic designer friend. It comes in lively orange colours and features dot-grid pages which make it ideal for organising, writing, doodling, and sketching that your friend will want to do.
It is small enough to be carried anywhere with ease and will be crucial when a design idea comes to mind and you want to note it down for future reference. The pages are made of excellent paper quality that doesn't allow colors to bleed through like it is the case in lesser-quality notebooks.
The Rhodia Notebook has an elastic strap that will hold it in place and keep it from falling off while walking or taking part in any other strenuous exercise. It is a useful tool that will ensure your designer friend stores all his ideas in a safe place that can readily be accessed.
3Doodler 3D Pen Set
If your friend has a kid that has shown a keen interest in graphic design, this will be the perfect gift to help him set the foundation. A 3D printing pen set will see that his creative skills are horned from an early age, while still allowing him to use it as a toy.
The kit is completely child-safe and doesn't come with the risk of using a 3D printer.
The plastic dries soon after it has been extruded so that there is no chance of the kid getting burnt.
Your friend can teach his prodigy various aspects of artistry with this fun 3D printing set meant for budding design enthusiasts. It allows the child to draw in the air and create fun pieces of art as he learns different tricks of the trade.
Before your pal's kid starts using more sophisticated digital art devices like an iPad, this kit is just what he needs to get prepared. The printing material also comes in all kinds of colors that you can get the kid to create all the creative mess he wants to.
Graphic Design Magazine Subscription
Graphic designers draw inspiration to create amazing works of art from a number of things. Sometimes it is what they see and other times it is what they hear and feel. Consider getting your budding designer buddy a subscription for Digital Arts Magazine or something similar.
This will provide him with much-needed inspiration and valuable insight into the universal design community. Another benefit is that the subscription lasts a whole month, so they'll have a long period of remembering you because of your gift, perfect right? 😉
Your friend will also get an in-depth look at the current trends and varying opinions from fellow design enthusiasts concerning all sorts of graphic design subjects. This magazine not only provides inspiration, but also critical ideas that will make him a successful graphic design practitioner.
Electronic Standing Desk

Desks don't always have to be boring and rigid. Sometimes, it doesn't hurt to stray from the conventional and do something more exciting. The electronic standing desk enables you to do this, and would be the ideal gift for your designer friend.
This convenient piece of furniture adjusts electronically, so that you can work on it from both sitting and standing positions. It is a very practical desk for a creative who has to shift positions when he's working out an idea in his head.
It also offers health benefits by discouraging hunching over the desk in the same position for extended periods of time. This can be quite detrimental to your spine and cause you back pain. The standing desk ensures that you remain flexible during your work and enhances the fun in the experience.
Authority Pack

Graphic designers use a lot of tools and equipment in their line of work. From pens, tablets, laptops, and many other accessories, it can be overwhelming to carry all this around all the time. An authority pack makes this process a breeze for you with incomparable comfort and organisation. This is a solid item on our list of best gifts for designers, its useful and practical.
It comes with multiple padded compartments to protect your delicate gadgets and make sure that they are neatly organised for easy and fast access.
Unlike your standard backpacks, these do a very good job of reducing the bulkiness and weight of the bag by uniformly distributing the load.
The authority pack is developed using sturdy materials that can tolerate all kinds of weather while safeguarding all the contents inside. The inner compartments enhance the element of organisation, so you won't have to keep on fumbling every time you want to get something from you bag. High on our list, its surely one of the best gifts for graphic designers
Reusable Smart Notebook
Nobody uses paper anymore, not even creatives live graphic designers. Instead, there are various products that embrace the element of recycling like the reusable notebook. This would be a nice present for your designer pal to move around with.
This useful device features 36 reusable pages that you can sync seamlessly with multiple storage options like iCloud and Google Drive. With all these functions, you don't have to carry a paper notebook, tablet, or any other gadget that will be a load to carry.
It also comes with a digital pen that writes smoothly on the surface. The pages turn easily, just like the traditional spiral bound notebooks that graphic designers have been using from the beginning. The reusable smart notebook will serve your friend for years and still remain relevant throughout.
LED Word Clock
An LED Word Clock is one of the most fun gifts you can get a graphic designer. It is a creative addition to any décor of a space, be it in the home office or studio. This gadget has a unique pull that will make it the highlight of your room
Although it doesn't show the accurate time, it is good enough to give you the idea that you're either on time or running late, with an entertaining twist. Besides, you can always confirm the exact time on your watch or smartphone. In short, the LED Word Clock is more about style than it is about accuracy, and this is something that you might occasionally accept over substance.
Your graphic designer friend will love its creative approach to timekeeping with the bright lights. The best gifts for graphic designers don't have to be the most practical in the world, and this is a good way to break away from the norm.
Graphic Designer Coffee Mugs

Surely one of the more obvious gifts for graphic designers? Sometimes the simplest presents can have the highest impact; you don't always have to break the bank when buying gifts. Coffee is a designer's closest friends when they are working on their projects, so it makes all the sense that you'd want to get him a graphic designer mug.
You can find a simple coffee mug with the right wording to remind him of the work that he dearly loves every time he's sipping his coffee. It is a simple gift that would be really applicable if you don't have the funds to go for the top-shelf options. This mug promises to bring your designer pal caffeinated happiness.
Nanopresso Coffee Maker

Graphic designers spend a good measure of their time working on their desk to try and meet both personal and client deadlines. For most of them, coffee has always remained a much-needed friend after every couple of hours. So why not get your designer friend a Nanopresso to ensure that gets the best taste of coffee every time he indulges?
The Nanopresso has a compact size which enables you to carry it around with relative ease. It is also powered by USB so don't have to worry about the condition of your coffee. The best part is that you can always look forward to having your coffee wherever you are.
This crucial device makes rich espresso coffee in less than two minutes, meaning your coffee is always a stone throw away. It is very easy to clean and comes with detachable components, unlike most portable coffee makers.
Touch Gloves

When the winter season comes, the extreme cold can be unforgiving to our hands and feet. For a designer, this can be the worst nightmare because it keeps them from producing magic with their hands.
So why not buy them a pair of touchscreen gloves which seamlessly work with smartphone, as well as tablet screens interface. This will be a nice way to ensure that they keep on doing what they love even when the conditions aren't the friendliest.
Touch gloves are integrated with unique capacitive index finger and thumb prints that allow you to operate smartphones. They are not only convenient, but also fashionable, and the best part is that you can acquire them affordably.
Thats a wrap!
Thats a roundup of the best gifts for graphic designers, including everything from notebooks to graphics tablets to standup desks. We hope you enjoyed the read, and hopefully this article can be a source of good inspiration for you this upcoming Christmas, or even just in general for your Designer Buddy!