The Best Minimal WordPress Themes
Minimalist WordPress themes have become a trendy choice for businesses, developers, and other website owners. They're perfect for showcasing the more important aspects of your site, like your portfolio, sales graphics etc…
A minimalist design website features fewer distracting elements by default and allows web visitors to focus on the more pertinent issue on the website; content!
With all this popularity, there are numerous minimal WordPress themes to choose from and before finding the ideal choice for your website, you might have to go through countless demos.
So, if you're thinking of using a minimal theme for your new website, here is a collection of the best minimal WordPress themes available to you in 2020.
Divi
Divi is one of the best minimal WordPress themes you can find today. It is a powerful multipurpose theme that allows you to use it on any kind of site you are creating.
The features of Divi will make your site stand out from the crowd, thanks to a strong support team that is constantly updating this theme. Despite being stacked with various exciting elements, you won't notice this from its appearance.
Divi offers you a professional and clean design that can be optimised to suit your requirements. It is a pretty comprehensive drag and drop builder that will enable you to create striking pages effortlessly. You can credit this to the useful modules available on this theme that you can use to create pages.
Divi also features a range of header styles to help in placing the logo and navigation separately. You can have vertical navigation positioned on the side of the page if you wish to.
The drag and drop builder ensures that you won't have to write any code to generate a custom design since it provides all the needed options to help you do this in a matter of minutes.
Another thing you'll like about this WordPress theme is that you can save the customised designs you've created in the library provided by the Divi builder plugin for later use.
Soledad
Soledad is a minimal and beautiful WordPress theme that would be great for a blog or magazine website. It boasts a high level of flexibility and has been created with the utmost attention to detail.
Soledad was the result of minimalist design philosophy mixed with deep-seated multi conceptuality that allows this theme to quickly and easily adapt to any blogging purpose, industry, field, or concept.
It is easy to use and offers a great speed that enables web owners of different skill levels to create attractive sites.
The site is fast to load, resourceful, as well as SEO optimised and the best part is that you don't require any coding background to make this happen.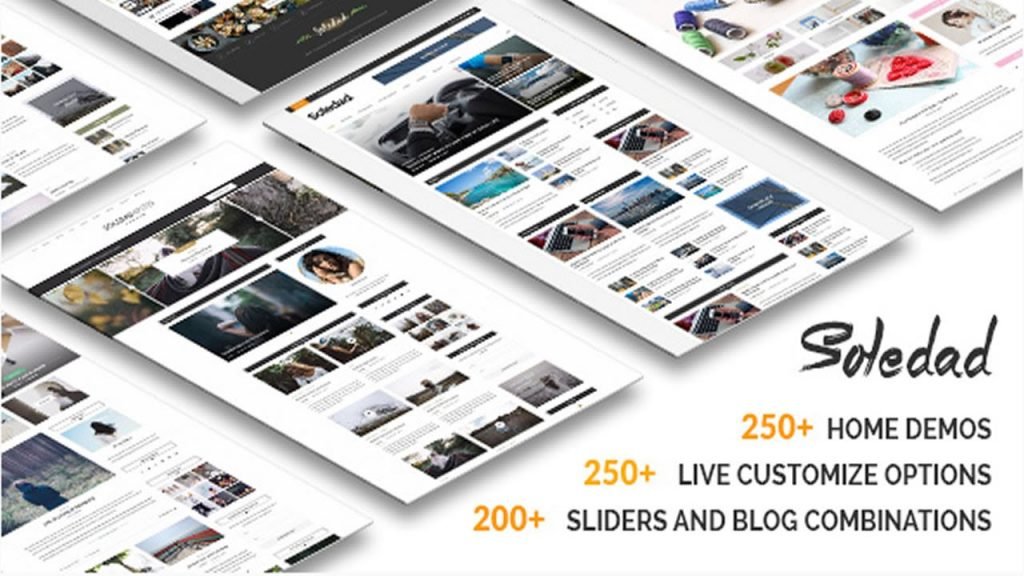 Soledad comes with useful HTML5 features like Featured Video Background, 5 Article Layout options, 3 different portfolio designs, and more customisable features. Premium plugins deployed in a minimalist yet aesthetic fashion also help to make this theme perfect for blogs of any type or scale.
Uncode
Uncode is one of the best minimal wordpress themes that will work wonderfully on your website. It comes with at least twenty readily available child themes, providing you with the luxury of creating a site with any type of design you want.
If a minimal WordPress theme is what you're looking for, then you can count on Uncode to do it for you! The theme also features various designs that have been created with clean and minimal layouts for site owners who want to present stylish and one of a kind content.
A quick peek into the demos will reveal to you an array of designs with a professional look. This theme also brings you an enhanced version of drag-and-drop Visual Composer to help you customize pages for your site without the need to write code.
The plugin features various modules that you can use for this purpose. Uncode is extremely responsive and retina-ready, ensuring that your site looks lovely on PC, mobile, tablet, and any other modern devices.
The stunning design will allow you an easy time creating a unique site, and the available tools make sure that you'll have created a brand at the end of the day. A powerful theme options panel has been included to ensure you update your site details whenever necessary.
Meanwhile, there are 6 unique menu types, as well as a mega menu featuring amazing CSS3 animation you can use to make your site's header section more appealing.
Furthermore, you still get extra features like over 1000 handpicked icons, 16 portfolio styles, remarkable blog styles, etc.
Uncode is one of the best minimal wordpress themes you can currently purchase, and it's a beauty aswell!
Adios
Adios is a highly customisable and user-friendly multipurpose WordPress theme that you can use to build a great minimal portfolio website
. It is a great option for webmasters looking for a visually appealing site that is detail-oriented and fast-loading with an optical interface that will seamlessly receive and guide visitors to your site through the high-quality content.
Adios was built to be both fast-loading and incredibly lightweight; it boasts one of the lowest load times among all the themes you can find in the market today. It also offers users simple yet charming visuals that spread your content strategically on your pages while ensuring that everything else is clean and precise.
This allows site visitors to fully focus on your content without straying to other distractors. The theme also incorporates a minimal philosophy into its overall design, using the mantra "less is more" which helps to render your website visually sophisticated but entirely seamless.
It has also been optimised to be SEO friendly and loads fast to boost your search engine results rank. With Adios, you won't have to keep on looking for the best minimal WordPress theme any further!
All the HTML5 Templates You Could Ask For.
2M+ items from the worlds largest marketplace for HTML5 Templates, Themes & Design Assets. Whether that's what you need, or you're just after a few Stock Photos – all of it can be found here at Envato Market.


Rise
Rise is a fantastic WordPress theme that allows you to maximise the use of your site. If you own a blog, this is just the theme you need to make a good amount of money. It offers you all the features and options you need to optimise your website for maximum conversion.
One of the most crucial practices you can adopt towards making money on your site is building an email list, and Rise takes care of this precisely and effectively.
The theme has an exceptional design that is appropriately optimised for search engines. Users can decide to have the subscription form either in the header or footer, depending on what suits them best.
It also boasts a contemporary grid-based layout that will ensure your blog stands out from the crowd to attract more traffic. You can choose from several color options to customise your site, in line with your brand image.
Rise is fully responsive and super-fast so that your site loads seamlessly on all types of devices. It also features an extensive admin panel that'll assist you to get started almost instantly, as well as enable you to keep your site details up-to-date. Some notable features on the theme include 25 valid pages, 20 patterns, 6 different portfolio styles, working Google maps, unlimited background colors, just to mention a few.
Schema
Schema is a top contender for one of the best minimal wordpress themes. It is extremely powerful and one of the most responsive WordPress themes available. Schema offers you a classic blog layout that's been fully optimized for search engines.
It loads super-fast and will be the perfect option for creating a site that allows visitors to keep their focus on the content.
The theme is SEO friendly and comes with appealing typography that you can modify anytime you want, thanks to the powerful theme options panel provided by the theme.
Also, you can install all the site details via the theme options panel. There are numerous features you'll enjoy on this remarkable WordPress theme, including unlimited colour and background options, sidebars, Google fonts, icon fonts, 10 home page styles, email opt-in options, etc.
Stash
Stash is a minimal, multipurpose theme with a clean look presented to you by HighGrade. The theme allows you to pick a topic of your liking and make stunning designs from almost 48 different demos. It is stacked with plugins like Essential Grid and Slider Revolution at completely no cost.
Designed on blocks via WPBakery Page Builder, you get more than 85 elements and over 260 blocks to move around. Stash is guided by the motto; "less is more" in offering pre-built options.
It makes everything so much easier and will suit both the lazy and creative webmasters. You can choose to use the clean and smooth prebuilt features or customise them altogether. CSS3 animations allow you to set up amazing video backgrounds for user-friendly and intuitive setup.
Third-party compatibilities to WPML and WooCommerce also add to the theme. Stash is adequately documented and comes with 24/7 support for the initial six months. With this one-stop theme, you'll be able to avoid all the struggle of integrating a couple of separate things, synonymous with conventional website building.
Avada
Avada is the highest-selling WordPress theme ever on the ThemeForest marketplace, and its reputation in the industry precedes the theme.
This multi-purpose theme offers you countless possibilities, options, and features to help you set up any type of site you want. It is pretty responsive and comes with unlimited layouts that you can experiment with to come up with a unique site.
Whether you're planning to create a corporate site, personal blog, or niche site, you can count on Avada to do this for you spectacularly.
The theme has also been integrated with all the premium plugins you can think of. Overall, it is a great WordPress theme that brings you a slew of amazing features, including Footer Builder, Portfolio post, 404-page layouts, Layout elements, etc.
Vogue
For those searching for a minimal yet fashionable theme with a contemporary design, Vogue is one of the finest options you can rely on. It features a very simple layout that will get your site visitors to concentrate on the content. The theme has been appropriately optimized for SEO and boasts super-fast loading to improve your content's rank on search engine results.
This also ensures that site users have a smooth experience while navigating your site and reading the content you have to offer. You can also readily access demo data to give you a head start and have you set up a site that looks exactly like a demo design instantly.
Despite the clear simplicity of Vogue, it provides users with all the required elements to create a modern and successful site.
You'll appreciate the Font Awesome icons, as well as the Google Fonts, that you can use to establish a great blog. There is also a powerful theme options panel for managing all aspects of your site easily, not to mention that you get the Visual Composer drag-and-drop and Slider Revolution plugins in the theme bundle to provide you with infinite designs without the need to write code.
Arnold
Arnold is a minimal WordPress theme that works great with retina-ready products and allows for animations. It is a nice option for online-based businesses thanks to its WooCommerce compatibility.
Arnold features a useful search toolbar that has been optimized for SEO, as well as translation through .po files. The theme supports regular free updates and comes with a responsive layout. It also consists of 14 promotion tags, 8 headers, and makes use of LazyLoad image to give site visitors a comfortable experience. You also get social media buttons for platforms such as Twitter to enhance the reach of your website.
Among its premium options is theme customisation and you can use the drag-and-drop page builder to create additional pages. You also get very flexible posts with more than seven different options available.
Arnold will make a great WordPress theme for architects, photographers, and even interior designers. It conveniently supports the use of videos, images, and animation formats. It pays particular importance to fonts with the help of over 600 Google Fonts and over 400 Awesome Fonts Icon. Furthermore, you'll benefit from half-year support from BWSM. The theme also offers fast one-click demo access, as well as Multilanguage Right-to-Left plugin. You'll be able to create amazing structures, designs, and settings with this incredible tool.
Ocularus
Ocularus is one of the best minimal wordpress themes, featuring a simple design that strives to showcase photographs and images. It is the ideal option for photographers, artists, designers, and all creatives out there. It was created to help display projects and works in a visible and fancy manner.
The homepage has a series of galleries that will readily display all your best features. A left main menu bar has also been included and comes with easy to use predesigned sections. You also get predefined items such as team, portfolio, contact, etc. All these have varying and creative gallery styles and some even have pop-up animations that add to the display.
Ocularus boasts a wealth of progressive bar translation files, as well as numerous portfolios. It is compatible with Google Web Fonts and Contact Form 7 to add to your design options.
It is an amazing way to get to your clients without trying too hard. A versatile theme for images, videos, and carousel-style ensures that you end up with a responsive layout that is adaptable to different devices and browsers.
Apart from all that, you'll enjoy the 24hr premium support, detailed documentation, and regular updates that are part of the package.
Simple & Elegant
Just as the name suggests, Simple & Elegant is a minimal WordPress theme that offers you simplicity and elegance. It has a professional look and comes stacked with features that you can use to take your site to the next level.
The theme is extremely responsive and has been created with clean code which, makes it fast and SEO-friendly.
With all the amazing features on Simple & Elegant, you'll be able to create a great site with little hassle. The live composer option enables you to customise your site effortlessly and enhance its visual appeal.
You also get a stunning portfolio section, a beautiful header section, as well as a mega menu option that greatly simplifies navigation for your site visitors.
There are also Slider Revolution and Visual Composer plugins that are freely included in the bundle. These, you can harness to set up a modern site in a few minutes. Furthermore, you have the luxury to select from a range of post formats and custom widgets to instill an Instagram feel while the MailChimp widget helps you to save the emails from site visitors and create an email list with little trouble. The live composer enables you to experiment with the design of the theme and you'll appreciate the different color options you can use to style your website.
Massive Dynamic
Massive Dynamic provides you with a minimal and modern WordPress theme that you can use on various kinds of sites. It's a clean, focused, and highly intuitive site builder that was carefully designed with very potent and premium plugins such as Page Builder, WooCommerce, WPBakery, Master Slider, Revolution, MailChimp, among others.
This theme comes stacked with at least 70 unique shortcodes that will go a long way to enhance your site's capabilities and configuration possibilities.
With more than a dozen header styles readily available, you'll have a luxurious time experimenting to find an unrivaled look for your pages. The advanced header technologies allow you to customize them even further so that they fully suit your needs.
Massive Dynamic relies heavily on visual elements and communication to deliver a content-first presentation that makes for minimal sites with incredibly fast loading speed.
It has been optimised for both multipage and one-page layout designs. The theme lets you express all that you mean to in limited space thanks to its precise layout styles for a simple yet highly practical site.
Infinite
Infinite is a multipurpose WordPress theme that will assist you to create any kind of website you have in mind.
It is a beautiful theme that features a custom-designed page builder; a powerful drag-and-drop builder that makes creating unique site designs a walk in the park for you.
There are readily accessible demos that you can harness to generate an attractive site and customize it in line with your preferences. An easy to use demo import options will enable you to make your site appear like the demo theme in no time.
Aside from the page builder, you'll also get a powerful theme options panel to help you manage the details of your site quickly, seamlessly, and conveniently.
Whether you want to upload the logo or set up the design of the blog, everything has been incorporated into the admin panel. Infinite is also extremely responsive to ensure that your site appears great on all devices. It offers free premium slide plugins such as Master Slider, Slider Revolution, and Layer Slider to help you come up with visually enticing slides to complement the high-quality content on your website.
Merchandiser
Merchandiser is a minimal and sleek-looking WooCommerce WordPress theme that is great for building eCommerce sites.
It was developed by an alliance of professional designers and coders looking to create the perfect theme for webmasters trying to promote their wares on the internet.
This theme comes equipped with a ton of premium plugins, cutting-edge capacities, as well as sophisticated features to let it deliver high-level performance for your online commercial activity.
Merchandiser is crafted around the easy to use WPBakery Page Builder, which reduces complications in designing a site. It provides you with an effortless drag-and-drop experience that will eat a few minutes of your time.
The result is a highly customised look that will make your site stand out from the crowd.
The theme has been comprehensively WooCommerce integrated and packs chic elements such as Off-Canvas Shopping Cart, Product Image Galleries, Off-Canvas Quick View, etc. These are sure to capture the attention of your customers, along with the enticing visual design.
Kalium

Kalium offers you one of the most professionally-looking WordPress themes you can use on any kind of website. It has a minimal and clean layout with an abundance of spectacular options and features to aid you in creating a unique site.
It comes with an array of readily-available demo options that you can experiment with on your site and these have been optimised to suit various niche sites. All these provided designs are fully flexible and conveniently customisable.
Kalium also features several premium plugins, including drag-and-drop Visual Composer to help you set up an impressive custom-designed site without having to code. The Slider Revolution and Layer Slider plugins, also available in the package, will assist to generate wonderful slides for the site.
Finally, you will get a striking portfolio section on Kalium that you can use to display your content fashionably and generate more traffic towards your business site. It has more than 30 unique portfolio designs that address almost any type of design you can think of.
Alpha
Alpha is another great WordPress theme that any creative web designer will be glad to use. It has a minimal and professional look with an SE0-friendly configuration that allows for quick navigation by visitors to your site.
The theme features a custom slider, as well as smooth navigation to make for a pleasant overall experience. It has carefully been optimised for mobile to ensure that your site appears great even on small screens. Despite the overall simplicity of Alpha, you get a ton of incredible features to help you create the perfect website.
The drag-and-drop site builder is available in this theme to enable you to make beautiful and unique designs without coding. Additionally, you get fantastic portfolio options for showcasing your work in great style and attracting new clients to your business.
Opta
Opta is a simple minimal WordPress theme that was created for photographers and artists. It is just what you need to showcase your masterpieces spectacularly. You get a clean look that focuses on displaying all your projects to site visitors.
The theme comes with custom post types for portfolios, as well as galleries. It is also compatible with AddToAny and Contact Form 7 plugin. An XML demo is available in the bundle at no cost and you'll enjoy a theme that offers amazing add-ons and versatility. Opta features a shortcode generator and high-quality typography.
You can also experiment with 700 different Google fonts to find one that suits you and use the image and text slider. This theme has a responsive design that will adapt to different screens.
The layout can support all kinds of formats and tests revealed that it can work just fine with various browsers. You won't need to do much when you want your texts and pictures highlighted. The theme offers you reliable support, constant updates, and well-detailed documentation. You'll be able to showcase your art easily and quickly to both your clients and prospects.
Overlap
With Overlap, you get yet another nice-looking multipurpose WordPress theme that will help you to create a wonderful site. It offers powerful features and design elements to go with different homepage design options, footer designs, multiple layout options, etc. that help you to come up with interesting designs for your site.
You get practical management options, thanks to a powerful theme options panel to adjust all the details on your site with relative ease. There's also a strong page and post options to help you create enchanting designs for your posts as you engage your users effortlessly.
A mega menu option further simplifies navigation on your website by users while making it appealing. Overlap offers you a drag-and-drop website builder that features different modules you can harness to create an amazing site.
A one-click demo import option enables you to get your site up and running almost instantly
SEA
If you prefer a simple and clean approach to website design, then you have to take a look at this refreshing theme. SEA is quite minimal and will catch your eye, and that of your visitors, from the very get-go. There is a ton of sample data available to help you to stitch up together a minimalist site with just a few clicks.
Essentially, all you need to do here is choose a demo that you feel suits what you want to achieve and incorporate it into your site.
There are more than thirty pre-built templates that this quality theme comes with and they can be customised to your convenience. You also get extra features such as cool hover effects, multiple headers, 12 project layouts, LazyLoad, RTL compatibility, etc.
To ensure that you'll always be content with your site design, SEA offers free lifetime updates, detailed documentation, and responsive professional support.
Petal
Petal is a clean and attractive portfolio website theme. The theme provides you with an easy and speedy route to creating a powerful and functional website that promises to impress prospective clients and earn more business down the line.
It has a smooth visual aesthetic that keeps site visitors focused on the most important thing; content.
There is no excessive clutter to distract users, making for an effective display of content. The result is that your conversion rates will increase drastically without taking too much of your effort. There is also a built-in WPBakery Page Builder that has been enhanced to provide a drag-and-drop builder functionality to all elements and sections on your website.
Everything from headers to footers and uniquely styled sidebars can be created in a couple of minutes without the need to invoke your coding background.
You get a customised version of the premium Revolution Slider that helps to keep your content lively and dynamic so that your site users are always engaged. Meanwhile, the integrated WooCommerce plugin suite enables you to promote your services or products effortlessly and directly from the Petal website. This will be possible just minutes into the initial setup; all there is to do is add to your catalog and voila!
Aurum
This is one of our favourite minimal wordpress themes. The majority of themes we've discussed above are designed for portfolios and blogs. With Aurum, you get an amazing e-commerce theme that provides WooCommerce shop owners with an opportunity to offer functionality, as well as style. This minimalist web design and e-commerce compatibility make for the ideal match by shifting focus to strictly the products themselves.
There are seven different demo layouts to choose from and these encompass all kinds of online stores. You'll appreciate the abundance of pre-built page layouts available for your choosing, alongside a variety of crucial pages to get your site running in no time.
The Visual Compose plugin is also featured in the bundle and can be customised to serve any special layout preferences you have in mind. Most of the available demos comprise a header that integrates video or image backgrounds.
But that is just about all the fancy you get from Aurum! This allows your merchandise to take center stage. The fonts are clear and easy to read and you get neat extras to each product page like a wishlist button, as well as related product sessions. Although many new themes are focused on blogging and portfolios, e-commerce themes can also benefit the minimalist design trend.
With Aurum, you get a solid choice that you can use to create a clean online store!
Ottar
With so many minimalist theme designs getting created with every day that passes, it takes something notably special to beat the stiff competition. Ottar might just be one of the contenders for the best minimal WordPress themes you can use today.
From the provided demo layouts, you will realise that this theme was made to take your creative portfolios to the next level. You get to use classic minimal elements such as monochromatic color schemes and chunky text to focus the attention of site visitors on any visuals while text content is minimised.
Although the default version Ottar comes in may not be suitable for content-heavy use, the WPBakery Page Builder plugin included in the bundle can assist you to create layouts that are more applicable to that. Furthermore, the developers dig a good job to provide templates that work right out of the box.
You get an array of compelling effects throughout that have been tastefully implemented to provide an enhanced dynamic feel to your web pages. Overall, Ottar is an attractive theme that you can use to create an amazing site. Apart from being conveniently minimalist, it comes with several perks. Just what you're looking for in a site!
Oshine
One of the main reasons why minimalism is trending today is its tasteful use of color and space or lack thereof. It goes to show that you shouldn't do something just because you can do it. Oshine is a great example and a worthy contender for the most powerful WordPress themes you can find. This theme will appeal to both creators and designers; it is a contemporary option offering at least 27 demo templates for your choosing.
Nevertheless, given how powerful and flexible it is, the theme comes with a custom drag-and-drop page builder you can utilise to come up with unique layouts in case you want to make some changes.
Oshine also features more than 600 Google Fonts, several header options, as well as a remarkable portfolio builder that offers practically any type of layout that comes to mind.
Although some people may not look at Oshine as a minimalist, the theme can work just as great as any other option on this list. It is more than capable of creating a practical layout but will remain handy when you decide to make a shift from the minimalist format.
Vino

Vino is another nice option you can use for your minimal website design. It comes with animations and flourishes that some webmasters might find too much, but all these have been included to serve a pure purpose. Nine demo layouts have been included in the theme, although these look more or less the same I must admit.
But with the ample application of negative space and focus on text and media, the layouts could be deemed interchangeable. Nevertheless, the differences amount to non-minimalist elements. For instance, the headings feature a default accent color flourish to go with an eye-catching rollover effect.
Even though this functionality is not entirely minimalist, it offers some dynamics and depth to an otherwise flat to look at page. Extra elements like the overlapping navigation serve the same purpose.
This is not to say that I'm not a fan of Vino; it's, in fact, a solid theme. Vino is charming to look at and provides the functionality needed to come up with a customised layout. It will be more appealing to visual creatives, especially when you consider the heavy focus on images and other media. Fortunately, with the customisation options included, Vino can work great for all kinds of sites and niches.
Uniq
Our last but not least WordPress theme is Uniq. This promises to shorten the process of creating a great website. The theme provides six default layouts that are all minimalist in design with more stress on monochrome color schemes. If you're a creative, this is the right theme for you to use some attention-grabbing designs to get your site up and running seamlessly. But to create an even more unique layout, you might want to use the built-in GoodLayers page builder.
This allows you to drag and drop preset elements where you need them, canceling the trouble of coding when customizing your website.
Generally speaking, Uniq is a slightly standard minimalist theme that will still make a reliable choice for a good developer. Be sure to check out all its features if you decide to apply it when building a minimal portfolio site.
Conclusion
The above are just a fraction of the minimalist themes available to you, which goes to show just how unlimited your options are when it comes to choosing a viable theme for your site. Luckily, we've discussed some of the best minimal WordPress themes, so you have a good idea of what to expect from the best themes if ever you're in the market for one!