So what are the best Sans-Serif Fonts on Creativemarket?
Sans-serif Fonts used in typography and their main feature is that they do not have the small projecting features called "serifs" at the end of strokes from where comes their name. Its origin is French which on English means "without line". They first were developed in France during 18th century and became very popular in printed media in 19th century.
Nowadays sans-serif fonts they are often used in displaying computer screen text because interlaced screens have shown twittering on the fine details of the horizontal serifs. Additionally, on lower-resolution digital displays, fine details like serifs may disappear or appear too large.
With the social media expansion and huge number personal pages on the web san-serif have become even more popular as their wide variety and different styles always tend to please even the most demanding tastes.
Sans-serif fonts now can be found everywhere around the web as even more and more are being developed every day.
This has been considered art by some and places where people can look through the available ones and purchase the one that fits their tastes have now been used widely.
Creativemarket is a place where you can look through the creations of artist around the world and choose the ones that please you. Along with other great graphic masterpieces you can find fonts that you like and through which you can express yourself. Fonts come in families where different variations of the length depth and other features of the letters used.
Without further delay, here are some of the top sans-serif fonts on Creativemarket:
There is no real need for description of this font as the looks speak for themselves. Manifold CF font is a utilitarian typeface inspired by the cold precision of a computer terminal, softened by modern design. His distinctive traits can be used in all kinds of project you have in mind. The font can be used in texts in all sizes. With its modern and strong design this font will boost the looks of your work and will make it as stylish as it can get. Manifold comes with many features that complete the feel of precise interface. The font is constantly worked on and the designer team will always be there improving and taking care of your purchase so it is a long term investment.
Envato Elements Fonts
Envato Elements is a Premium Design Assets Subscription service, supplying thousands of Premium Fonts from Top Designers.
Envato Elements provide a significant array of different Fonts including Script Fonts, Handwritten, Sans Serif and Serif Fonts, Display Fonts and even SVG and Color Fonts. For these reasons alone, go ahead and check them out!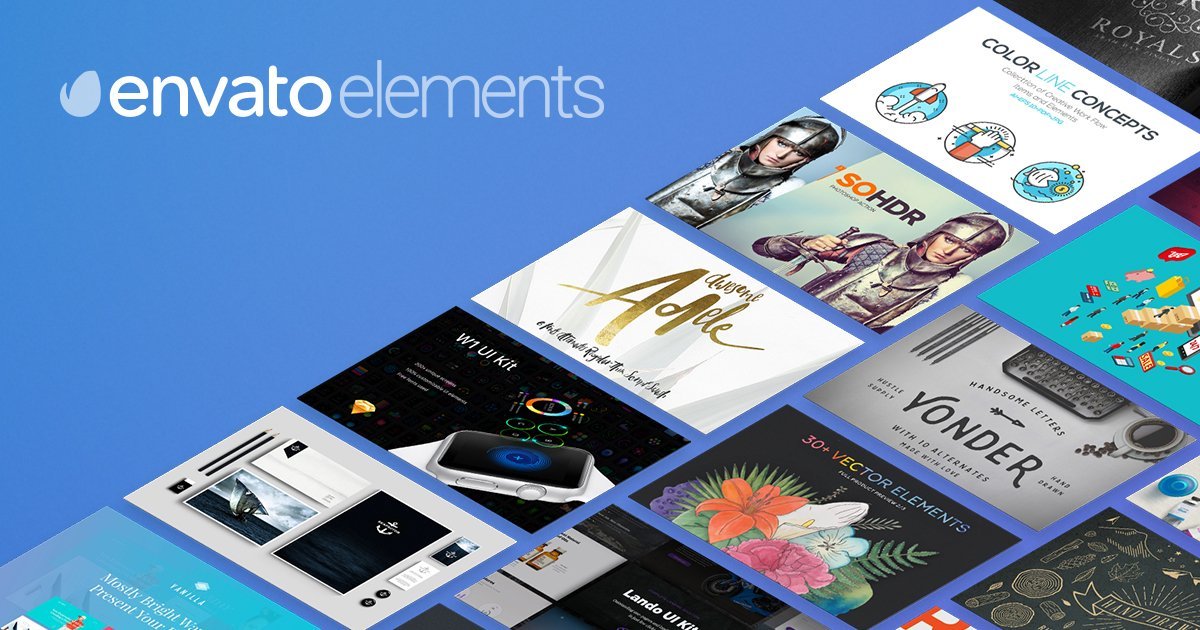 ---
As the name gives it away this font is modern, simple and stylish at the same time. ORIGIN will be best suited to create nicely looking headlines but it looks as good in the page content. With its simple and clear but really favorite for many design this font will give you amazing results in all kind of projects. ORIGIN features 4 weights non-italic (Light / Regular / Bold / Heavy). The pack also includes OTF, TTF and Web Fonts (all EOT, SVG, TTF, WOFF included) so it is a real must have.
Corporative Font family has marked personality and distinctive traits, that makes it perfect to use for large text sizes but since it is very distinctive and clear font there are no problems in using it in smaller ones. Corporative comes with the Latinotype's standard set of 350 characters, making it possible to use the font in 128 different languages. The family consists of 64 fonts: a basic family that includes 8 weights plus italics, an alternative family of 8 weights with matching italics and 2 condensed families, one regular and one alternative, both with italics. The wide range of options this font gives is really something. It is rear for a font to give you the same experience at once that several can't provide together. Combining different features of this font gives you the chance to achieve best results.
Halis Rounded is legible from very small size to very large ones and also suitable for letterpress. With rounded corners, this new font seems much softer and eye-pleasing even though it has still geometric and straight borders. The family comes in eight weights. In addition, all weights have small caps for romans. Halis Rounded fonts are great for use in web typography as with the small caps all fonts can be very useful in creation of logos, texts, presentations and other projects as well as in prints of posters, t-shirts and much more.
This is a modern geometric font family that is based on a research of similar typefaces of the 1990s and 2000s. Its purpose is to perform equally well in all types of projects or it is developed as in universal sans-serif font for all tastes. Based on that Chatnarong Jingsuphatada it offers a geometric structure with smooth corners that is quite pleasing to the eye and has high contrast and great legibility which make it quite clean and friendly. The result is clear view on a print and same excellent performance on screen. It is a large family font with none less than 72 fonts each containing over 350 glyphs. The family has 4 formats – Normal, Rounded, Slim and Slim Rounded, containing many more features each.