What's the Best Budget Laptop for Photoshop?
If you're a professional graphic designer, it is important to have a laptop that lets you create and organise your projects effectively and efficiently.
But sometimes you might not have the budget to spend on the high-end models in the market. In this case, your only hope is to settle for a cheap device that can still offer just the right level of features to get the job done without hassle.
Even when shopping for a budget laptop, you shouldn't compromise on quality! Fortunately, you can find models in the $500-800 range with enough oomph for some reliable photo editing.
But it takes a lot of due diligence to do this, considering the diverse number of cheap laptops flooding the market. So, what are the best budget laptops for photoshop? Let us find out in the following review. If you're interested in this, then also check out our review on the best laptops for animation & graphic design
What is a Good Cheap Laptop for Photoshop?
There are various brands in the market such as Acer, Asus, Lenovo, and Dell that produce low-cost laptops with the capacity to accommodate the heavy workload involved in photoshop.
These ensure you get the kind of editing performance you desire without blowing your budget.
Ideally, the best budget laptop for photoshop should have a core i5 processor at least, a 14" screen size, an 8GH RAM, and a graphics card rated at 2GB VRAM. Furthermore, the device must come with a minimum of 1TB storage to avoid any undesirable issues when storing the edited photos.
What Laptop Should I Buy for Photoshop?
The best budget laptop for photoshop will to a large extent come down to how much you want to spend and personal preferences. If you are doing photo editing at a professional level, then it's only fair that you go for a premium laptop that can withstand rigorous CPU usage.
The machine should also have a screen with high colour-space coverage to allow for a satisfactory photoshopping experience.
If possible, find a laptop with a full HD display that offers 99-100% SRB coverage to get a deserving performance. For a lag-free photo editing session, pay close attention to the RAM and storage space available on the device. An 8GB RAM and 1TB storage space are recommended to get the job done consistently.
What is the Best Screen Type for Photo Editing Laptops?
Most graphic designers are comfortable with a screen size of between 12-15". The resolution is another important screen aspect as it allows you to edit the tiniest details in the images for satisfying results.
You want to go for a full HD screen with 1920 x 1080p resolution and make sure that the display is bright enough.
However, if you want to edit images of extremely high resolution, then you might want to invest n a 4K display laptop. It is advisable to find a matte screen device as opposed to a glossy one. This is because a glossy display shines too brightly in a well-lit room, although their colour reproduction is usually remarkable.
Best Budget Laptops for Photoshop – Reviews
ASUS ZenBook 13 Ultra-Slim Laptop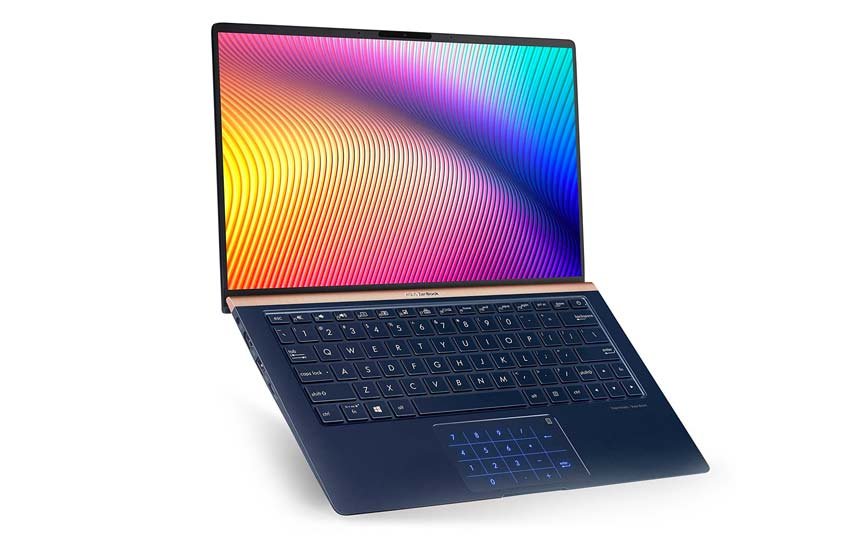 The Zenbook is a pretty small and lightweight device; one glance at it and you will be forgiven for thinking it might not be up to the task. But this couldn't be further from the truth. If anything, it easily outperforms other bigger laptops thanks to a nice combination of features. It is a solid choice for Photoshop that you can buy at a friendly price.
Despite carrying an older 8th generation Intel processor, the 1.6GHz quad cores are just sufficient to run Photoshop at fast speeds.
Furthermore, the 256GB hard disk ensures that you won't be running out of storage space soon. As expected of any good Photoshop laptop, the Zenbook comes with a handful of ports, including a USB-C and a micro-SD reader to help transfer photos from the camera to your laptop.
At 13.3", the display is a little bit modest for photo editing but it offers a full HD 1080p resolution, so you won't struggle to view the images. It also covers 100 percent sRGB color space, making it the perfect tool to edit photos from the web.
You won't quickly find another laptop that can offer this at the price range. While the screen is small, the advantage here is that you only get to deal with a 2.5lb load, which makes the Zenbook extremely portable. The manufacturer claims that the machine can run for 14 hours but real-world tests reveal that it can only manage 4-6 hours on a full charge cycle.
You get a year-long accidental damage policy when you buy the laptop, which entitles you to a replacement in case of liquid spills or when you drop the laptop.
Another thing that makes the ASUS Zenbook perfect for Photoshop is that it comes with a discrete GeForce MX150 graphics card, as well as a touch screen. Although this adds a few extra dollars to the base price, it also means that the device is hard to beat if you're looking for a practical cheap laptop for Photoshop.
If you can overlook the small additional cost of the extra specs, then you have yourself a possible winner for the best budget laptop for Photoshop.
2021 ASUS VivoBook Ultra Thin

Another great option from ASUS, the VivoBook Ultra-Thin will impress with an assortment of specs that can deal with any Photoshop tasks comfortably. Let us start with the Ryzen 5 processor, which you can easily compare to the Intel i5, although comes at a much cheaper price and can run up to 3.7Ghz.
Secondly, the 8GB RAM can be upgraded to 16GB and its large 512GB hard disk means that there is no experiencing lag when you working on the most intensive projects.
The display offers remarkable color reproduction on a 15.6" laptop with a resolution of 1080p. This is not common for the best budget laptops for Photoshop, especially when you consider that you acquire the VivoBook for just over $500. Overall, this small and powerful machine stacks up well against desktops in its price range, so you can imagine the convenience that comes with portability.
On the downside, I must say the VivoBook has a couple of negatives that need mentioning. For one, the trackpad is too sensitive, which can be tricky to work with and you don't get an Ethernet port on the device.
This means it can be hard to see the keyboard using the wrong light. Furthermore, you can't recharge the machine through USB-C. The only silver lining is that these cons don't really count when it comes to photo editing.
You can simply add a drawing tablet to make things easier for you. Ultimately, it will be difficult not to recommend the ASUS VivoBook Ultra-Thin as a reliable Photoshop laptop to those looking to buy on a budget. You only have to look at its list of specs vis-à-vis its price tag and you'll get the idea!
2020 HP 15 15.6″ HD Touchscreen
This is another practical cheap laptop that you can get for your Photoshop projects. The 2020 HP comes with an impressive lineup of specs that should make your projects easier going forward.
Powered by Intel's 10th generation core 15 processor, the device runs at speeds of 1.0GHz but can be upgraded to 3.6GHz with the help of Turbo Boost Technology. The had disk carries plenty of memory space at 512GB and the same can be said for the 16GB RAM.
Thanks to Intel's UHD Graphics, the 202 HP manages to generate excellent images and videos on its high-quality 15.6" full HD touchscreen. The WLED-backlit touchscreen offers a 1366 x 768 resolution and features 10-finger multi-touch support.
Also, there is an SSD boot-up feature that allows you to boot in a matter of seconds, meaning you won't have to wait around for ages just to get your work done.
The laptop also comes with stereo speakers for an improved HD audio experience while its wide HD webcam, video conferencing, and gaming features add to the overall quality and appeal of the device.
You get a slew of USB connections that enable you to connect to mobile devices, as well as Cloud services via WLAN 802_11_AC AND Bluetooth 4.2. The keyboard is conveniently backlit to let you burn the midnight oil with little trouble. Lastly, the 2020 HP supports Windows 10 OS.
Lenovo Flex 14 2-in-1 Convertible Laptop

The Lenovo Flex is a super-thin and ultra-lightweight gadget that takes convenience to the next level. You can carry it anywhere on your back and fits comfortably in a travel bag without burdening you with weight.
It comes with a well-thought-out convertible design that allows it to be turned on both sides, meaning you can use it either as a laptop or a tablet depending on your preference.
The battery can last up to 10 hours, which is more than enough time to work on a Photoshop project without unnecessary interruptions. This also recharges pretty fast; it will only take you one hour to get it to 90%. But if you don't have the patience to wait that long, getting it to 15% is enough to continue with your task for 2 hours.
Another crucial feature of the Lenovo Flex is the TrueBlock Privacy Shutter, which serves to cover your webcam, protecting your delicate information from hackers, spybots, and other security threats online.
Meanwhile, the Lenovo Active digital pen is included in the package to make the deal even sweeter. With the help of AMD Ryzen processing, you'll be able to sketch, draw, and write effortlessly if you have any digital art projects.
The laptop has a flexible design that allows you to set it up on the table in a variety of ways. You can choose to stand it up when looking at videos, position it like a tent, or hold it in your hand like a tablet.
The 14" touchscreen display is wide enough to allow for comfortable viewing while the full HD 1920 X 1080p screen resolution is the sweet spot for Photoshopping projects. You will also appreciate the Radeon Vega-8 feature that makes photo and video editing a walk in the park.
Plenty of connectivity options are provided by the USB 3.1, USB-C, and HDMI ports. If you have to sit a distance away from the router, you'll still be able to connect at lightning-fast speeds and share information on the Cloud via 2×2 AC Wifi.
MSI GF63 9SC-066
This chicly-thin and ultra-light laptop by MSI was created with photographers, gamers, and podcasters in mind. It is powered by Intel's 9th generation core i7 processor to go with a CPU speed of 2.6GHz.
However, this can be boosted to 4.5Ghz if you want faster speeds. This allows the MSI to multitask, making your Photoshop projects easier to carry out.
Thanks to integrated NVIDIA GeForce graphics, the gaming experience on this laptop occurs at a whole new level. This also helps to add to your podcasting, video-conferencing, as well as video-watching sessions.
Meanwhile, the MSI's screen-to-body ratio and the slim-sleek exterior provide you with immersive video viewing. The battery has enough juice to last 7 continuous hours, so no interruptions midway through your working sessions.
Gamers will appreciate the MSI app player, which enables you to play mobile games on your computer with amazing graphics. The keyboard is conveniently backlit to keep your eyes from straining in low-light environments and enable you to work into the night.
A pair of fans and 4 exhausts are included to keep the machine from overheating when you are working on a long project.
As far as memory is concerned, the MSI laptop comes with a 512GB hard disk, which ensures unlimited storage space for your pictures, and this is complemented by a 16GB RAM that can be expanded to 64GB. With the 15.6" LED screen, you'll enjoy amazing views, especially with the HD 1920 x 1080p screen resolution.
Lastly, the 720p HD webcam brings quality to your video conferencing sessions while maximum connectivity is guaranteed by USB 3.2 Type C ports, LAN, WLAN, and Bluetooth support.
Lenovo IdeaPad 3

This is the cheapest laptop in our review! Although the performance is a little lower compared to the other options, it will be a dependable choice for those on their dime.
The Lenovo IdeaPad 3 uses a relatively outdated dual-core processor, but it still manes to run at a decent 2.6GHz. There is also a respectable onboard graphics card but what hurts the performance of the device the most is the reduced RAM.
At only 4GB, this does not compare well with the other laptops on our list. However, you can address this by allowing Photoshop to use the hard disk as a scratch disk.
You also get a wide 15.6" TN display panel with a low resolution that may not be perfect for photoshop but passable. The color reproduction is not also the best, with just 52% of sRGB color space on offer.
With all these underwhelming features, you might be wondering why we still considered the Lenovo among the best budget laptop for Photoshop?
Well, it's because this is the best you can get when you have a very strict budget. The price is very low; just over $350 and its features allow the laptop to handle Photoshopping tasks. So, if your budget is anywhere around its price, then you where to get the best value for your money!
Conclusion
When it comes to editing your photos, whether as an amateur or a professional, through Photoshop, you need a laptop with a powerful processor, impressive graphics, and large RAM to let you multitask and handle your projects with relative ease.
Luckily, you don't have to pay a high price to get this combination of features. Just invest in any of the best budget laptops for Photoshop above and make your life easier!
FAQ
Do You Need a Dedicated Graphics Card for Photoshop?
The latest models of cheap laptops will typically come with a built-in graphics card either in the processor or motherboard. These graphics cards are usually enough to handle photos of primary to middle levels.
However, if you need to photoshop very large images, you might want to find a discrete graphics card that may not necessarily be built inside the processor.
For the dedicated graphics card, this comes with its own memory (VRAM) and processor that processes the graphics as the laptop memory manages other workloads simultaneously. The in-built process graphics cards use your machine's memory (RAM), which subsequently reduces the stated memory capacity. The ideal graphics card memory size should be at least 1GB for quick image post-production.
How Much Storage Space is Enough for a Cheap Photoshop Laptop?
A cheap laptop for photoshop should have a storage space of about 1TB for comfortable performance. A 1TB hard drive should be able to store a large image file comfortably.
But if you don't want to spend extra cash on a new hard drive, you can consider cloud storage. Alternatively, you can get an external drive that allows you to store a large number of images.
For the best performance, 8GB should be sufficient and will probably cover numerous editing projects. Otherwise, if you're contemplating getting the best budget laptop for photoshop, think about upgrading the RAM to 16GB. Note that the majority of modern laptops feature two RAM slots that can store up to 16GB per slot.
How Much RAM Do I Need for Photoshop 2020?
Ideally, you will require at least 8GB of RAM for the program to run normally. Alternatively, you can perform the same tasks with 4GB of RAM but you will likely experience some frame drops and lagging on your laptop. So, try to aim for 8GB of RAM if not more.
Is 32GB RAM overkill?
From the sound of it, 32GB seems like a lot for Photo editing tasks. However, some professionals may have memory-intensive projects that may warrant going for 32GB of RAM. If you're only looking to perform basic Photoshopping, I am sure you'll be just fine with 8GB to 16GB of RAM.
What Processor is Best for Photoshop?
At the moment, the fastest CPU you can get for Photoshop includes the AMD Ryzen 9 5900X, Ryzen 7 5800X, and Ryzen 9 5950X. All these perform within a fraction of each other, and because of this, you can opt for the more reasonably priced Ryzen 7 5800X as the best choice for Photoshop. It will save you a little cash without compromising on the RAM and storage you get.
What Kind of Graphics Card Do I Need for Photo Editing?
It is highly recommended that you use the AMD Radeon Pro WX or Quadro P1000 or anything higher for 10-bit colorwork since the lower end cards only offer 2GB video memory and this is not adequate for working with 10-bit color images. You won't get the level of resolution you're after.
Can You Run Photoshop Without a Graphics Card?
You can run Photoshop without a decent graphics card but doing so means compromising the efficiency of the program and foregoing a lot of its useful functions. Having said that, you could probably get away with using a poor graphics card as you only need to utilize Photoshop on a limited number of basic tasks.
References
https://www.quora.com/Which-laptop-should-I-buy-for-using-Photoshop